The Ape has been an icon of Italian manufacturing since 1948, the year in which Piaggio created the first three-wheeler VespaCar. Since then, through its many different transformations and versions, this commercial vehicle has become a symbol of Italian design throughout the world.
The Ape now has an electric engine and is becoming an integral part of the ecological reconversion which the world's most-developed economies are busy working towards.
Simultaneously, it is a convenient choice in many situations in which it is necessary to pay attention to air quality and noise pollution.
The electric Ape reduces environmental impact so much that it allows for business use in any everyday situation.
Moreover, it can be outfitted for street sales and become an agile and versatile electric food van.
This transformation has been appreciated by the many companies who need to work in historical town centers or spaces where polluting vehicles are not allowed. Plus, it is appreciated by businesses which are actively participating in the ecological transition.
At VS Veicoli Speciali, we are investing heavily in the design of ecological food trucks provided with technologies that reduce energy consumption and the overall efficiency of devices.
The brand-new Pro X Food Truck is an emblematic example of this approach. This state-of-the-art vehicle has been designed to improve productivity on board and is powered by lithium batteries and photovoltaic panels.




Under ideal environmental conditions, the Pro X is 100% autonomous. Plus, it includes a digital system called eXtra which manages all of the functions on-board the vehicle. From a mobile app, users can monitor and optimize the vehicle's energy use by adjusting the fridge temperature and air conditioning, turning the lights on and off, and much more.
Moreover, it does so all while respecting the environment and increasing productivity.
The Ape food truck with an electric engine is taking part in this ecological reconversion which is undoubtedly revolutionizing the street food sector.
Two setups to convert the electric Ape into a food truck

VS Veicoli Speciali has two options for converting the electric Ape into a food truck:
Ape V-Curve
Ape Smart / V-Smart
In both cases the setup is completely autonomous with a 100% electric engine which works with a highly efficient lithium battery.
The batteries charge in just 3 hours and guarantee 50 km of mileage.

The electric Ape can be set up to sell any type of product:
an electric ice cream ape;
an electric brewery ape;
an electric sandwich shop ape;
an electric pizzeria ape;
an electric creperie ape;
an electric bar-café ape;
etc.
It is without a doubt a fantastic solution in many public and private spaces as it is preferable to the classic kiosk and offers greater visual impact thanks to its retro look:
city parks and nature reserves;
theme parks;
resorts and hotels;
company premises;
museum courtyards and exhibition spaces;
Medieval hamlets and historical centers;
outlets and malls;
convention centers;
airports and stations;
etc.
Wherever it is located, the electric Ape allows you to offer professional food service with a modest investment and almost no maintenance costs.
Ape VCurve Electric

This is the electric version of the patented Ape VCurve which is known on the food truck market for its curvy vintage look.
This vehicle allows you to work on board and can be set up for the sales of any product.
Here are some examples:
KNACK EAT > Alsatian sausage sales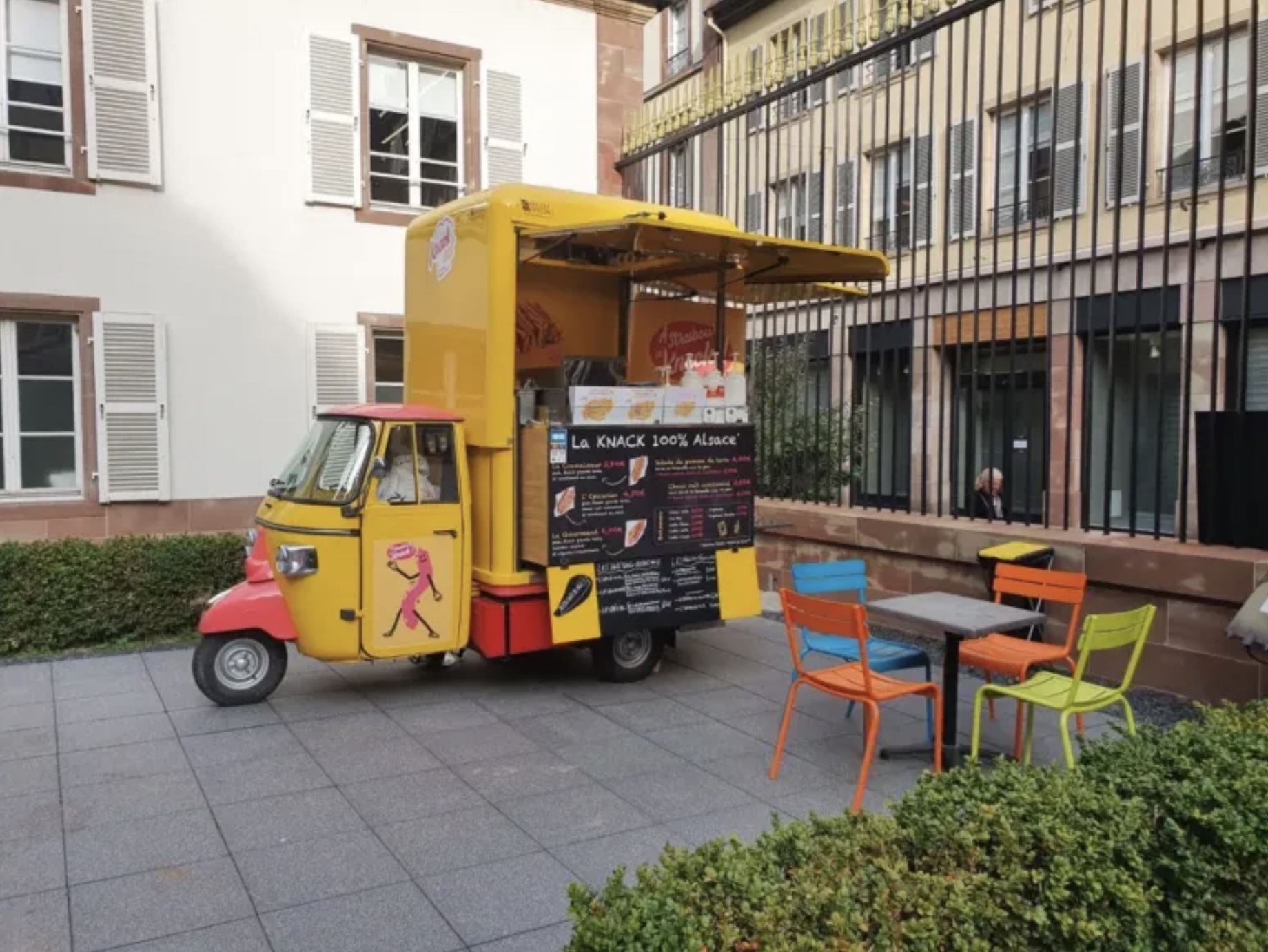 ATELIER GIVRÈ > artisanal gelato sales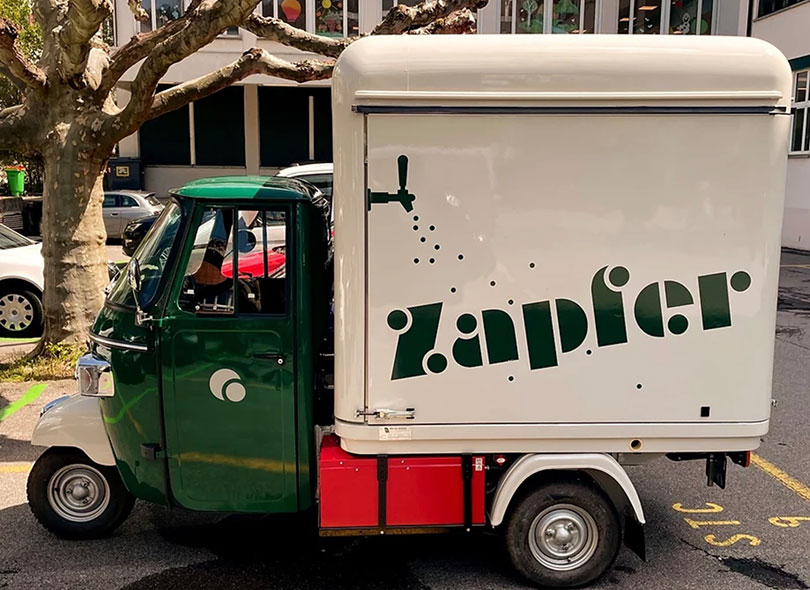 RAUGI COMPANY > organic ice cream sales
Ape Smart / VSmart Electric

This electric Ape has been designed for ground operation; the operator can then use it as a mobile setup for the preparation and sales of food.
The Smart version has a roof with a classic design, while the VSmart version features a rounded roof.
Here are some examples:
ZFV (VSmart) > Coffee Shop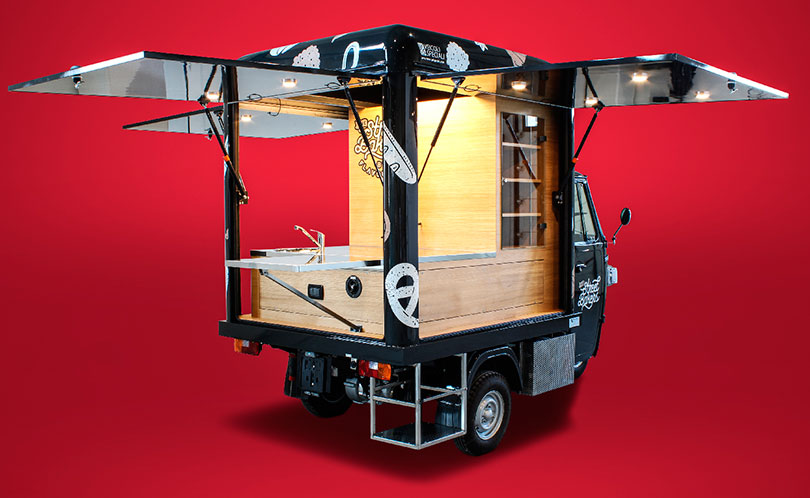 UNTERNEHMEN MITTE (Smart) > Bar-Café