The Ape V-Curve project began in 2015 as a way of creating a small food truck that would go beyond the traditional concept of a traveling sales vehicle. Instead, the idea was for it to become a designer object capable of effectively communicating a brand's products and identity.
In order to achieve this, it was necessary to create an especially attractive food truck which would stand out on the market. Moreover, we wanted it to be functional so it could offer any type of street food or catering service.
With this goal in mind, we put together an original design which was in line with the aesthetics of the three-wheeled Piaggio in an Ape Classic version.
Aware of what we had achieved, we filed a patent request in 2015, which was rapidly approved by the European Union Intellectual Property Office, in order to safeguard this new street food outfitting.
In addition to its unique and patented design, the Ape V-Curve outfitting stands out on the street food market for its potential for customization, meticulous attention to details and finishes, and one-of-a-kind retractable roof system which is manually lifted when raised and lowers to be closed.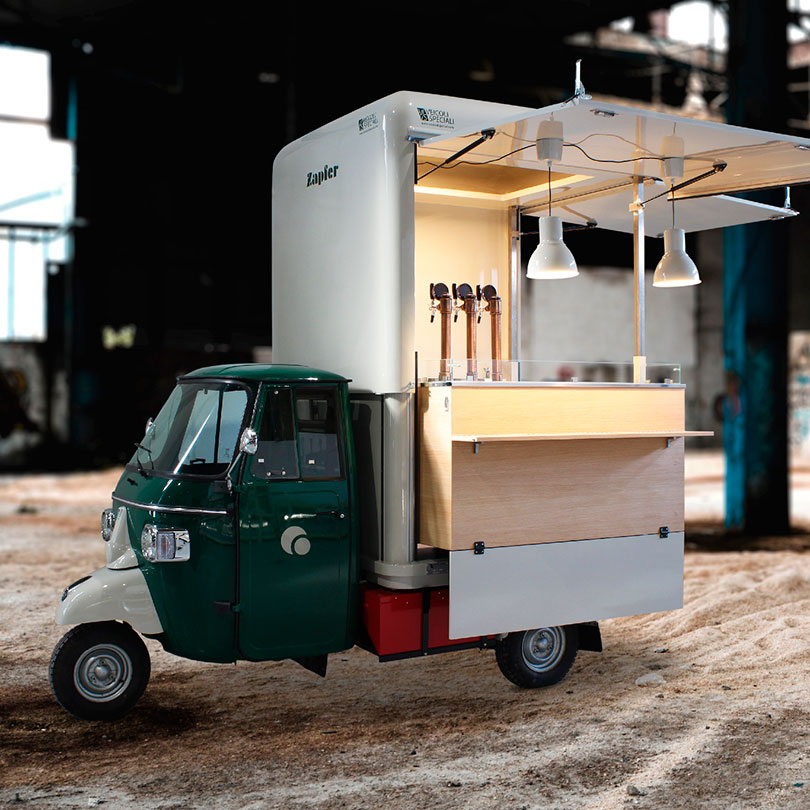 This food truck opening system has made our outfitting extraordinarily light, durable, maintenance-free and without the need of electricity.
Radically changing the way food trucks are perceived, the Ape V-Curve has become even more unique over the years thanks to the decision to replace its combustion engine with an electric one. Food trucks have gone from being heavy vehicles which were assembled with very little thought to becoming agile, iconic, and ecological electric vehicles powered by batteries!
VS Veicoli Speciali is proud of the Electric Ape V-Curve. There is still no other outfitting which includes electric power both for the engine and the work zone.
It is a SUSTAINABLE way of offering your dishes and elegantly getting around the restrictions for gas/diesel vehicles when present.
The exceptional mobility of the electric food van Ape V-Curve has been combined with incredible versatility, as it is fit to host equipment for serving any type of product: ice cream, coffee, pasta, hamburgers, meat, fish, barbecue, crepes, sushi, cocktails, wine, prosecco, draught beer and so on.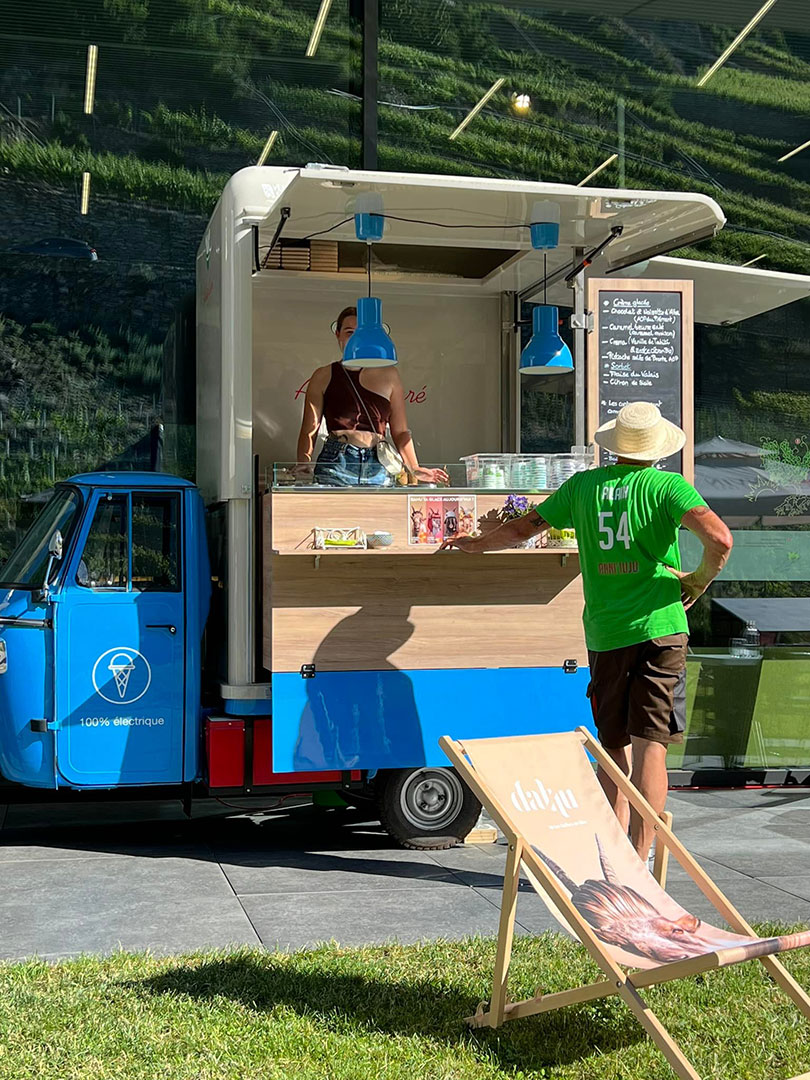 This means that the electric V-Curve allows one to offer a CATERING SERVICE during public and company events, private parties, ceremonies and weddings. Plus, it can also be used as a mobile kiosk in squares, gardens, courtyards, fairs, expos, business districts, museums, exhibition spaces, hotels, resorts, train stations, airports, and anywhere you can set up a bar or food service area.
The electric Piaggio Ape is a smart investment for effectively making sales and expanding your brand's visibility. It has been part of more than a few success stories.