Street food culture and eating on the road is booming like never before. Street food sector is expanding and evolving: new ideas, innovative ways of selling and eating food, new dishes and new food trucks are created to push success and profits of new business activities lauched by companies and private citizens.
Let's see some of the most original initiatives around the world.
Amazing food trucks: 5 examples around the world

PEOPLE'S BAO
A food truck created in Washington D.C. a few years ago with the aim of relaunch Chinese street food on the East Coast.
The BAO (small bag) is a kind of steam cooked bun originally from Northern China but diffused in many regions of Asia as a typical quality fast food. A small sandwich, warm and soft, enriched with the most different ingredients, typically: meat, pork, chicken, duck, vegetables, sauces and spices.
People's BAO drives around Columbia District bringing flavor and color to many Americans that welcome the bao panda with a big smile.
The marketing idea is good, the product original for the US market, graphic design and communication on the food truck are coherent with their message of goodness, cheerfulness and closeness.

CHOUX D'ENFER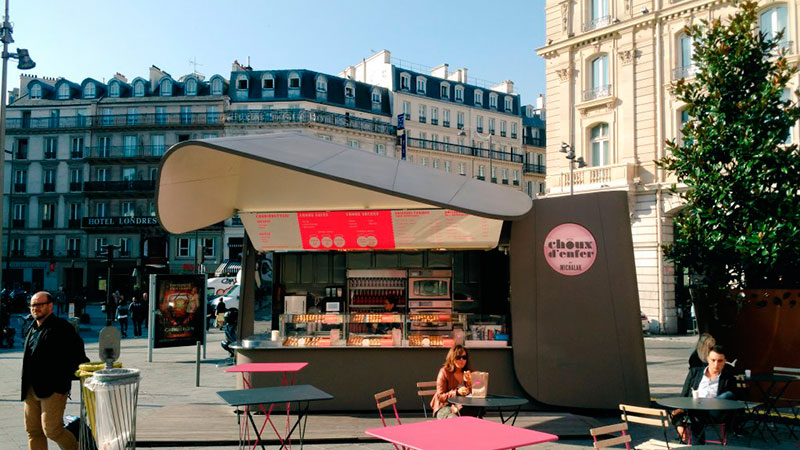 In Paris, a Michelin-starred chef and an avant-garde baker, Alain Ducasse e Christophe Michalak, opened a kiosk that sells gourmet bigné.
However, that of the great chefs who give themselves to street food is also an Italian trend.
Traditional bigné is transformed and contaminated with new tastes and bold flavor combinations according to the flair of the two creative talents that associated to launch this street food project in the heart of Paris.
In their high design kiosk Chouf D'Enfer you will taste multilevel bigné with black pepper flavor, salted caramel bigné and many other inventions that will leave you with your mouth full.
A very well-known product of the French tradition is innovated and elevated like an artwork to give it a strong identity and to build around it an adequate and high profile niche of market.
The birth and positioning of this street food project is at the opposite of the first one (People's BAO) but the result is the same: success.

DEL POPOLO


Without a doubt one of the most unforgettable food truck ever built. An itinerant pizzeria built with the integration of a truck and a sea container, with a wood fired oven and the front wall made in glass in order to see the inside.
They sell Neapolitan pizza made with ingredients that come from local producer and from Italy. In San Francisco it's an institution. You can't resist the temptation of trying the pizza "del popolo" and you will come back.
In this case as well, the success was so big that Darsky, the owner, also opened a restaurant in a fixed location.
Their motto was "gastronomy on the move" and they seem to have moved quite a lot.

BIBIMBAP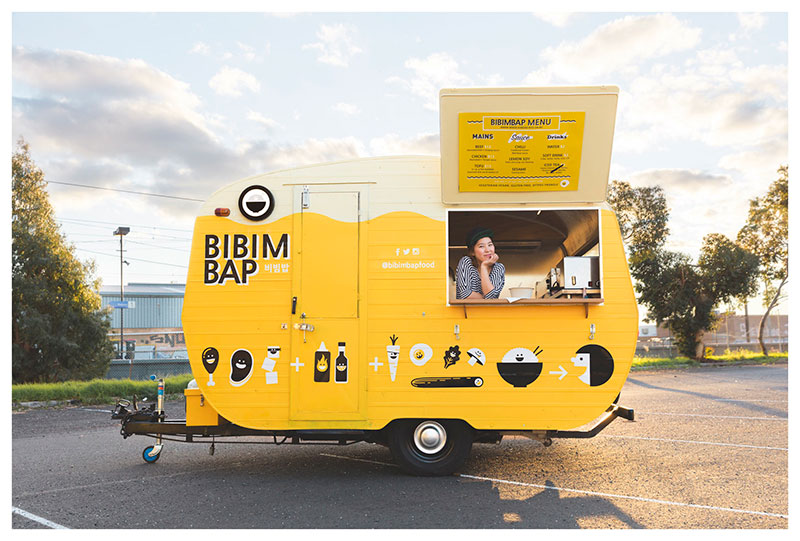 Korean street food in Melbourne. The Bibimbap is a bowl of mixed korean vegetables on which you lay tender meat in fillets from the many different types they offer.
This is the main dish proposed and it is delicious. But you can side it with tasty Korean snacks and sweets, that they sell also with a catering service.
The yellow trailer that spreads cheerfulness and Courtney's smile do the rest.
What makes the success of this food truck really resounding is the fact that it is the result of online crowdfunding. Courtney was a graphic designer with an experience in marketing and brand identity in charge of this street food project.
When you have a good and original ideal, people will love it. No kidding.

KORILLA BBQ


In New York City there is a food truck everyone is talking about since its birth because the idea behind it is really brilliant and the result, in terms of taste, extraordinary.
The original idea was taking the traditional Korean recipes (Koreas has a long tradition of street food) and contaminating them with other food traditions, like Mexican, to sell a tasty and colorful street food.
Korilla BBQ sells grilled meat with handmade tacos and burritos, served with very spicy and rich condiments, according to the Korean tradition.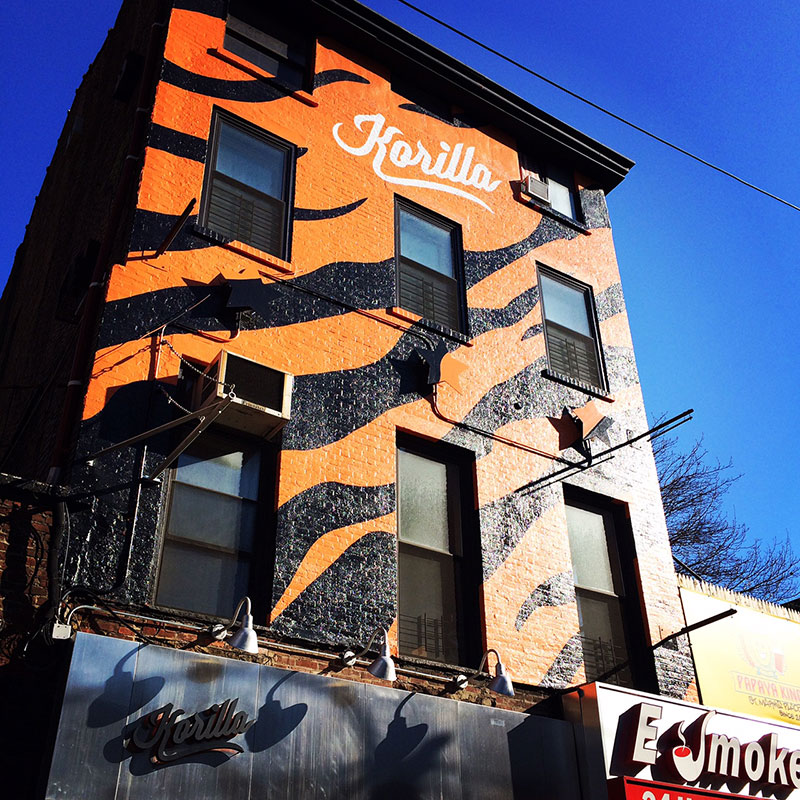 Huge success. So big that today they added 4 restaurants to their first food truck, multiplying the brand popularity.
In New York City, the tiger of the logo and the orange color are now a synonym of Korilla BBQ.
Amazing food trucks: 3 Italian examples

KOSTINA


Chef Michele Bontempi has a restaurant on Lake Garda famous for the delicous ribs prepared after 12 hours of marinate and 24 hours of vacuum-sealed cooking.
Michele decided to offer a catering service and to promote his brand with a food truck vintage with a strong communicative strenght. He opted for a unique vehicle, the new Citroën H converted in an itinerant restaurant that can serve warm meals in all kinds of public and private contexts.
His idea is simple and unique, the food truck is amazing and the success guaranteed.
Kostina is a vintage food truck built on a brand new vehicle and it can give a new light on any company that would like to organize an event offering an innovative and classy service.
The vehicle itself is both a marketing and working instrument that can be used in private and corporate contexts (weddings, parties, birthdays…)

LUPPOLA
An Ape Piaggio converted in itinerant brewery with an integrated tap system.
The Ape was born from the idea of Carlo Barile and it is a gem. With its 3 integrated taps, it can serve tap beer in events where big volumes are needed.
The Ape offers a catering service in Genova and province and it's always more requested in public and private events.
Beer is one of the most popular drinks around the world, but there are still a few food trucks that sell beer in an itinerant way. Luppola fills in the market void and takes advantage of the small competition in this small big niche of market.
Website and social media are the instruments that Carlo Barile is using to promote his activity successfully.

SU PRIMU – SU FRITTU – SU SEGUNDU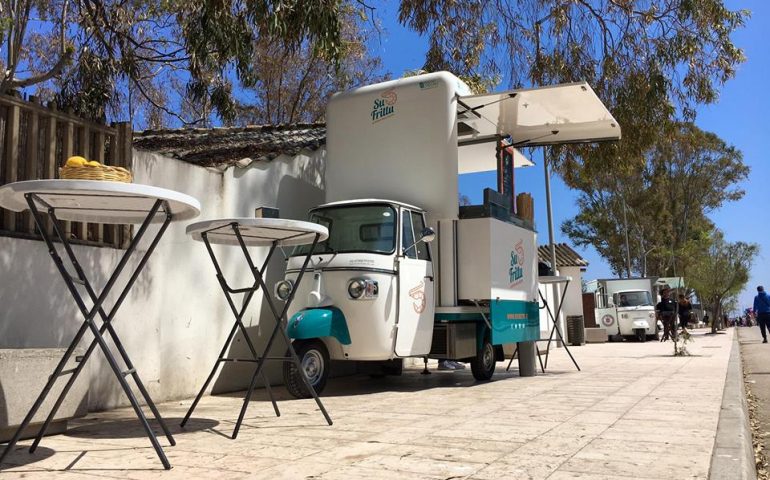 The project of Francesco Orrù is called Itinerant Street Food and consists in 3 Ape food truck that drive around the city of Cagliari with 3 complementary food offers.
Su Primu sells traditional Sardinian pasta and other first meals
Su Segundu offers dishes made with meat and gourmet burghers
Su Frittu is specialized in fried fish
A business idea that turned out to be very popular in the city because it's original and fun, but it also offer quality food.
3 Ape food truck that advertise each other constantly and a boy with smart ideas on how to promote a brand. Another example of a successful project.