We are living in an age in which time is never enough: too many appointments, too many interests, busy life and, often, not enough money. What is the result? People prefer eating in the streets, but do not want to give up quality. Nowadays eating is not only a primary need, it has evolved in a experience of taste and esthetic, involving art and culture.
Not only clients of the food sector are consuming food on the streets, requesting quality, but reknown chefs as well are coming to the streets to cook and sell their culinary creations. The best Italian chefs, including the Michelin-starred chefs, are embracing street food with an enthusiasm that was unthinkable just a few years ago.
This is a worldwide tendency, of course; from New York to Amsterdam, from Reykjavík to Rio de Janeiro and Tel Aviv, you can't keep track of the many chefs that accept the challenge of cooking food on the streets, looking for a synthesis between simple tradition and sophisticated modern haute cuisine.
In 2016, in Singapore the opposite happened for the first time: a Michelin star was assigned to two kiosks that sell noodles and rice with meat. The first Michelin-starred street food in the world!
Among big names, there are also some chefs that choose to devote to street food buying a food truck – some take part at festivals and street food events, some experiments in kiosks or temporary installations during exhibitions or special occasions.
Here below we listed a series of examples that show the growing interest of big chefs in street food.
Michelin-starred chef: Heinz Beck, dumbstruck from Sardinia

In summer 2016, in the central little square of Poltu Quantu, a lovely small town of Costa Smeralda, the Michelin-starred chef Heinz Beck organized a food festival, called "Follow the Star", divided in 3 editions: Sardinian, Italian and International.
All were a great success in terms of public and many big chefs took part. In the edition focused on Italian cuisine, for example, in addition to Heinz Beck, there were other four Michelin-starred chefs: Moreno Cedroni, Ciccio Sultano, Chicco and Roberto Cerea.
In this case, the idea was honoring the Italian gastronomic tradition with amazing chefs who can represent the prestige of Italian cuisine according to different styles rooted in the different regions they came from.
The event was a resounding success and its echo has positively influenced the local tourism.
Here you can see the video of the event:
Michelin-starred chef: Vinod Sookar and his love for Puglia

Chef Vinod Sookar was born in Mauritius islands and married Antonella Ricci, an Italian Michelin-starred chef as well, with whom he runs a well-known restaurant in the province of Brindisi.
Vinod's cuisine is creole per definition and it is influenced by many different cultures, enriched from his passion for discovery and experimentation. Vinod likes travelling and trying local street food. Based on it, he often experiments new dishes in its restaurant.
Michelin-starred chef: Errico Recanati together with Basil, the refugee chef

During August 2016, the city of Macerata hosted with great public success the "Street Food Mediterraneo", an apericena in the name of solidarity, where typical Mediterranean flavors met Middle-East cuisine.
The street food event took place before the show in the Sferisterio, the Greek old theater of Macerata, and the protagonists were Michelin-starred chef Errico Recanati and Basil, a chef from Jordan who has been a refugee in Italy for three years.
Together they prepared high quality street food: parmigiana with roasted tomatoes, meatballs with scottona from Marche and mustard with circerchia for the Italian team; chickpeas falafels with a dust of coriander, aside with three creams (the classic hummus, baba ghanoush with peppers, mutabbal with eggplants and yoghurt) for the Middle-East team. The curious public truly appreciated it.
In a time of tension between people coming from different sides of the Mediterranean Sea, this was a good example of how food can be a common soil where different cultures can meet in joy.
Michelin-starred chef: Giuseppe Biuso for Palermitan street food

In the roman airport of Fiumicino, Feltrinelli company and the Antica Focacceria San Francesco (restaurant in Palermo) joined forces to open a place that offers gourmet dishes with their roots in the traditional street food of Palermo.
The chosen chef for this mission is Giuseppe Biuso, one Michelin star gained in the restaurant Il Cappero di Vulcano. As per his contract, he must invent three new dishes every four months, all inspired by the Sicilian tradition of street food.
Feltrinelli Library and Therasia Resort, the hotel that hosts the Michelin-starred restaurant of Giuseppe Biuso, hope that this operation will raise their popularity and reinforce their image. Giuseppe Biuso, on his side, accepted the challenge.
The big gamble here is promoting their own image, being at the crossroads of high quality gastronomy and street food.
Michelin-starred chef: Felice Lo Basso and his gourmet food truck

It's called Rolling Star and it is a gourmet food truck, born from the idea of Giancarlo Zarattini, an ex-broker who has always been convinced about the potentiality of food trucks in the Italian market, and Felice Lo Basso, Michelin-starred chef of Unico restaurant in Milan.
The vintage food truck is made on an old Citroen H with the idea of bringing on the streets the Italian and international recipes made in the kitchen laboratory of Lo Basso and then, thanks to the food truck, served with a catering service in the directional centers of Milan.
The project made its first appearance during the Expo of Milan in 2015 and still gains great success because it is based on a smart business idea up with the times. Also in this case, the project not only gives direct profits, but also undoubtedly indirect. The food truck has a good influence on the Unico restaurant, located at the 21st floor of the WJC Tower in Milan, and on the fame of Chef Felice Lo Basso.
Michelin-starred chef: Igles Corelli and his Mercerie

Igles Corelli is a Michelin-starred chef in the Atman restaurant in the Province of Pistoia and he is launching a very ambitious project, taking two different directions:
opening of a series of "bars" branded Mercerie where the client will be able to buy take away food or taste over there different kinds of food, sweet and salty, of very good quality but with very affordable prices;
offering high quality catering service for private citizens and companies.

The slogan that comes with the brand is High Street Food that synthetizes well the mark that Corelli wants to give. The concept is also found clearly in the attention to packaging for the products that will be sold in the Mercerie: mini dishes to take-away or that can be enjoyed in loco and are good to eat and nice to see.
An example? The lasagnette, homemade like in the Italian tradition.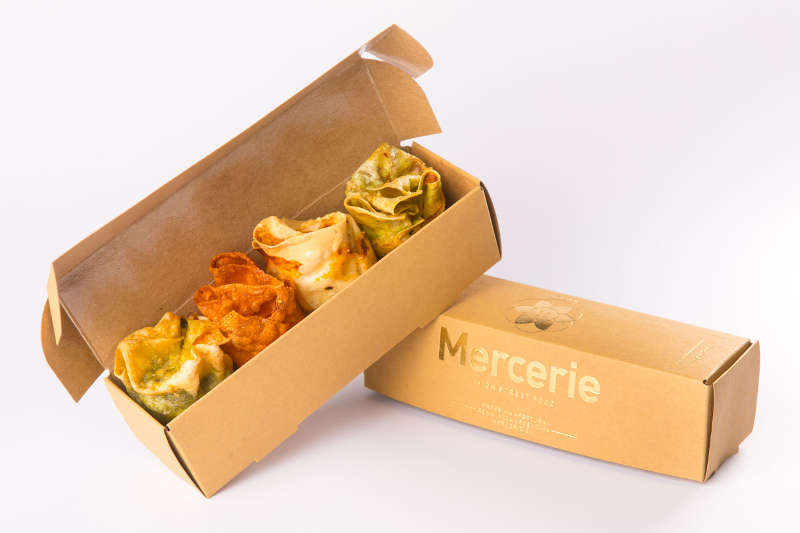 The Mercerie are open from early morning to late at night and they please a wide range of public, offering breakfasts, gourmet food salty and sweet, a selection of wines and beverages created ad hoc. You can definitely say that stars came to the streets.
Michelin-starred chef: Mauro Uliassi and his gastro-shuttle

The "Uliassi Street Good" project, launched by the famous Michelin-starred chef Mauro Uliassi, has its focal point in the itinerant kiosk with a futuristic style, from where you get the classical street food dishes with a gourmet makeover.
Sandwiches with trippa or porchetta, fryed fish cartocci, krapfen and many more become extraordinary tasty dishes without losing their street food profile. And over there you can also find trapizzini, somewhere in between tramezzini and pizza, a creation of the street food chef Stefano Calegari, who allowed Chef Uliassi to sell in his futuristic street food.
Uliassi's project is a true business venture where innovation, communicated primarily with the futuristic kiosk, is playing a central role on many levels, food in primis.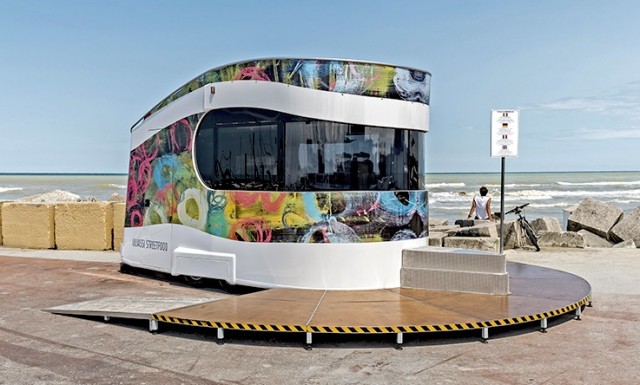 These are just a few italian examples among many others in Italy and abroad. Not to mention the numerous chefs without Michelin stars, but at top level, like the Swiss chef Trevor Appignani and his mobile restaurant on a Ducato food truck. These are all proofs that street food has become a real business opportunity for creative chefs that are not afraid to take the initiative.
Michelin-starred chef: Yorann Vandriessche and his two food trucks

Yorann Vandriessche decided to acquire two very different food trucks, which in some ways complement one another, with the intention of getting the most out of their qualities to bring his cuisine to a larger audience while at the same time advertising his restaurant.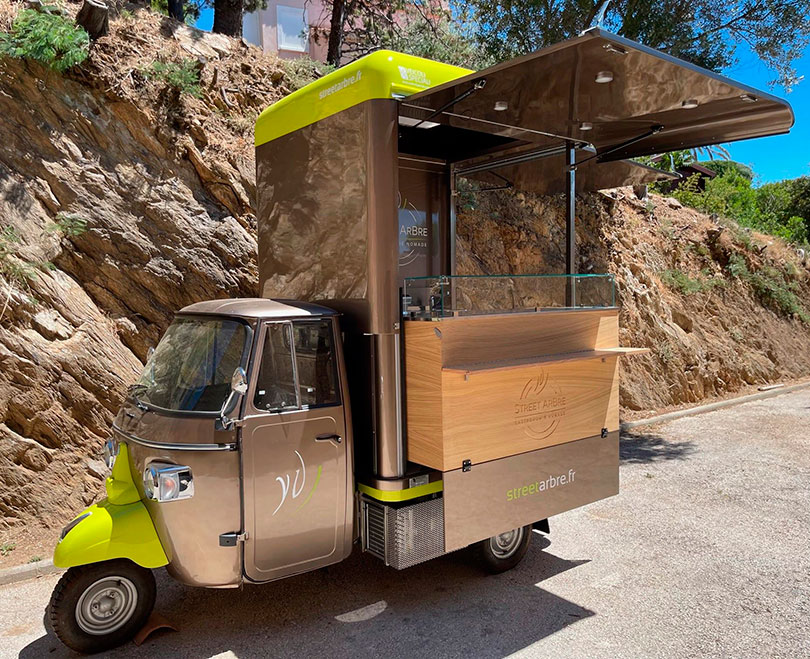 Specialized in traveling gastronomy and villa events, the two food trucks offer the starred-chef's dishes for delivery and in a high-quality food catering service. For the residents who find themselves in the local area, it is a proximity deliveries service: etoile street food.
By visiting the gorgeous Medieval hamlet of Bormes Les Mimosas it is possible to see the trucks and appreciate their designs, even before enjoying their products.

In conclusion, we would like to mention the research that Sanpellegrino carried on to define the typical profile of the street food eater. Maybe this will help other good chefs that read this article to a better definition of their potential clients.
According to this research the street food eater:
is dynamic and doesn't like sedentarism (74%);
is sensitive to the issue of eating healthy (68%);
wants premium quality raw material (67%);
is active on social media, where he posts pictures of his favorite street foods (58%).

At this point, we wish to all chefs to come to the streets, which seems to be the beginning or the result of a wonderful career!