Beer, together with wine, tea and coffee, is one of the most consumed beverage in the world. In Europe, USA, Australia and many other countries, beer is undoubtedly the most common drink during moments of gathering. At home, at the pub, at restaurants, parties, festivals and events, beer can be considered the universal social bond.
Curiously, there are countless breweries and pubs, where beer flows nonstop, but only a few itinerant breweries.
Although the street food sector embraces any street food category and food trucks of all kinds comes to light, beer is still served in bottles. Tap beer remains a kind of taboo in the food truck world.
Consequently, companies, public entities, private citizens and agencies that organize events continued to use banquets, gazebos and temporary stalls to offer a catering service with drinks like beer, wine, aperitivi and similar.
The main reason for this void in the beer market – but this could work for wine, prosecco and other drinks – is due to the fact that it's a common belief that tap technology can't be adapted to the imposed conditions of a vehicle or mobile structures with limited space.
If this could be true in the past, it is not anymore. We can design a efficient mobile prosecco bar or a wine truck on every kind of vehicle.
Ape Luppola: aka, how to make profits with events

L'Ape Luppola is the perfect example of an Ape Beer. It was born from the idea of Mr. Carlo Barile and it is a true mobile beer truck with a professional tap system.
Here you can see the technical features of Ape Luppola:
Ape V-Curve® Piaggio
Integrated refrigerated tap system with 3 lines
Generator TEC29
Electric system 220V 16A
Independent water system with hot water
LED lightning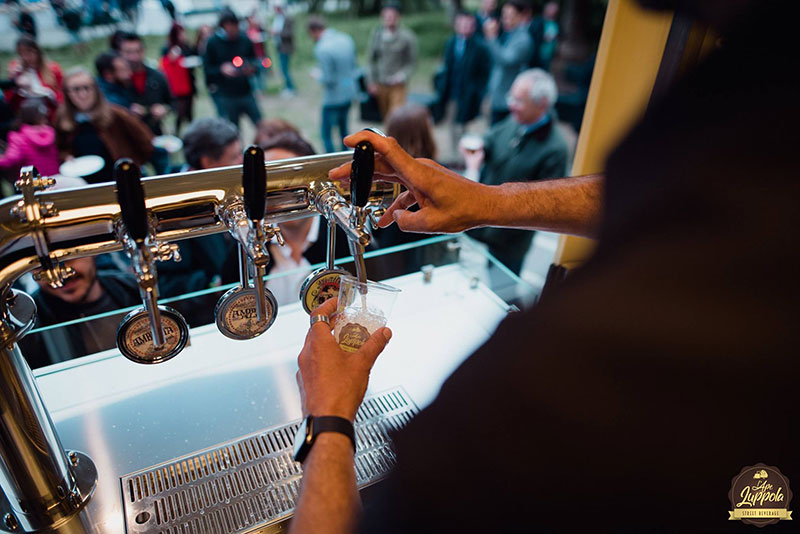 Thanks to the tap system with 3 lines, the beer van of Mr. Carlo Barile can serve big volumes with high customer flows.
This small beer truck is suitable for any kind of event and it is thought to be used in the following occasions:
private parties;
weddings;
company meetings;
openings;
public events;
etc.
Ape Luppola works consistently in the city of Genova and province, offering a wide selection of artisanal beers of the territory.
In this sense, the merit of the idea of Mr. Carlo Barile is the rediscovery of artisanal beer, a wave that is expanding in Italy and abroad.
The beer market has an immense potential also for this reason: from common tap beer to the selected artisanal beer produced by small specialized growers, the opportunities to offer to each client the right product are endless.
Ape Luppola is the proof that this can be done also with a dedicated food truck. A Piaggio Ape Beer allows you to offer a catering service with quality products in any private or public context.
If you want to invest in an itinerant brewery or mobile beer truck, you must know how to profit from events. Mr. Carlo Barile knows it very well and for this reason, aside from the traditional marketing and the always-welcome word of mouth, he is online with a nice website and active on social networks like Facebook and Instagram.
The Ape does the rest of the job: its design, its originality, the fun look are the best calling card you can get. The real proof that on a Piaggio truck you can tap beer, prosecco and wine and make a profitable business out of it.
We can't wait to meet the next Mr. Carlo Barile!