The custom of eating and drinking in the streets, whether in public locations or outdoor spaces, has made a big comeback over the last few years.
Street food goes back to ancient times for the simple fact that people have always eaten outdoors and in public spaces.
Whether in restaurants, markets, squares, at stands or food and ice cream carts, eating and drinking in company has always gone hand in hand with a festive and convivial atmosphere that brightens up our lives.
This way of sharing faded away during the decades following the Second World War, but has come back in fashion over the last few years with food trucks.
These vehicles went from simply transporting food and drinks to becoming sophisticated work tools for carrying out various tasks like:
food conservation and preparation;
providing professional kitchens;
show cooking;
food sales and display;
product promotion;
branding and advertising.
One of the most successful street food outfittings is the traveling brewery and, more generally, vehicles set up for selling drinks on tap (but not only) like prosecco, sparkling wine, wine and similar drinks.
Is there any drink which brings people together more than beer? Breweries, restaurants, hotels, fast food chains, event organizers, marketing agencies and corporations have figured out that the answer is a resounding no.
Each one of these entities has good reasons for acquiring a Beer Van, a Beer Truck or a Mobile Brewery on a Trailer.
Thanks to their technical peculiarities, these vehicles can be equipped with a multi-tap system and be used in various contexts.
Here are some examples: an electric Piaggio ApeCar converted into a beer van can be easily used at company events, in internal courtyards at resorts or even in museum and exhibition spaces.
Beer food trucks attract huge crowds at festivals and Expos. Plus, they can offer a catering and rental service for private parties and weddings.
Trailers set up for selling draft beer can be transported to town festivals and brought to the seaside, near parks, highway exits and large commercial spaces.
A traveling brewery offers plenty of opportunities to make profits by connecting one's brand with joyous and convivial moments.
It's difficult to ask for anything more from a piece of equipment.
In order to get a better handle on the alternatives available, we have listed some mobile breweries built for different companies and set up on various food truck models.
Examples of traveling breweries
Brewery Piaggio Ape V-Curve
This craft brewery in Valgardena (Bolzano) is known for its use of high-quality natural ingredients and pure water from the Dolomites.
It uses the Beer Ape to sell its craft beers, some of which are aged with spontaneous fermentation in oak barrels.
The Ape Eguia is also available to be rented.
This Ligurian manufacturer of craft beer uses the beer van Ape to participate in events like the Genoa International Boat Show and promotes its brand on tours along the Ligurian Riviera.
Zapfer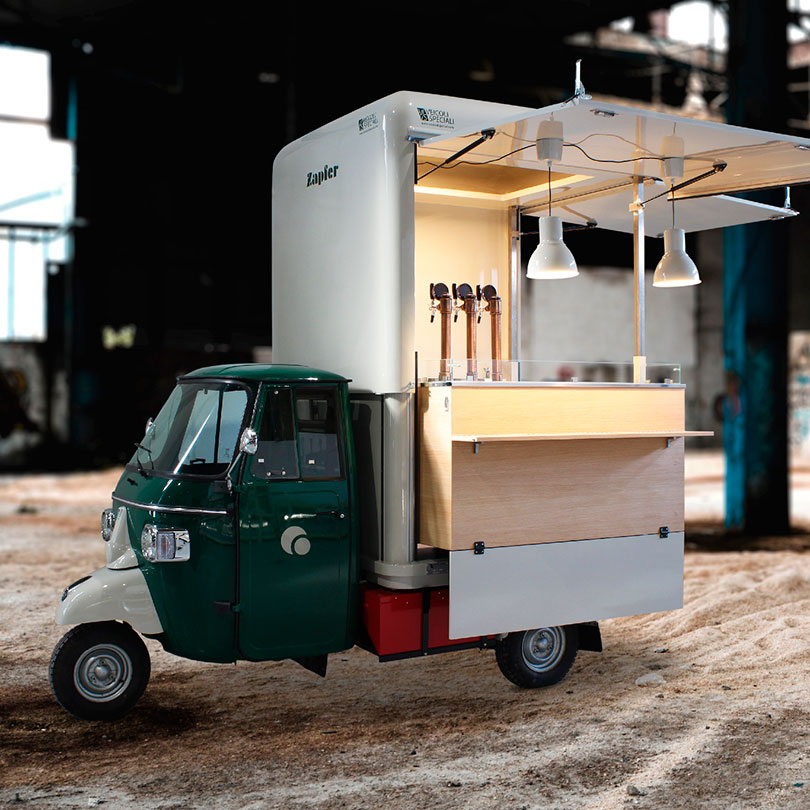 This brewery and beer hall in Zurich has an Ape V-Curve with a built-in multi-tap system to promote the brand. Its strategy is as cool as the craft beers served to its passionate customers.
Birreria Ape Smart
Alehouse
It is a 3-wheel Piaggio Ape Smart equipped to sell three popular products in Switzerland "Bratwurst, Bürli und Bier"—initials which call back to the B-3 brand, a consulting company in German-speaking Switzerland specialized in engineering and management.
This clever bit of marketing has been embodied in this mini-Beer Truck, which gets used at company and sector events.
Beer Truck Vintage
This Umbrian brewery uses centuries-old traditions and is well-known abroad for its "Special unfiltered and unpasteurized blonde beer which is refermented in the bottle and produced in Italy with top fermentation."
This Fiat 1100 Musone is a vehicle which does not go unnoticed. With its 4-tap system you can be sure that no one will go home thirsty.
inCircolo is a Beer Food Truck that offers a home delivery service on a classic Citröen HY truck with a wide selection of draft beers, cocktails, fine wines and soft drinks.
This brewery truck can be rented for parties, weddings, catering, birthdays and any other type of event.
Beer Trailer
Löwengrube is an Italian brand which is well-known for having created beer and cuisine that reproduces the traditional, casual and convivial style of Bavaria.
This completely customized brewery trailer is a genuine itinerant pub which is capable of serving Bavarian dishes and beer to happy and thirsty clients.
Flavor and joy on-the-go.
————
It is clear that mobile breweries are a tool to get brands going in order to increase their visibility and profits with a dynamic and youthful strategy.
Draft beer, a fantastic social lubricant, can become a great lubricant for your business as well, with a food truck acting as your brand ambassador.
Innovation moves on wheels.