The street food business is having an amazing success in the last few years and thousands businessmen as much as small and big companies are buying a food truck to sell food, coffee or cocktails with a strong connection to their local and regional cuisine. They want to rescue the authenticity of food, the cultural and sensory richness that the good "cucina" has always embedded.
This movement develops with the parallel diffusion of festivals and street food events, of great success, that are multiplying in squares, streets and public spaces throughout whole Italy. Always further away from the low quality mobile fast food, today new food truckers are leading representatives of the food sector. They propose the most innovative experimentations in terms of street food but also in terms of catering business in general.
Let's take a close look at 9 Italian examples where food truck and street food create an excellent pair of taste and design.

1.
street food: HAMBURGER
food truck: Rock Burger (Fiat Ducato)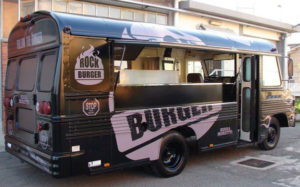 The Bene Così Rock Burger is a popular bar in Turin with a culinary offer based on quality hamburgers, aperitivi and cafeteria at the sound of rock!
The bad boys that own the bar now are also equipped with the amazing Bus Food Truck that proposes "Rock recipes": research and creativity aiming at offering gourmet street food to the beat of music. A food truck available also for street food events, caterings, weddings, private parties and company events.

2.
street food: CUNZATU BREAD AND SICILIAN FOOD
food truck: Ape Bedda (Ape Piaggio)
Ape Bedda was born from the inspiration of Tiziana and Basilio, she is an architect and he comes from the radio world, both with the dream of transforming their passion for Sicilian cuisine into a job. They left Milan heading to Sicily on their vintage Ape Piaggio and now they propose an original combination of great street food (pane cunzatu enriched with 100% bio products) and the stories of the traditional culture of Cunti. A combination that joins the emotion of the palate to the soul.
Don't you believe it? Take a look at this video:
You can also rent "Bedda", their cute Ape Piaggio, for parties and events, or request their catering services at your place!

3.
street food: POLENTA
food truck: PolentApe (2 Ape Piaggio V-Curve®)
A typical dish of the northern Italian tradition, the Polenta, gains an unexpected success also as a street food thanks to the 2 Ape food outfitted by VS to offer a tasting experience that will leave you amazed. Ancient flavor that literally goes on the streets thanks to the two complementary trucks: one designed to work on-shore and the other one designed to work on-board.

4.
street food: FISH DISHES
food truck: Fish & Chic (Fiat Ducato)
Around 1950, in Porto di Garda, Albino started a catering business that prolongs its success up to our days with Fish&Chic, the fish & chips food truck that really makes an impact. A veritable itinerant restaurant that offers from mixed fried fish to dishes more sophisticated as the taar taar of salmon.

5.
street food: GELATO AND YOGURT
food truck: la Tua Cremeria (Piaggio Porter and Trailer)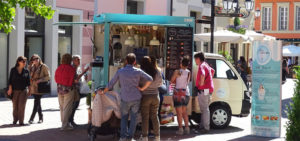 The reference model is the old ice-cream cart with a modern twist, thanks to new technologies that allow preparing ice cream and yogurt blast freezing them at the moment with an express blast-freezing machine, in order to offer a genuine and natural product.
The express blast freezing allows transforming the liquid mixture in ice cream only when it's served. Suppliers and ingredients are carefully selected and mainly come from Piedmont. In this way, they obtain a quality street food.
2 the mobile ice-cream shop at their disposal: 1 piaggio porter e 1 ice-cream shop trailer

6.
street food: CHIANINA MEAT HAMBURGER
food truck: bbq valdichiana (2 Ape Piaggio V-Curve®)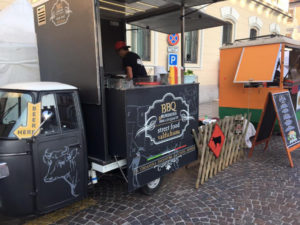 Hamburger as a quality dish has now officially entered our culinary culture. Who still remembers the plastic chewing gum made by McDonalds? The news here is that quality burgers now can be found also on a three-wheeler, the Ape V-Curve BBQ VALDICHIANA, which uses Chianina meat from Tuscany of gourmet quality. Can you still call this a street food?

7.
street food: BIGOLI PASTA
food truck: Marnico (Renault Master)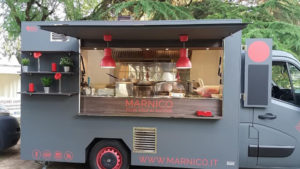 Bigoli are probably the most traditional pasta of Veneto, a traditional product that farmers have been cooking since the Repubblica of Venezia. They are made of very simple ingredients, as soft wheat flour, salt and very few water, and then enriched with prime quality ingredients. They have had tremendous success since the very first challenge launched by Marnico with their beautiful food truck renault master. Cooking fresh pasta and selling it like a street food? Yes, we can!

8.
street food: SALAMI AND CHEESE
food truck: Parma Food (Ape Piaggio V-Curve®)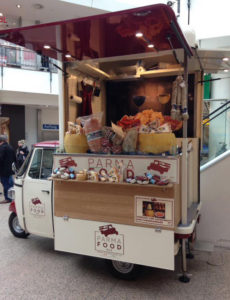 Parma is called the Italian "Food Valley" and was declared the "Creative City of Gastronomy" by UNESCO, thanks to its extraordinary gastronomic offer. Exploiting this potential, Silvia, Luca e Ferdinando propose the local and regional delicacies outside the Italian borders. They sell their food on an Apecar of the unmistakable design and currently are working on the Lake Constance in Germany.

9.
street food: VERGNANO COFFEE
food truck: Vergnano (Ape Piaggio Classic)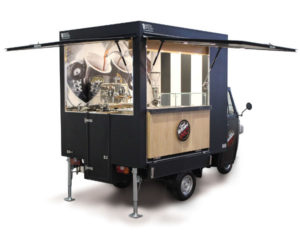 A product with an international fame that doesn't need any presentation, even more if it's sold on this beautiful food van made on an Ape Piaggio. An traveling cafeteria that can promote the brand better than any advertising campaign could do.