One of the biggest fear among business owners that have a store but would like to launch a mobile version, or also among those who want to open an itinerant business, is not knowing if it will be able to face wintertime.
You might think that during winter people tend to avoid staying outside in the streets and prefer spending time inside warm and comfy bars. This is only partially true, because there are many contexts in winter, where people love spending time outside and where food truckers have very good business opportunities.
Let's take a closer look at some examples of food trucks and contexts where the "winter factor" is not a disadvantage at all, but it is the main ally of food truckers.

Sanfish




Sanfish is a food truck created on a Peugeot Boxer with a professional kitchen on it to serve fish street food on the streets of Vienna and Austria. Do you perhaps think that winter in Austria is short and warm? Obviously it isn't. But this doesn't prevent Sanfish guys to work 12 months a year. When are their best opportunities? During Christmas markets, of course! The proof is in the pudding, or better in their delicious Lobster roll!

Café Alpin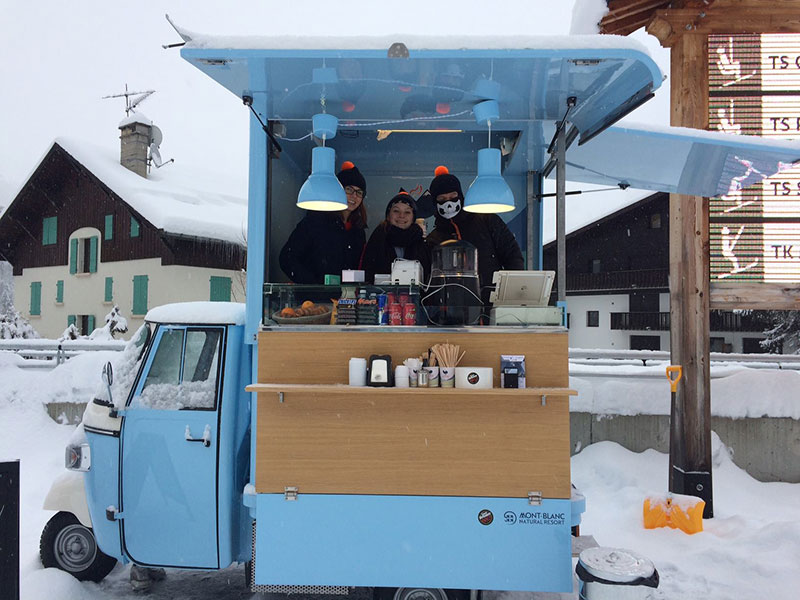 The Coffee Ape that turned the cold winter days in Chamonix into an advantage. To be specific, this is a fleet of Piaggio trucks designed to offer warm beverages to skiers. Italian coffee and warm chocolate, English tea and other pleasures in a cup size to delight skiers and tourists at the ski lifts and in the most popular locations in Chamonix.

La Creperie Switzerland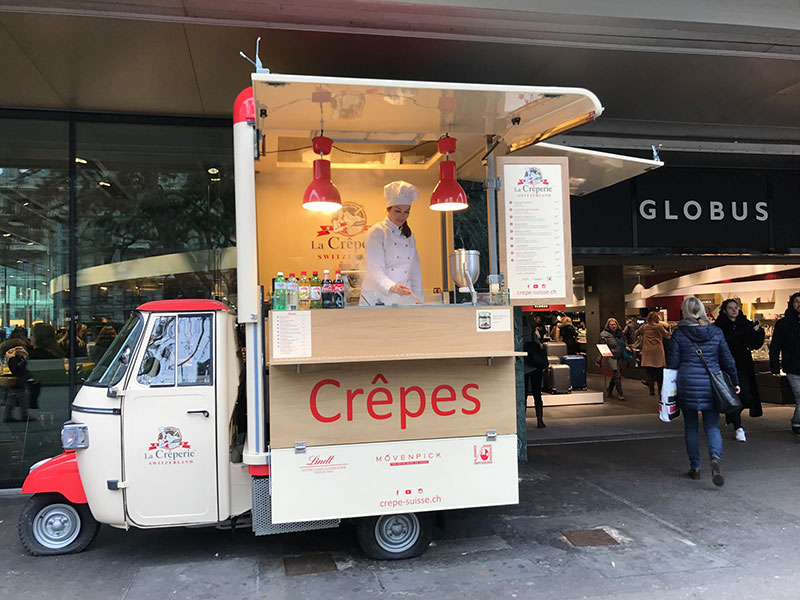 An Ape Piaggio V-Curve outfitted with all the equipment to cook delicious French crepes, a true itinerant creperie. You can find it in Zurich during all year. The most strategic place where you can find it is the train station, where there is never a low season.

La Tua Cremeria – Trailer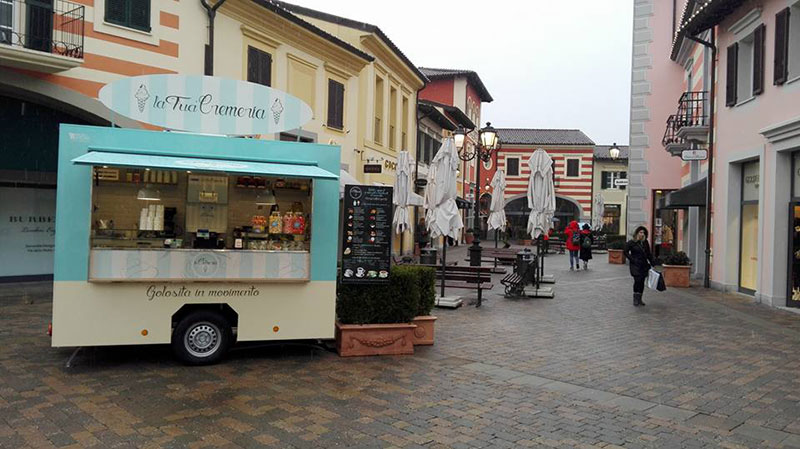 La Tua Cremeria – Porter Piaggio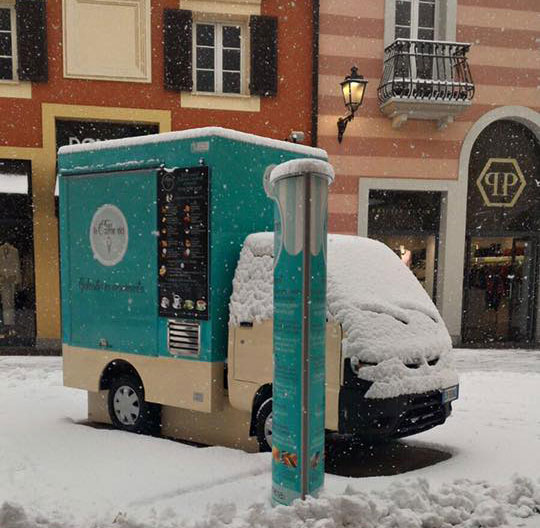 A street food trailer and a Piaggio Porter outfitted to sell soft ice cream. La Tua Cremeria as well has no low season, their ice cream sells off during the whole year, also in the famous outlet village of Serravalle, in Alessandria province, where you can find it during weekends.

Nonna & Nonno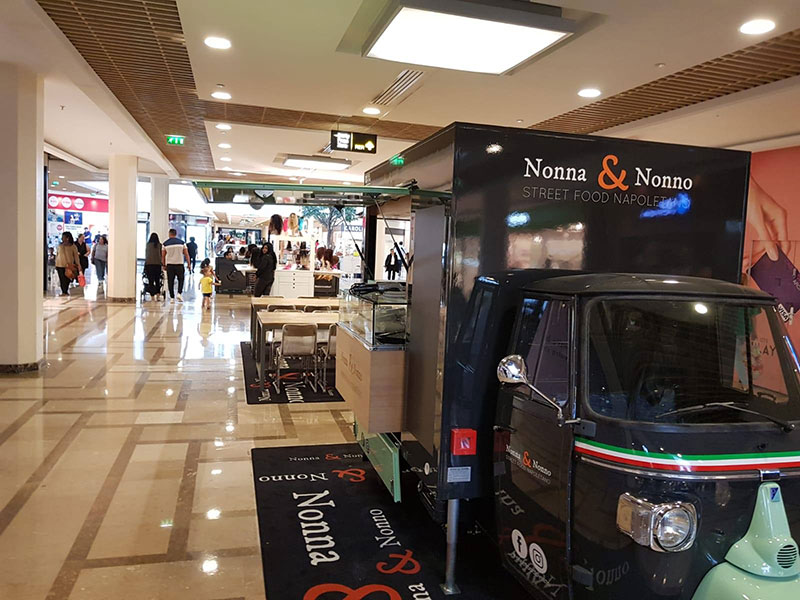 Patented outfitting on a Piaggio Ape TR to sell Italian and Neapolitan products in the commercial center Les Arcades in Paris. It's a vehicle specifically designed to work in closed and open spaces, public and private, with no limits in usage. The season doesn't matter with Ape TR.

Caffè Lavazza




The food truck is a conversion of a vintage Fiat 615. A true cafeteria on wheels that you can find all year long in the Turin airport to welcome and say goodbye to travelers with a nice aroma of espresso.

Caviar House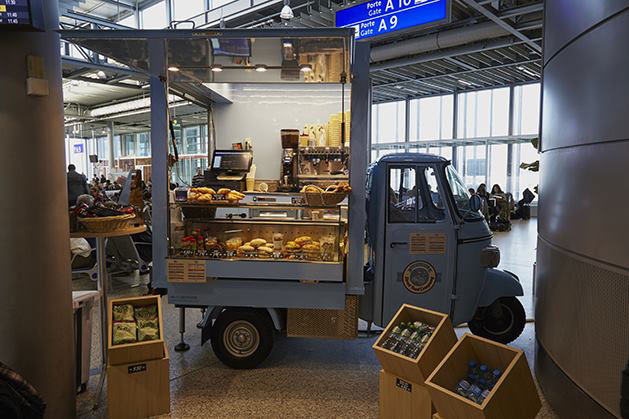 Another airport, this time in Geneva, Switzerland, where you can find this Ape food truck selling snacks and fresh fish meals. As you can imagine, this time as well, winter stays out of the door.

THF – The Hamburger Foundation




Three friends in Switzerland keep up the honor of the gourmet hamburger facing the assault of fast food with this Fiat Ducato outfitted with a professional kitchen. No fear of winter.

Pepino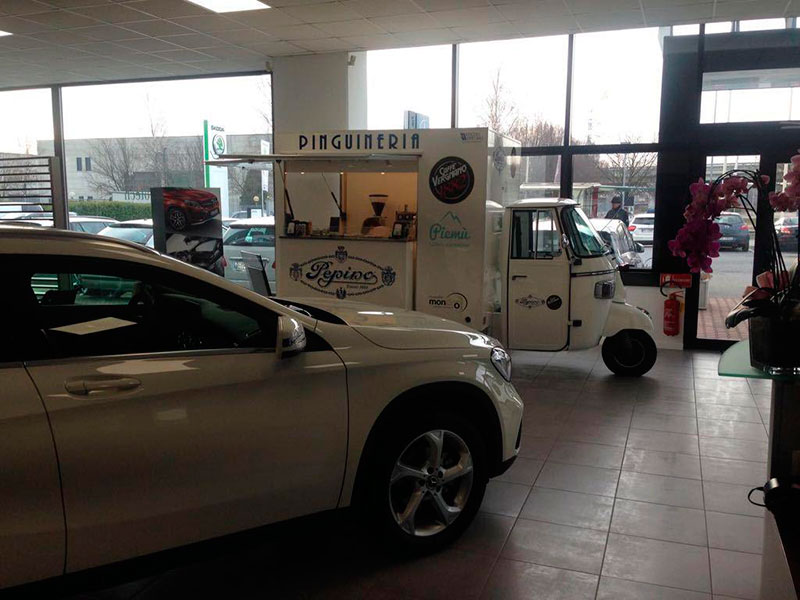 Mobile ice cream shop outfitted on Ape TR. The famous Italian ice cream brand Pepino always finds a way to sell its venerated artisanal products. No matter when, no matter where, no one can stop Pepino.

In conclusion, inside or outside, in a building or on the streets, food trucks have hundreds of ways to work full speed during winter. Itinerant business owners keep inventing new ways to grow.
All you need is gumption and flexibility, ideas and experience come with time, but a good advice provided by the expert of the sector can speed up the whole process.