Eventually innovation would embrace the street food sector as well, especially in food truck branch, and the innovation process touches all technologies, not only concerning design but also research on materials, attention to health and energy saving.
VS Veicoli Speciali has been involved in innovating food trucks for years, elevating quality standards and safety on vehicles, introducing high value materials and new production techniques, bringing together practicality, ergonomics and beauty in a synthesis that wants to be a model for industrial design in special vehicles sector.
Among these, street food trailers offer a great variety of uses. They are shops on wheels without engine, so they can be transported and positioned in any location, but, at the same time, their power source requires a special work on how to optimize spaces, materials and equipment to minimize energy consumption during the phases of preparing and selling street food.
The opportunity to operate a significant technologic evolution in building food trailers has arisen when the multinational corporation Tesla decided to use a food trailer in its promotional tour to present its new Model X (battery car) and the charging stations in Tesla's net in Italy.
When Tesla Owners and VS Veicoli Speciali met, it was immediately clear that it would be a successful collaboration between these two companies that have innovation and research in their DNA.




So, the F-Trailer was born, where F stands for Future Trailer, an innovative street food trailer with an inductive kitchen alimented by a photovoltaic cube and, for the occasion, towed by the Tesla Model X.
The promotional tour started in January and will take place through the whole 2018 with the aim of, not only promoting sustainable mobility, but also representing and displaying it concretely, showing that it is already a fact.
With this concept in mind, VS Veicoli Speciali and all the other technological partners, who took part in this project, worked to make this street food trailer totally self-powered by solar energy.
The promotional tour will have zero impact in terms of mobility, thanks to the electric Tesla that will tow the trailer, and in terms of cooking equipment, because it will use the electrons of the battery of the car.
F-Trailer: mobile kitchen trailer powered by renewable energy
The F-Trailer is a prototype of a self-alimented food trailer designed for the Tesla Destination Tour and destined to be a reference for the sector.




Its technical features are:
1000kg weight and 2 m height
4 stationary feet
Liftable roof and sliding counter
Independent water system with low consumption heating
n°2 fridges with cold accumulating system of 150 lt and with 8 hours autonomy without power
Cooking zone with extractor hood and low consumption induction plate
LED lightning
Lithium battery of 10,2 kWh
Photovoltaic system of 1,5 kWp
Recharging system also from columns
Remote monitoring system
The F-Trailer is the first ecologic trailer based on batteries alimented by photovoltaic panels and equipped with a professional kitchen where all materials and technological elements are designed to reduce the energy consumption and the environmental impact at its lowest level. All this advancements have paved the way to a new concept trailer.
F-Trailer: street food trailer outfitted with cutting edge technology
The F-Trailer results from the collaboration of some of the best companies in the food, automotive and technology sectors. The synergy among VS Veicoli Speciali and these leading edge companies allowed to achieve this extraordinary result: a true itinerant sustainable restaurant.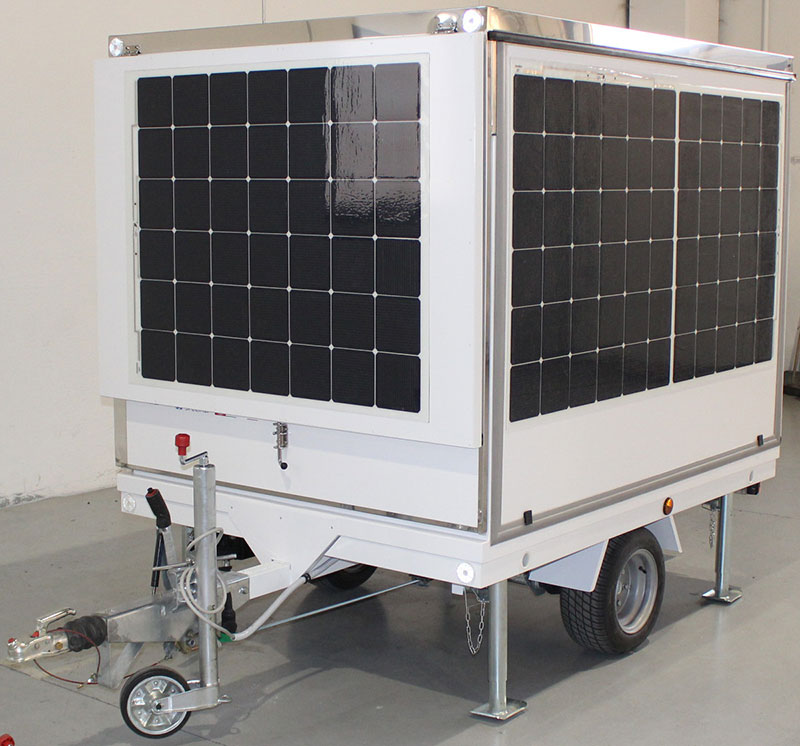 Let's see how the different companies helped VS Veicoli Speciali in this project.
Kaitek supplied the lithium battery used in the F-Trailer, called Flash Battery. Flash Battery has a 10,2 kWh power, with a tension of 51,2 V and a capacity of 200 Ah. The remote control allow the owner to monitor the efficiency and functionality of the battery during the whole tour.
The battery recharges with solar energy thanks to the innovative photovoltaic monocrystalline panels designed by Solbian.
The photovoltaic system installed on the kitchen-trailer is a concentrate of avant-garde technology and sustainability because it exploits the features of lightness and power of the solar panel supplied by Solbian. A power of almost 1400W with a total weight of only 18 kg.
These figures are the result of the extreme personalisation of the panels on one side, which allowed using all the available surfaces at their best, and of the special technology of the Turin-based company on the other side, which uses last generation cells, protected by techno polymers that give resistance and durability, even if they are only few tenths of millimeter.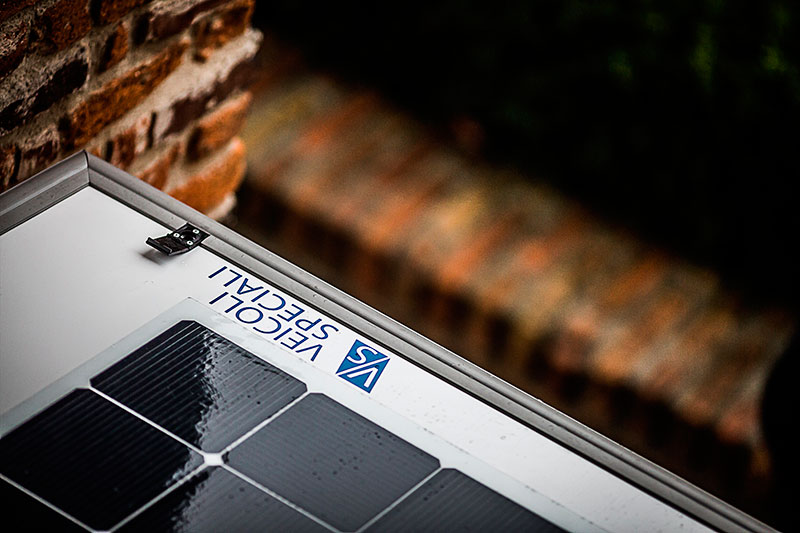 The solar panels chosen for this project use monocrystalline cells of silicon and an electric "multibusbar" contacting that gives the maximum results also in low lightning and big resilience of the system to small damages, always possible when used on moving vehicles.
The system was optimized also in terms of electric output; Solbian divided the photovoltaic field in 5 independent sections, each controlled by a high-efficiency charge regulator and provided with a MPPT algorithm (research of max power).
In this way the 5 sections work together when the F-Trailer is open (and panels are all similarly oriented), but can provide charge also when the trailer is closed and the orientation to the sun is not homogeneous. Each of them gives the maximum contribution possible.
In the best conditions, which are in a sunny summer day, the system can provide up to 8kWh of energy during the whole day. This is a very significant quantity that can also exceed kitchen consumes on board.
This German manufacturer of premium cooking equipment supplied the induction cooking plates Full Induction, which is a large cooking surface with big flexibility and energetic efficiency.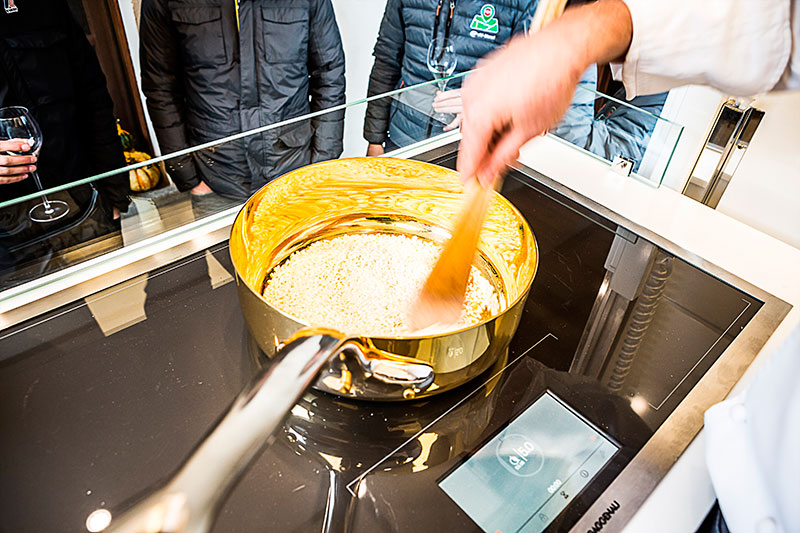 The 48 micro-inductors placed under the glass-ceramic surface create an electromagnetic field that can determine where the pan is positioned and can diffuse warmth in a selective way, warming up uniformly only the material of the object without energy loss. In this way, induction technology insures faster cooking time, substantial energy output and maximum comfort for the user.

Elementi
This company supplied the personalized table in copper color and the Krion work surface area with an innovative bar for electric connection.

Rocket Espresso
Rocket Espresso created a portable coffee machine for espresso in dust at high efficiency that is used on board of the street food trailer to serve delicious coffee with minimum energy consumption.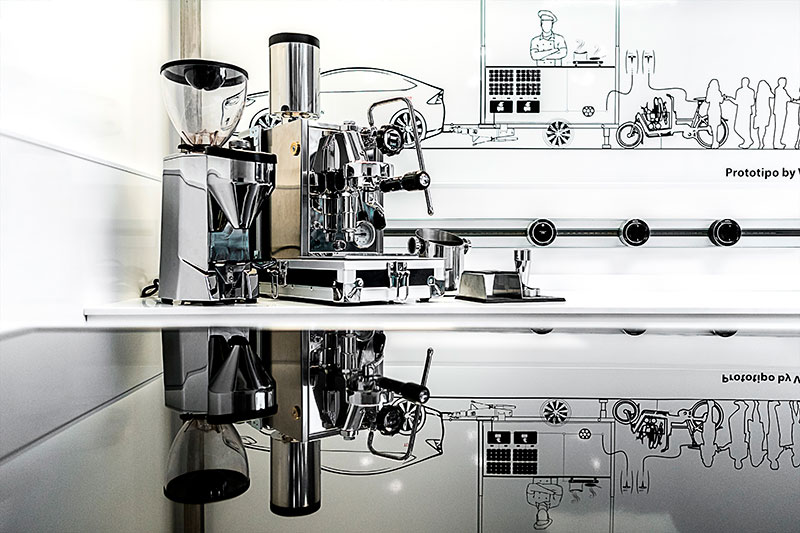 Using a street food trailer for promotional purposes or for itinerant trade
The Tesla promotional tour is a great example of how to exploit street food as an occasion to promote new products and a new concept of sustainable mobility.
Thanks to the extreme flexibility in using it, the F-Trailer can be towed to any location and used in many different contexts:
streets
festivals
public or private events
itinerant promotional tours
ecc.
The F-Trailer is 100% independent and there is no need to connect it to external electricity. It can be placed in strategical positions to gain visibility.
Apart from using it for promotional tours, the F-Trailer can be also used for itinerant trade. Companies in the restaurant sector can convert it in a mobile kitchen in order to gain profits directly selling elaborate dishes cooked on board, using the trailer both as a food truck and as a promo truck.
The range of marketing and selling strategies with the F-Trailer is endless. Tesla can be an inspiration.