Once upon a time there was the mobile ice cream cart; today, its heirs carry on with this tradition and have brought it up-to-date in order to keep it appealing.
The wooden hand-drawn ice cream cart was followed by a bike-drawn cart, and then small vehicles like the Vespacar and Ape Piaggio. Today, there are a number of solutions which allow you to set up a MOBILE ICE CREAM BUSINESS on:

In truth, the cart never entirely disappeared, but it evolved to become modern, efficient, customizable, and capable of communicating and promoting a brand identity.
The means of transport have changed, but the CONCEPT hasn't. It remains incredibly effective for one simple reason: ice cream food trucks bring joy, flavor, and color.

Ice Cream Apecar (V-Curve) : Maison Charrié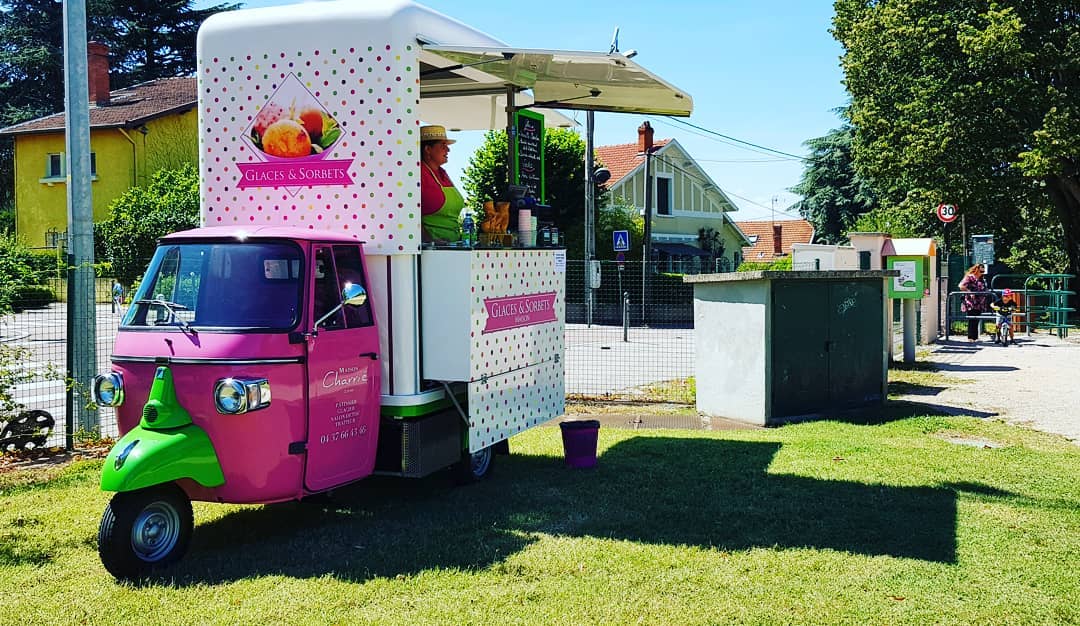 Children and adults are both immediately cheered up at the sight of an ice cream food truck.
This is what attracts companies and streets vendors to keep on opening successful mobile ice cream businesses everywhere in the world:
in big cities and small towns;
within commercial spaces;
in courtyards and private gardens;
in crowded area at big events, festivals, and trade fairs;
etc.

The mobility of a modern ice cream vendor allows you to take advantage of every occasion and space to sell products and gain visibility.

Ice Cream Food Truck: Dolcelavita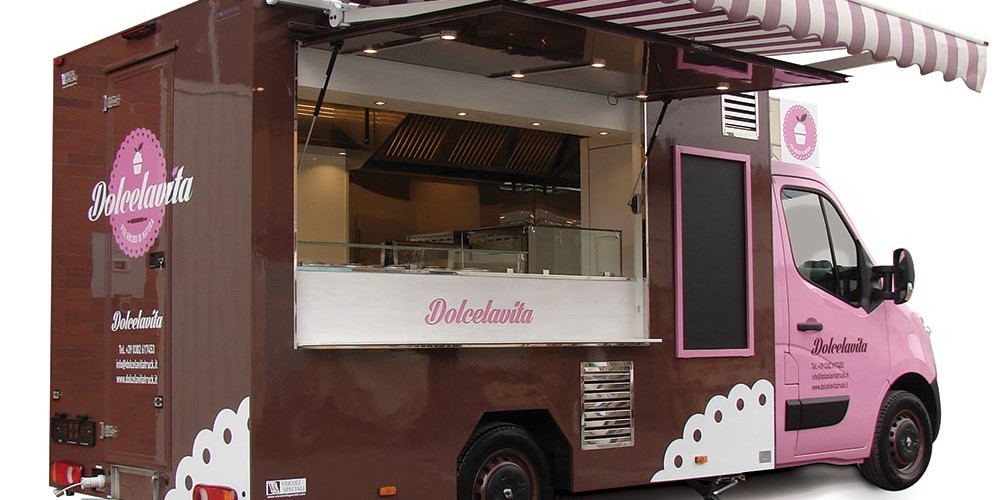 The products on offer are not necessarily limited to just GELATO, but can also include:
granita
milkshakes
coffee
warm beverages
smoothies and juices
desserts and artisanal treats
etc.

Any kind of business, in any sector, can offer a bar and ice cream service to its customers and staff.
A mobile ice cream business to promote the brand and make profits
A mobile ice cream shop can be built onto any type of vehicle with the equipment and configuration that best fit to its aims and settings.
On an electric Apecar your mobile ice cream business will acquire the retro appeal of the iconic Piaggio vehicle, with all the comforts and optionals made available by the latest technologies.
Ice Cream Apecar (V-Curve): Raugi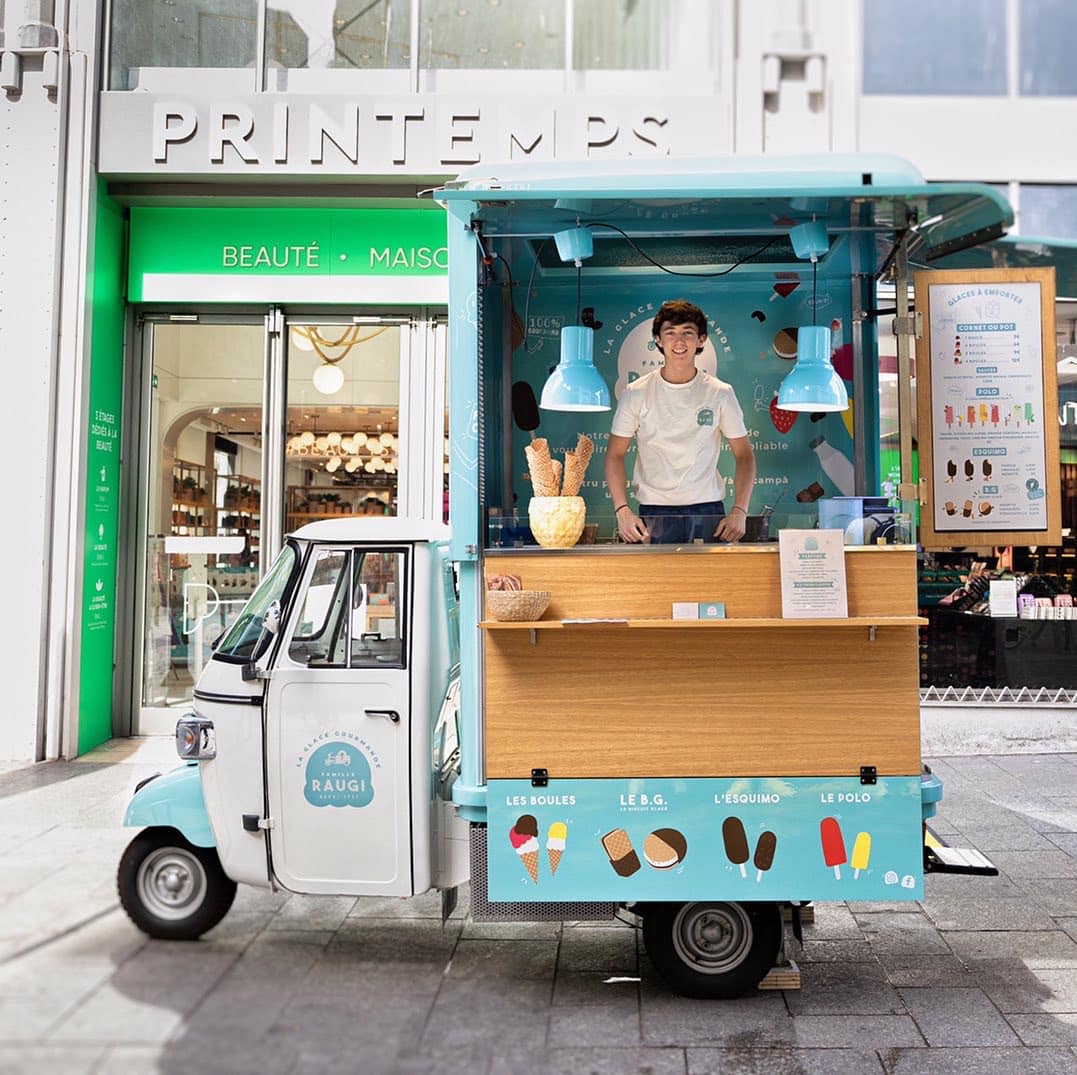 The electric engine and the rechargeable batteries allow you to do business in an environmentally friendly way with no air-polluting or sound-polluting emissions. Furthermore, it is possible to optimize the fuel use and allow food trucks to enter into areas which are closed to combustion engines.
Those who need more room can take advantage of the agile spaciousness of a Porter Craft X, which allows you to manage significant production volumes while keeping fuel consumption low.
Lastly, there are large ice-cream and coffee trucks which have been set up to sell a wide variety of drinks and foodstuffs.
For example, the NV Food Truck or the brand-new Pro X Food Truck offer enormous commercial potential in the street food and ice cream sector.
The elevated ergonomic standards with which the setups are designed make VS Veicoli Speciali's ice cream trucks even more profitable.
Ice Cream Trailer: La Tua Cremeria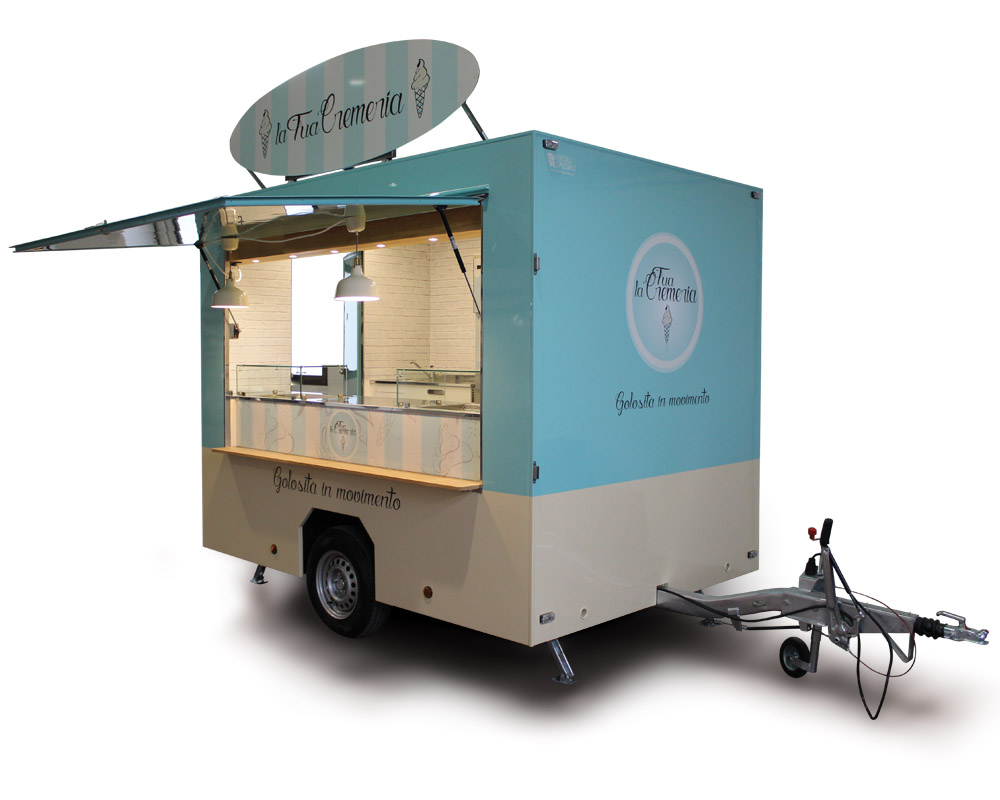 The equipment, lighting, materials, and interior design have been meticulously cared for in detail and made to offer the greatest possible comfort for the workers on board.
In addition to all of this, the ice cream setup can be integrated with a DIGITAL REMOTE-CONTROLLED SYSTEM of the components and functions of the food truck.
Through the eXtra app, which is installable on any smartphone, it is possible to:
turn on or off the fridge and freezers and adjust their temperatures;
control the lighting, fans, and air conditioning;
adjust the temperature and humidity of the work area;
check the position of the food truck and memorize previous routes;
check the opened/closed status of the support legs and doors;
Etc.

It is technology which has been designed to make working easier, improve safety, and increase productivity.
For example, from the comfort of your home, the remote-controlled management of your ice cream food truck allows you to get it ready the day before an event; you can load the ice cream tubs with the knowledge that they will be at the perfect temperature the following day.
Piaggio Porter Ice Cream Truck: La Tua Cremeria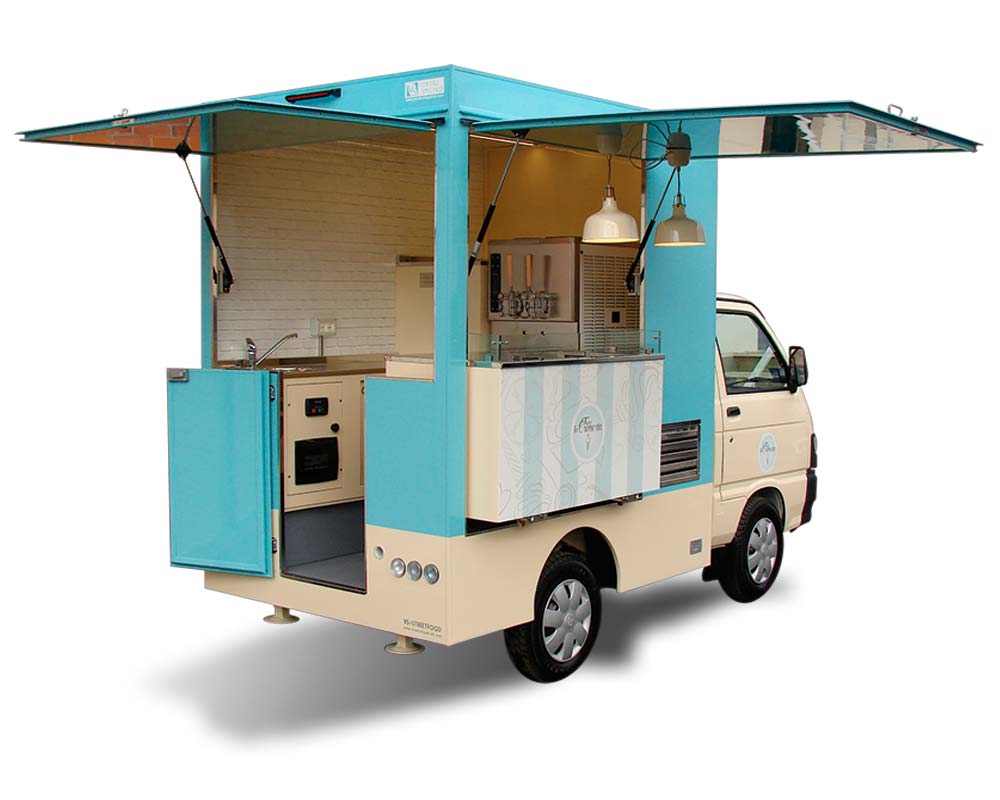 There will be no nasty surprises, like finding melted ice cream due to a power outage:  eXtra monitors the fridge temperature and in the case of an outage sends a message to alert you of a malfunction, so you can act in time to save your product and work.
We have taken great strides from antique ice cream carts, but the social function carried out by ice cream vendors has not been diminished. That's why they continue to be just as successful on a larger scale.
By coming to VS Veicoli Speciali you will be able to take advantage of an innovative and high-performing mobile ice cream business without giving up on the values of tradition: great design and craftsmanship!!!
I scream, you scream, we all scream for ice cream!