Pizza has been such a global success that it is practically well-known and loved everywhere.
The sales potential of this product is essentially endless given that it is eaten by almost everyone at any hour of the day.
Unsurprisingly, restaurant owners are no longer just content with serving it in their pizzerias (fixed locations), with all the limits entailed, but are looking for a more flexible way to prepare and sell it in other places to take advantage of profits that would otherwise be lost.
A mobile pizza truck (i.e. a vehicle or trailer equipped for selling pizza) allows you to become more mobile and reach previously inaccessible locations and scenarios:
private, public and corporate events
festivals and fairs
expos and exhibition spaces
museums
shopping centers and outlets
casinos and amusement parks
large hotel chains and resorts
stations and airports
city streets, squares and boardwalks
Minimal equipment on a mobile pizzeria means pre-preparing the pizza elsewhere and then storing it, displaying it, heating it up and finally selling it to the clients on the vehicle itself.
Some types of pizza are fit for this sales method, as for example with a bakery. In these cases, however, it is more appropriate to speak of them as itinerant sales points given that the pizza is not made fresh.
On the other hand, a genuine mobile pizzeria with a wood-fired or gas oven made on a food truck (or trailer) allows you to sell a fresh, high-quality product just like in traditional pizzerias.
There are various types of pizza trucks that allow you to effectively reach this goal—each with their own costs and characteristics.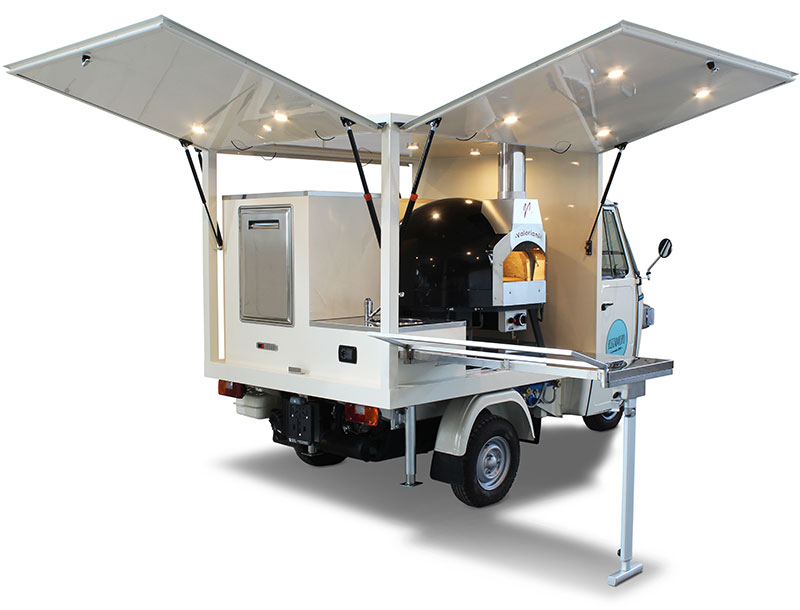 In order to guarantee a professional, long-lasting and high-performing piece of equipment, VS has collaborated with Valoriani, the world-renowned Florentine company specialized in the production of ovens for pizzerias and bakeries.
A mini food truck equipped with a Valoriani oven offers the possibility of selling the highest-quality pizza with an elegant and extremely efficient vehicle.
The synergy of these two companies has brought about an exceptional mobile pizza truck.
Let's take a closer look.
A mobile pizzeria on an Ape Smart mini food truck

It is a compact and affordable vehicle which has been made so the pizza chef can work on the ground. Once having reached the location and parked the mini truck, the chef can get out of the vehicle and get it up and running in 2 minutes.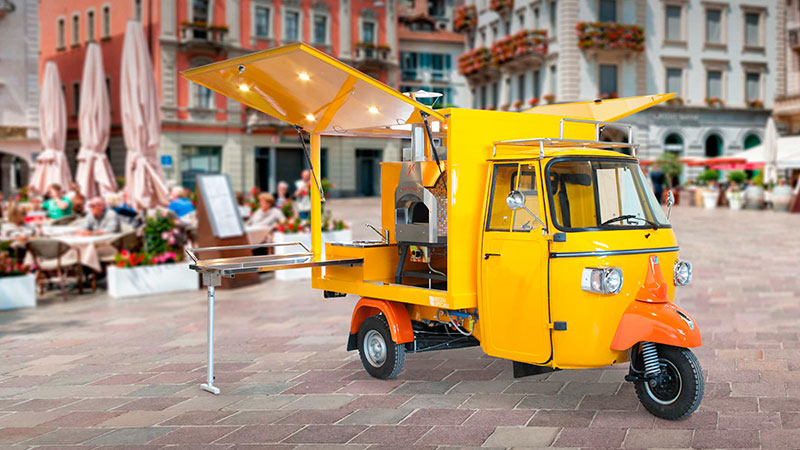 The Ape Smart opens on 3 sides, the counter space gets extended perpendicularly and the oven remains within view.
The operator can work comfortably and the customers can watch the pizza preparation process while waiting.
Moreover, this working method allows for a more direct interaction with the customers, which improves communication and customer-loyalty.
The Ape Smart itinerant pizzeria can be customized in every aspect: colors, graphic design, materials, lighting and accessories.
In this way it is possible to provide the vehicle with a strong brand identity, which reconciles promotional needs with ergonomics and functionality.
A mobile pizzeria equipped with a Valoriani Baby 75 oven

It was necessary to install a professional mini oven on a mini food truck like the Ape Smart that perfectly fit the vehicle and coincided with the rest of the equipment.
The Valoriani Baby 75 oven has the ideal characteristics for an itinerant pizzeria like the Ape Smart.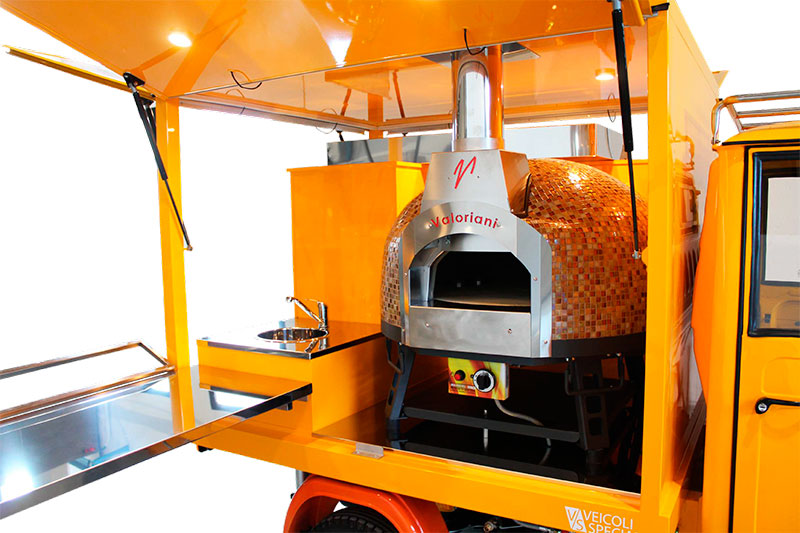 It is a light and portable, gas or wood-fired dual oven.
In addition to these qualities, it is robust, durable and has a beautiful and modern look.
The combination of an Ape Smart and a dual Baby 75 oven allows you to cook pizza professionally and sell it anywhere: from intimate private parties to large public events.
It is a genuine mobile pizzeria truck which is customized, agile, efficient and ready to get the most out of any business opportunity in just two minutes—the time it takes to open it and start it up.
The Baby 75 can also be set up on a Yield trailer with the same Ape Smart outfitting.
A mini pizza truck can also be towed with almost any car (even small ones) seeing how its maximum weight is 750 kg. All you need to have is a B driving license.
Additionally, seeing how it has a low frame, the trailer can easily go indoors or into a garage for safety and convenience.
Both the Ape Smart mini food truck and the Trailer version can be powered by lithium batteries, which allows them to be autonomous and eco-sustainable.
Thanks to the collaboration between VS Veicoli Speciali and Valoriani, street food has acquired even more prestige, which all works to the benefit of everyone in the food service industry.