Italian cuisine, including street food, has a great tradition.
From south to north, there are hundreds of delights worthy of mention, but some areas of the Bel Paese stand out for having developed a great variety of excellent recipes.
The best known culinary traditions of the Italian street food are Sicilian, Neapolitan and Roman, three different flavors appreciated both throughout the peninsula and beyond Italian borders.
Let's find out what they are.
Sicilian Street Food
Arancino/a
It is undoubtedly the most famous of Sicilian street foods, also known and appreciated abroad. In its most common version it can be described as a large rice ball stuffed with meat sauce, caciocavallo cheese and peas.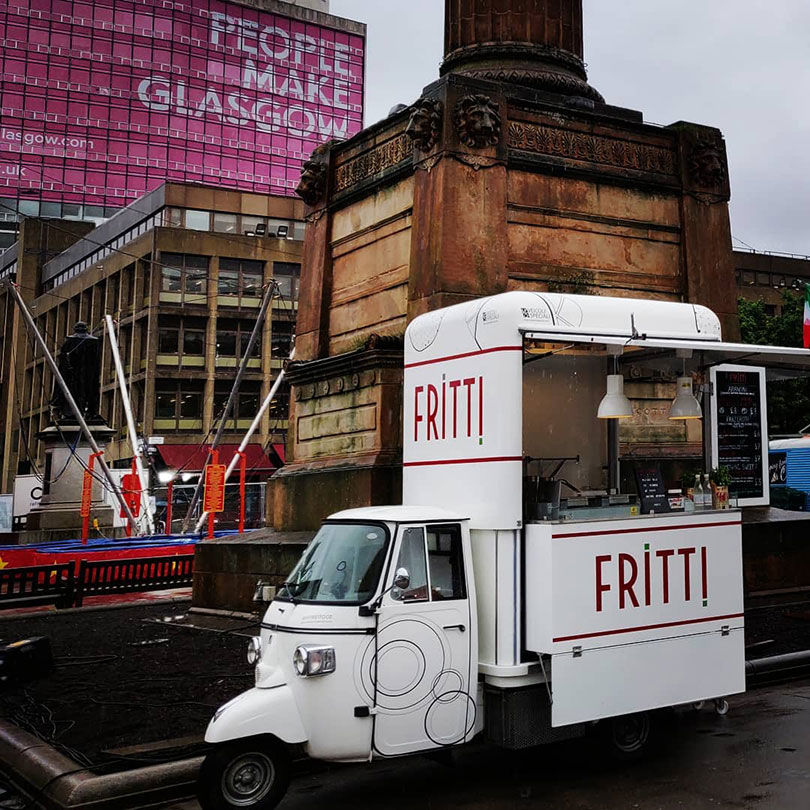 Pani ca' meusa
The famous sandwich made with spleen typical of Palermo, the main dish of the historic Vucciria and Ballarò markets. "How do you want the meusa, schetta or maritata?" In the schetta version, only a squeeze of lemon is added to the spleen fried in lard; in the maritata version, ricotta and shavings of caciocavallo cheese are added.

Calia e simenza
A mix of roasted chickpeas and pumpkin seeds salted and eaten lukewarm and crunchy, especially during festivities.

Pane e Panelle
Typical of Palermo street food, they are chickpea flour fritters, usually served between two slices of bread, seasoned with lemon, salt and pepper. Simple and timeless, they match perfectly with crocchè.

Crocchè o Cazzilli
Traditional Palermo potato croquettes, fried with salt and parsley. The originals are without eggs or cheese. Also popular for stuffing typical Sicilian sandwiches with a crust covered with sesame seeds.

Stigghiole
The stigghiola is an ancient street food from Palermo, made from the guts and intestines of lamb or other animals washed in water and salt, seasoned with parsley, onion and herbs to be skewered or wrapped around a leek and finally grilled. A must for those who appreciate strong flavours.

Pizza siciliana
Called Sfincione in Palermo, Scacciata in Catania and Scaccia in Ragusa, it is a soft, spongy pizza topped with onion, olive or anchovy sauce and caciocavallo cheese. Tourists who have never tried it will be undoubtedly delighted.

Mignolate o Ammiscate
Typical of Agrigento, they are panelle (chickpea flour fritters) made with a bread dough stuffed with different ingredients such as spinach, onion, sausage, potatoes, olives, pecorino cheese or mozzarella, and finally twisted into the shape of a snail.

Iris
A fried soft doughnut filled with ricotta cheese and chocolate pieces, with a crispy outer breading: a delicacy of Sicilian and Palermitan pastry.

Pani Cunzatu
Seasoned bread, one of the simplest and "poorest" dishes in Sicilian cuisine, yet among the tastiest. Fresh bread seasoned with simple ingredients such as extra virgin olive oil, tomatoes, oregano, anchovies in oil and caciocavallo or ragusano cheese.
Neapolitan Street Food
Cuoppo di fritture
This is a cone-shaped container filled with a mixture of fried foods eaten while walking around town. There are two variants: the fish one and the land one. In the first case, the cuoppo is filled with sea zeppole with seaweed, calamari rings, anchovies, salt cod, and breaded and fried baby octopus. The land-based version includes crocchè, battered vegetables, zeppoline, arancini and frittatine di pasta. The Neapolitan cuoppo is a street food that never goes out of fashion.

Frittatina napoletana
In the Neapolitan tradition, it is a 'poor' food made with leftovers from the day before: pasta, cheese and eggs pan-fried with oil. Today it is a delicacy to be enjoyed as a street food dish, made with bucatini, béchamel sauce, peas, mozzarella and, in some cases, ragu.

O' per e o' muss
Another street food that you can eat while walking around town. This is a tripe salad served in a take-away container filled with offal (such as calf's snout and pig's foot), boiled and cut into small pieces: Neapolitan street food of ancient tradition.

Pizza a portafoglio
This is the street food variant of the Neapolitan pizza. Smaller in size than the classic one, it resembles the shape of a wallet (from here the name portafoglio) as it is folded back on itself first on one side and then on the other, and finally placed in a special paper to be enjoyed while walking.

Taralli napoletani
Different from the Apulian ones because made with lard instead of oil, they also include pepper and almonds in the dough. They can be enjoyed as take-away street food by buying them fresh from a taralleria or in some bakeries in Naples.

Cuzzetiello
Sandwich with Neapolitan meat sauce and meatballs. There are numerous variations, such as one with stew and potatoes, one with mushrooms and eggplant parmigiana, or others with seafood flavors. A unique street food of Naples.

Sfogliatella
A Neapolitan dessert perfect for all occasions, including walks in the city center. Popular in two versions: the triangular one with crispy layers of puff pastry, and the round one made by short pastry. In both cases the filling is a mixture of ricotta, semolina, candied fruit, icing sugar and a pinch of vanilla and cinnamon.
Roman Street Food
Panino with porchetta
Porchetta is a typical food of Latium cuisine, flavored through salting and spices (mainly pepper and rosemary). Placed in a sandwich it becomes an irresistible delicacy for meat lovers.

Pizza e mortazza
The Roman street food par excellence. A traditional dish prepared with the typical Roman white flatbread, crispy on the outside and soft inside, lightly salted and greased with oil. Clearly the quality of the mortadella makes the difference, preferably IGP (protected geographic origin).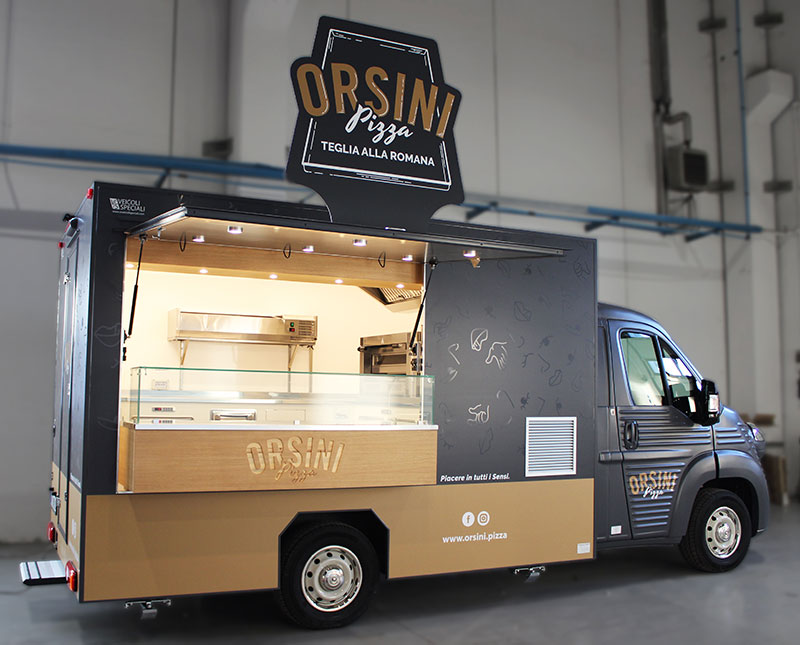 Filetto di baccalà alla romana
The roman style cod fillet originates from the meeting of Jewish and Roman traditions. The fillet is dipped in batter and fried in hot oil, for a crispy and tasty result. Traditionally eaten as an appetizer, it is now also enjoyed in a street food version. A squeeze of lemon and go!

Supplì
A rice croquette seasoned with meat sauce, breaded and fried, with a heart of mozzarella in the centre. The name comes from the French "surprise", an exclamation of the French soldiers in Rome during the 1800s who particularly liked the heart of stringy mozzarella hidden in the middle.

Trapizzino
An invention of the Roman chef Stefano Callegari, it is a contemporary Roman street food, but already part of the tradition. The ingenious idea was to fuse the tradition of the Italian sandwich with the Roman pizza al taglio (pizza by the slice). The variety of toppings is unlimited: perfect for gourmets who will be able to indulge in different tastings.

Coppiette romane
The Roman coppiette are strips of dried veal, horse or pork, flavored with spices and hot chilli pepper. An ideal snack to eat while walking, and a classic Roman street food.

Maritozzo con la panna
The dough of this sweet pastry is prepared with flour, water, sugar, milk, oil and yeast, then filled with whipped cream. According to the popular legend, it was given to the bride-to-be by placing a ring or other precious objects inside as a pledge of love. Hard to resist when you see it in a pastry shop window walking through the streets of Rome.
Selling Street Food with a Food Truck
The tradition of street food in Italy and elsewhere finds a fascinating outlet in the use of modern food trucks provided all the equipment necessary to cook both the delights described above and many others from the rich Italian gastronomy.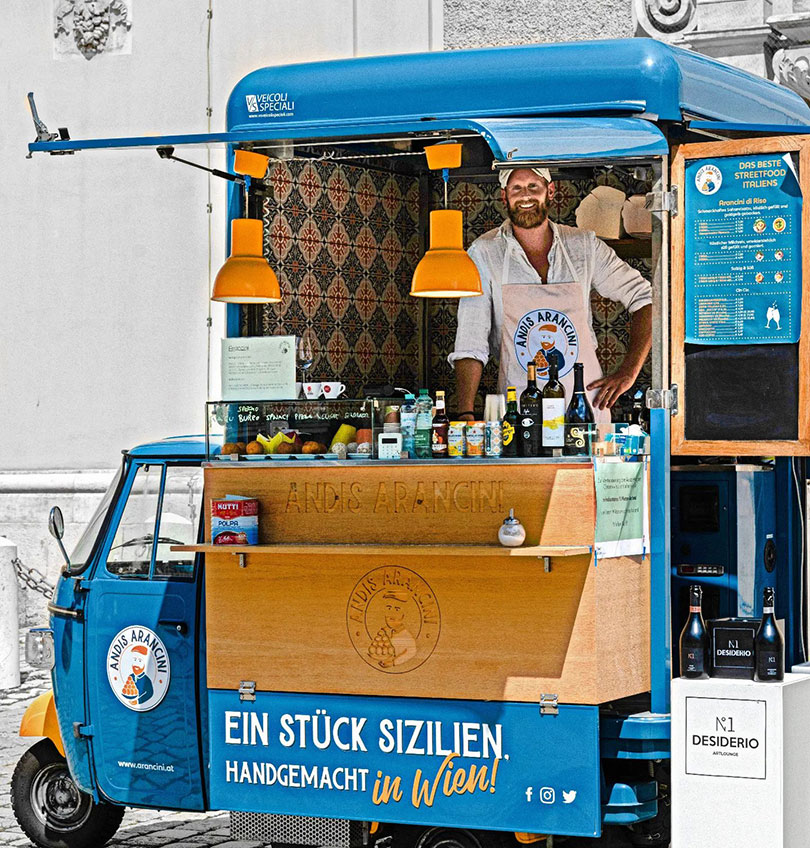 From arancini to focaccia, from stuffed sandwiches to pastries, there are many examples of catering entrepreneurs who have purchased food trucks customized to their precise needs, to sell their products in Italy and abroad.




Food trucks require a limited investment compared to premises and offer the possibility to actively seek out customers without passively waiting for them in a restaurant.
A clever and creative way of combining tradition and innovation while focusing on quality.