It is no longer news that food trucks are an excellent marketing tool. The era of roughly built food trucks for markets, is long gone.
Poorly manufactured products, which do not meet the legal requirements, are still numerous, but they have been totally outclassed by productions of concept and high-quality construction.
Today, the best food trucks are made by structured companies, which invest in technology and innovation, designing custom vehicles that can compete with traditional local cuisine and restaurants.
Customers are no longer just food truckers working in markets or by the roadside, but increasingly companies aiming to exploit the competitive advantages offered by food trucks.
Restaurant, tourism and hospitality operators were naturally among the first to realize the potential of itinerant catering, finding in food trucks the mobile variant of a service that has always been at the heart of their business.
The FOOD INDUSTRY has not been idle either, along with canning companies, frozen food companies, large food retailers and the like.
For these businesses, food trucks are a great way to give visibility to their products and brand and, why not, to sell and make money.
Whether they house a fully equipped kitchen inside or are designed solely as display cases, FOOD TRUCKS built for companies in the food industry can be customised for the promotion and sale of any type of food product:
cold cuts
cheeses and butter
pickles
oil and derivatives
jams and marmalades
canned food
frozen products
confectionery and bakery products
beverages
etc.
The products can be offered directly to consumers or used as ingredients in the food truck kitchen to elaborate dishes and recipes of all kinds.
Thanks to their mobility, converted vehicles become highly effective marketing tools that can be used in a variety of commercial and promotional contexts:
trade fairs
festivals and public events
private and corporate events
squares and courtyards
parks and archaeological areas
large shopping centres and car parks
airports and stations
ports and beaches
A very dynamic strategy is to use food trucks in PROMOTIONAL TOURS with various stops in different cities, regions or countries.
The Biraghi dairy company, for example, purchased a food truck and used it in various ways including promotional tours, such as the 'Biraghi's Truck Tour' that passed through various Piedmonts' cities, placing it at the entrances of outlets and large shopping centres in the region.
Recently BIRAGHI sponsored the Giro d'Italia following 21 stages with its branded food truck ready to promote its Biraghini snacks!
The delicatessen factory RAPELLI (from Switzerland) has acquired a beautiful deli food truck used to sell hamburgers, focaccias and sandwiches, stuffed with its regional products.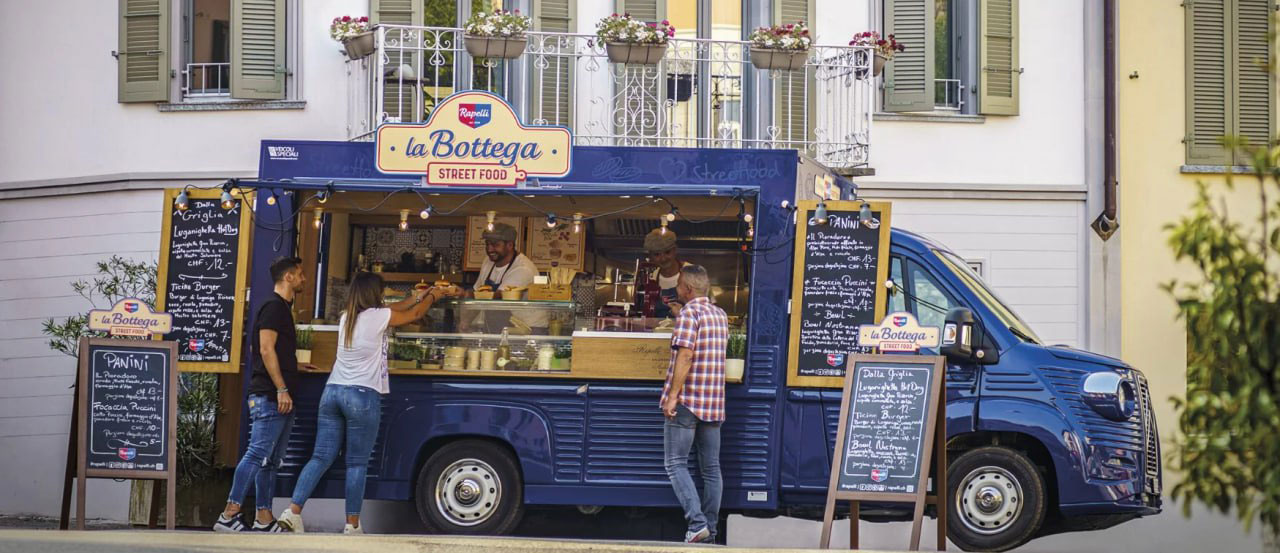 Rapelli has also acquired a refrigerated trailer, equipped to preserve and display fresh products.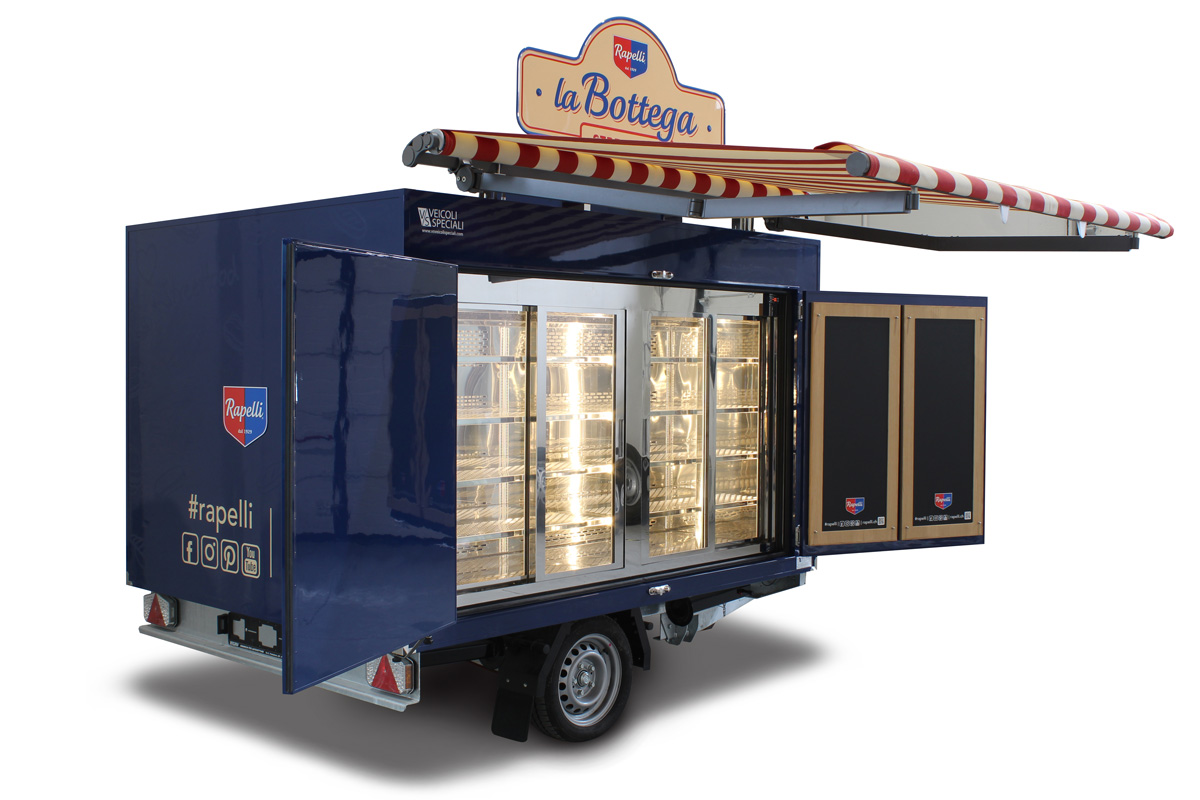 Another important dairy company, BRAZZALE, made an encore by buying two food trucks, one entirely dedicated to butter and the other focused on cheese: a cheese food truck with the colors of its most famous product, Gran Moravia.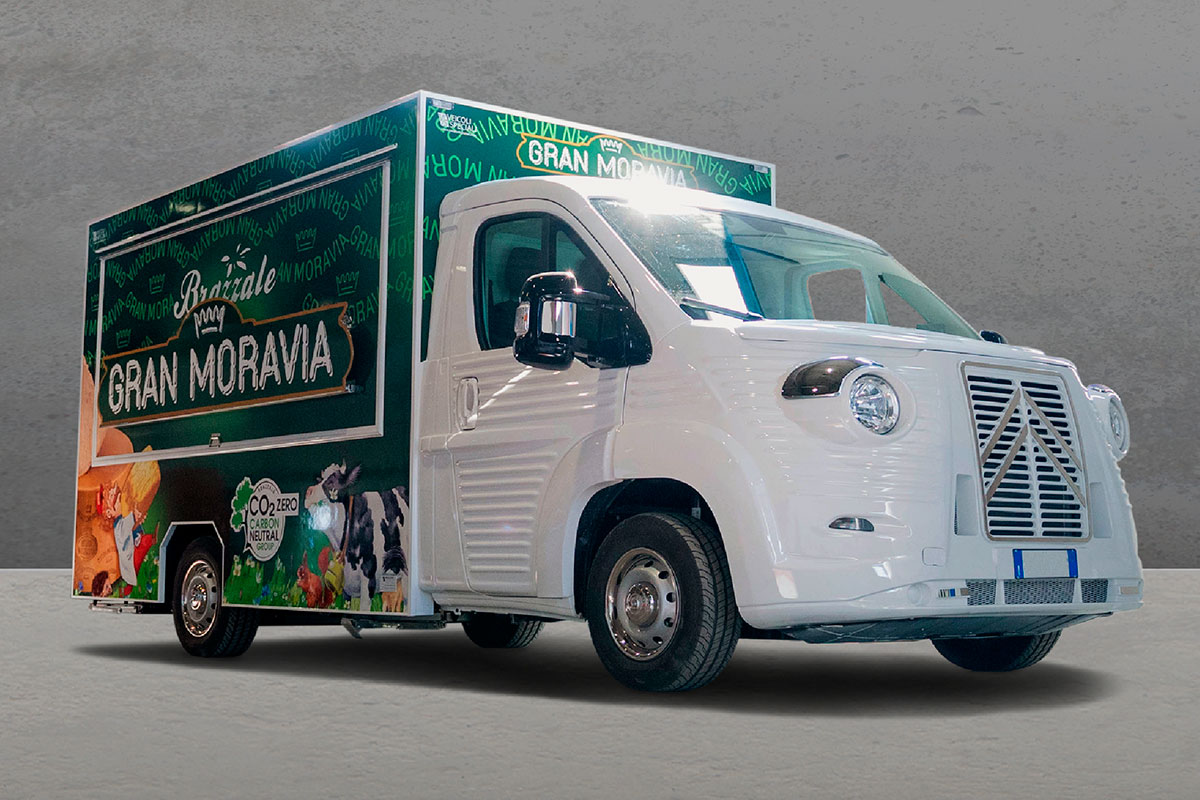 Both used in promotional tours in Italy and abroad.

RASPINI and FARCHIONI chose the allure of the Piaggio Ape to take their brand on the road and offer the opportunity to taste their delicious gastronomic products.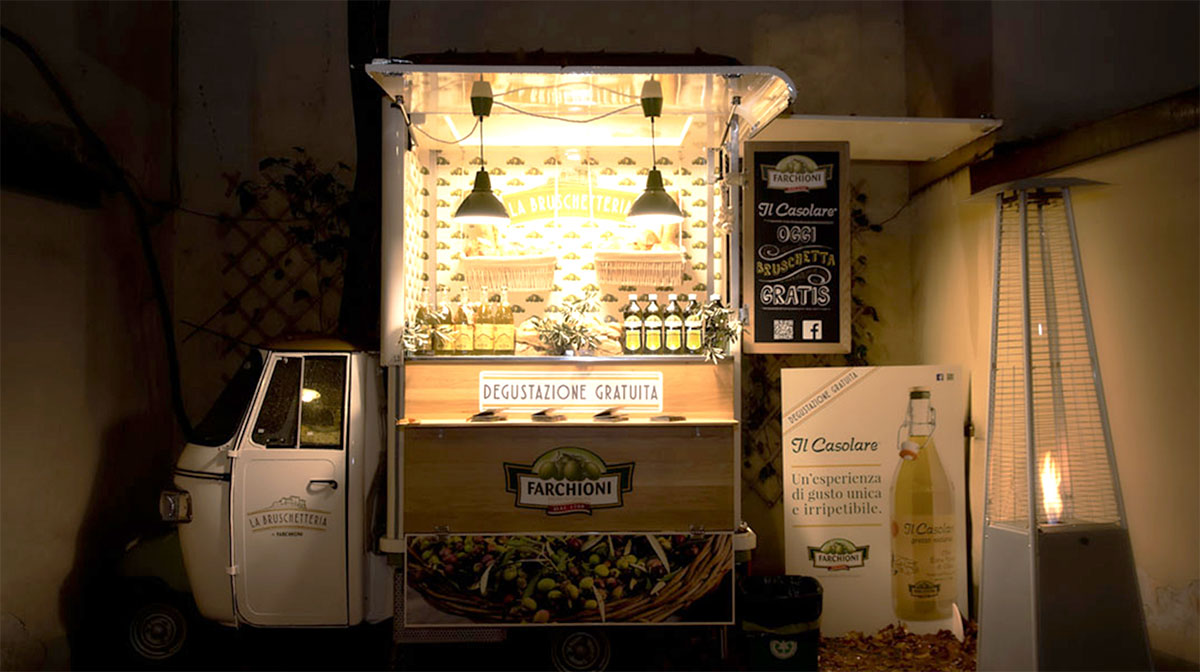 HUGO REITZEL, the king of pickles, relies on a promo truck to promote his products and offer tastings at festivals, fairs and events throughout Switzerland.
These are just a few examples of how the food industry makes good use of food trucks to improve its marketing activities.
The food market is a notoriously competitive and dynamic market; with food trucks, the food industry takes the opportunity to come into direct contact with end customers, which is a great way to get to know them.