The meat and cheese stand has always been one of the most traditional and important features at the street market. They are staple foods in much of European cuisine, especially throughout the Mediterranean.
For many years the meat and cheese stand in European markets has been flanked or substituted by a meat and cheese truck where clients can purchase fresh or aged cheeses and various types of cold cuts and cured meats.
Over the past decades these mobile worksites have followed the contemporary trend of improving the quality and variety of their products, essentially becoming traveling delicatessens which offer various specialties for us to serve at the table.
However, one last step was needed to complete this process: a food truck which would include the aesthetic and structural qualities fit for meeting the requirements for selling gourmet products and dishes.
While traveling sales were once the prerogative of small businesspeople, today there is a large influx of companies, restaurant chains and big food brands which not only use food trucks as sales tools, but most of all as a means of promotion.
In such cases, street food sales require a vehicle which reflects the brand's strengths and also contributes to its growth.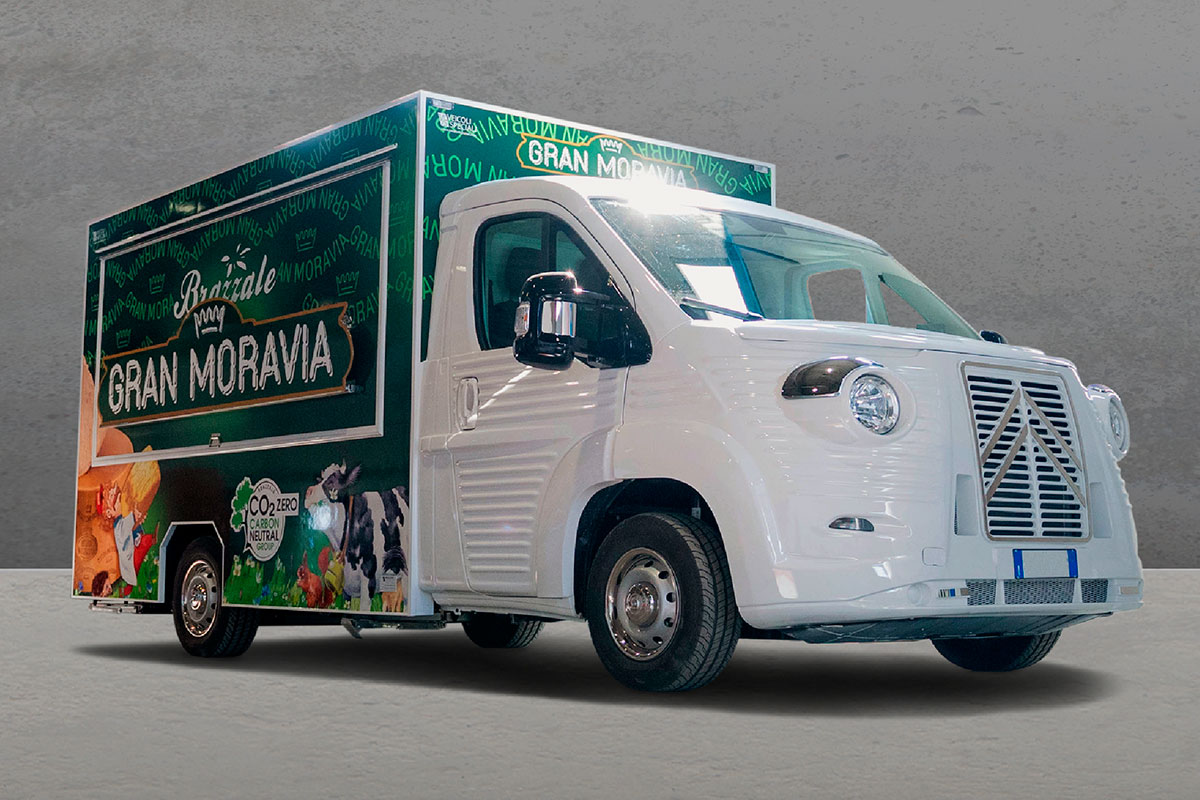 The outfitting, graphic design, materials, equipment, lighting and finishes must all be of the highest level, and a NV Food Truck made on a Citröen Jumper has everything it takes to represent a successful brand.
It's not surprising that Rapelli and Brazzale have opted for this type of solution.
Rapelli Delicatessen on Food Truck

Rapelli is a big brand in the food sector, which has primarily made its name in Switzerland and Italy.
Its products include:
deli meats: prosciutto, salami, mortadella;
deli specialties: sausages and cured meats;
prepared specialties: veal with tuna sauce, beef tartare, etc.
The New Vintage Food Truck of the Rapelli delicatessen is equipped with a large storage space, an ample kitchen and an ergonomic design to make working on board easier.
It is a mobile deli which has been designed to prepare and serve fresh products or exquisite dishes.
The colors, finishes and many other of the aesthetic elements are borrowed from the restaurants Rapelli has opened in Switzerland, maintaining the same look to solidify their brand identity.
Even the illuminated sign and whiteboards are used to offer the clients a consistent brand image, with each aspect being designed in the most meticulous details.
Thus, the food truck becomes a natural extension of the company.
The Brazzale dairy company on 2 NV Food Trucks
Brazzale is a Veneto dairy company with over two centuries of history which is well-known in Italy and abroad for its high-quality cheeses and butter.
Some of the brands it carries include:
Alpilatte
Brazzale
Burro delle Alpi
Gran Moravia
Verena
Zogi
Its products include:
Butter
Gran Moravia cheese
Stretched-curd
Pressed cheese
Provolone
Brazzale has purchased two NV Food Trucks (Gran Moravia e A Tutto Burro) to promote its products and strengthen its brand strategy with promotional tours, events and street marketing.
As requested, the two NV Food Trucks have been outfitted with a large display refrigerator, ample space for stocking goods and equipment made to preserve large quantities of cheese and dairy products.
Gran Moravia and A Tutto Burro have everything it takes to promote and sell cheese, dairy products and the rest of Brazzale's stellar gastronomic options.
"Where?" you may ask. They can be found in front of shopping centers, at festivals and town fairs and in squares, markets or doing intercity tours.
Brazzale and Rapelli show that a NV Food Truck represents a versatile and powerful tool for large companies in the food industry for getting involved in unique commercial contexts and effectively communicating a brand's product range.
A deli food truck of this level gives the brand prestige and generates profits through the creation of a dynamic and state-of-the art system for bringing  food products directly to the customer.