Biraghi SpA, an Italian specialized dairy company that sells its products on the whole national territory, is the biggest dairy transformation industry in Piedmont. Biraghi always stood out to be a company well founded in traditional values but also with an eye on innovation, not only adopting new technologies but also in terms of marketing strategies.
The recent purchase of a promo truck to promote its brand in an itinerant way is sure in line with this approach. In order to give more visibility to its products they opted for a Renault Master van converted in a food truck by VS Veicoli Speciali. The typical bright Biraghi yellow and the captivating graphic design they choose are surely attractive and the images refer to the grazing land and genuineness of Biraghi cheese.
The majestic vehicle is the protagonist of the "Biraghi Truck Tour": a promotional tour that touches big and small cities around Piedmont – the region where the company has its headquarter since its founding in 1934 in Cavallermaggiore (Cuneo) – to promote a direct contact with its clients and to offer the opportunity to taste its different products, not only Gran Biraghi cheese and Biraghini, but also DOP Gorgonzola, that Biraghi produces and ages in its plant.
You can find their yellow truck full of delicious cheese in markets, fairs and local events but also at commercial centers of the big distribution. At each stop of the tour, you can buy Biraghi's products made with 100% Italian milk at promotional prices and you can also get free coupons.
In the refrigerated display of the promo truck they show the top products of their company, also those that were mostly appreciated at Casa Italy during the Olympic Games in Pyeongchang 2018 in Corea: Biraghini Snack, Gorgonzola Selection and Grattugiato Ricetta Tipica al Pecorino.
Biraghi's tour will soon have new dates, since the company is also the sponsor of some running races in Turin and Savigliano and the yellow truck will be there at the arrival with its delicious cheese offer.
The first stop of the tour, much appreciated by clients and curious, was in Mondovì from 9th to 11th February, in an area closed to Mondovicino Outlet village. The following stops were around the province of Cuneo and Turin, supporting promotional activities at the selling points of the big distribution or at local markets in Bra, Savigliano and Mondovì.
And Biraghi's fans on Facebook have also already requested a stop in Cagliari, Sardinia.
Using promo trucks for corporate promotional tours

Using promotional vehicles for non-conventional marketing operations, like using promo trucks for tours and selling products, or food trucks with a kitchen to prepare warm meals, is a solution that big companies are adopting to promote their products and brands.
Biraghi opted for a promotional deli food truck outfitted to exhibit and sell cheese and other dairy products. A very good looking truck built according to ergonomics criteria and designed to communicate to clients the quality of Biraghi's offer.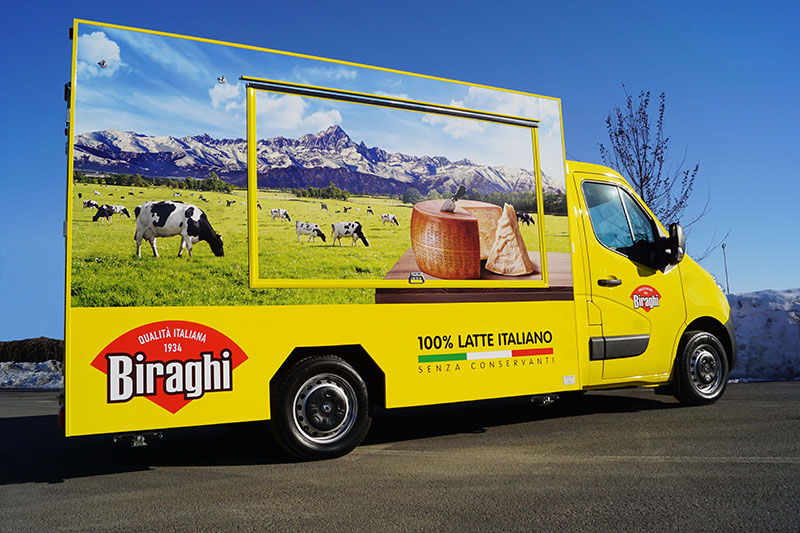 Biraghi promo truck has the following features:
Renault Master
Column fridge 800 Liter
Refrigerated drop-in display on two levels on the front counter
Cash desk space
Hopper
Wall refrigerated display on the rear counter with lights and sliding doors
Independent water system with hot water
LED lightning 3000° K
Dometic Tec60 Generator 6 Kw
Electric system with circuit breaker
A truck full of colors and tastes that will give additional prestige to a brand already well known all around the world.
See you at the next stop of the Biraghi's tour!