Thanks to the growing interest in street food and to the increase of festivals and events connected to street food, there are everyday more companies that decide to attend with a stall or to sponsor a third party.
The 2017 federal budget has officially opened the street food sector to farmers, since from this year, farmers can directly sell food derived from the elaboration of their own products, attending with their own installations to events, markets and street food festivals.
Concretely, this often happens with stands and stalls that are not compliant to health regulations.
This health regulation refers to the decree of the Department of Health dated 3 April 2002 with the topic of "hygienic-sanitary requirements for the trade of food products on public areas".
Quest'ultima rimonta all'ordinanza del 3 Aprile 2002 del ministero della salute sui "requisiti igienico-sanitari per il commercio dei prodotti alimentari sulle aree pubbliche".
Here you can read the full document (in italian): www.salute.gov.it/imgs/C_17_normativa_1847_allegato.pdf
In brief, the decree focuses on the following requirements:
general health requirement for public areas and business owners
specific health requirements for mobile shops and food trucks
specific health requirements for gazebos and temporary stalls
In order to be compliant with this regulation, temporary stalls have to respect a series of requirements on the equipment and a hygienic discipline that are very hard to implement.
We will list the main requirements to give you an idea:
1.
They must be installed to guarantee stability during the commercial activity, using any hygienic material adequate to be in contact with the food on sale.

2.
They must have a lifted surface from the ground not less than 1.00 m

3.
They must have exhibition plans in an easy to clean and to disinfect material and they must have adequate protecting system for the food, to prevent external contamination.

4.
In case of sale of fishing products, stand, gazebos and temporary stalls must have:
an adequate refrigeration system
fresh water tank with adequate capacity
sink with automatic tap system
grey water tank of the same size of the fresh water tank
adequate working counter
5.
In case of sale of cooked food or other perishable packaged goods, the temporary stalls must have:
a food warming system to preserve the cooked food waiting to be sold or, for other kinds of food, an adequate refrigerating system;
fresh water tank with adequate capacity;
sink with automatic tap system;
grey water tank of the same size of the fresh water tank.
6.
Stands and temporary stalls cannot be used to sell fresh meat and to prepare meat or fish.

Such strict rules, besides being not always easy to interpret, make most of stands and temporary stalls we usually see in markets illegal.
For this reason, municipalities and organizers of street food events are always more inclined to forbid stands and temporary stalls in favor of food trucks, since they guarantee the total respect of these rules.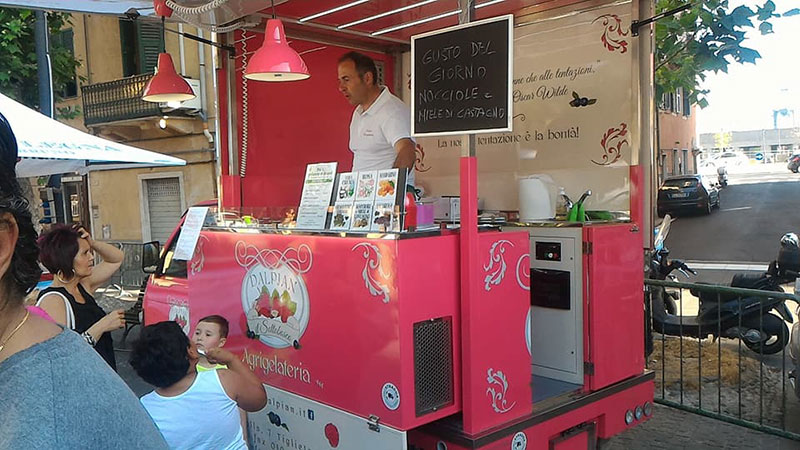 Food trucks, as well, must respect precise rules in design and in the integrated technologies they use, in order to be compliant with the current hygienic regulations (listed in the decree). The difference here is that a dependable food truck manufacturer respects this regulation in order to get their trucks certified.
Therefore, for this simple reason, investing in a food truck is a trustable operation, much better than a temporary stall not compliant to any regulation.
The opening of a street food business requires good planning because, setting apar the purchase of the vehicle, we need to think about profitability and cost control, product and raw materials, communication and marketing. Important aspects that involve a strong commitment, but they pay off considerably over the medium term, making it convenient to get an efficient food truck.
Then there is an image issue that should not be underestimated: a market stall, even if you could make it complying, would not have a positive impact on customers, appearing improvised and little professional.
On the contrary, the purchase of custom food trucks, with ad-hoc graphics and communication, allows the brand to be highlighted and produces a multiplier effect, attracting the attention and curiosity of passers-by.
Finally, all these subjects (entrepreneurs, companies, farmers) that want to attend street food events with a certain regularity, should make the good decision to buy a food truck that, other than being 100% legal, will not be banned in any events and it will offer a range of advantages that make it a great deal on a medium-long run.