Let's clear something out first: all over the world people have been eating in the streets since always. In XII century Germany, in Regensburg, the Historische Wurstküche would offer boiled meat to Bavaria's workers, who used to eat it in the opposite square. This restaurant is still open and it is known to be the most ancient restaurant that has never been closed. Think also of the Drei im Weggla (tree sausages in a burger) typical of Nuremberg, one of the most popular German street food since time immemorial.
Similar examples can be found in Brasil (Acarajé: vegetables and fried shrimps nuggets), in the Netherlands (Hollandse Nieuwe: raw herrings with onions), in Palermo (Pane ca meusa: sandwiches with veal offals) and in Mexico (Chapulines: fried crickets).
There is not a single country without a street food tradition, but in Western countries, at least in the last decades, this habit had lost its appeal, being associated to an idea of low quality and lack of hygiene.
A special case is Asia, where eating in the streets never ceased to be a common practice fully integrated in everyday habits.
The current success of street food can be traced back to the first kiosks in New York and in California, where selling food on four wheels became fashion. This aspect marks the difference from past and present in street food tradition. Only after the merge of street food and vehicles, the concept of street food that is so popular nowadays was born. And food trucks are the keystone of this success.
Always more attractive and sophisticated trucks, compliant to hygienic standards, equipped as true itinerant restaurants, gave a new impetus to street food in connecting cultural tendencies that push towards healthy and quality food, open to far away traditions and to experimentation. This trend worked backwards on popular habits, increasing the pleasure of eating in the streets during festivals, exhibitions and all kinds of events.
With food trucks, gazebos, or stalls and temporary installations, it doesn't matter. Nowadays all over Europe, throngs of people attend street food events to spend a happy day with good food, music and shows.
Undoubtedly, Germany is one of the countries where street food is gaining more success, a true boom that started from its capital.
Berlin: street food capital of Germany
Who is well acquainted with Berlin knows that the city releases so much energy and has a cultural vivacity that is tangible since the fall of the wall. New trends are either born in Berlin or they pass through Berlin. Street food makes no exception. There are three main events that take place in the city: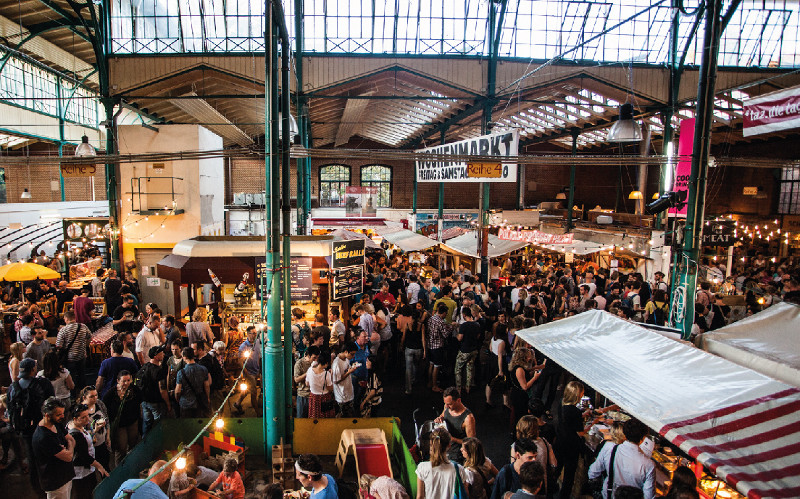 Each Thursday afternoon by Markthalle Neun in Kreuzberg dozens of stalls offer street food dishes from all over the world. From Mexican tacos to Hungarian gulasch, from Sicilian arancini to US hot dogs. Something tasty for everybody's taste. Meat lovers as well as vegetarians will be satisfied. Under the roof of this 19th Century market hall that resisted at the bombing during World War II, the mood is fizzy and friendly.
Street Food Markt – KulturBrauerai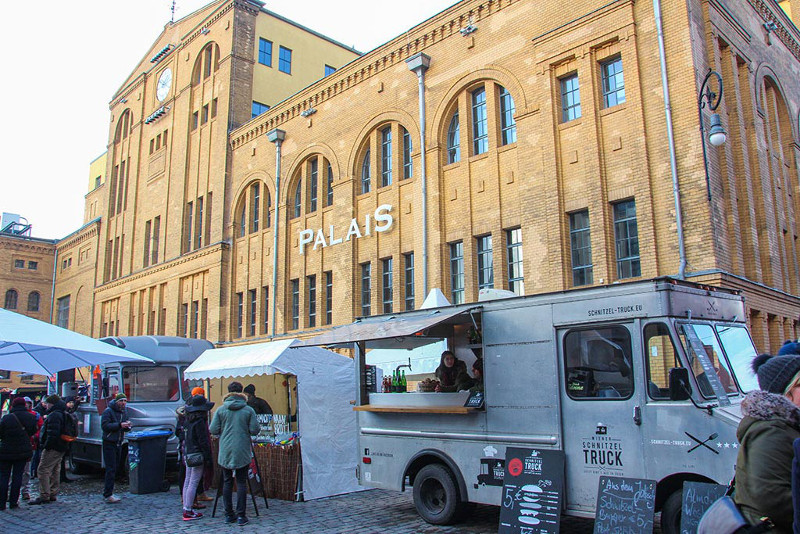 Every Sunday, in this 19th Century brewery, restored during the '90s and converted into a cultural center used for various kind of events, street food is celebrated with many of the best food trucks in Germany.
A fascinating place where you can taste Asian specialties, pizza and Italian coffee or dishes from African tradition, in a true melting pot united by the high quality of the food.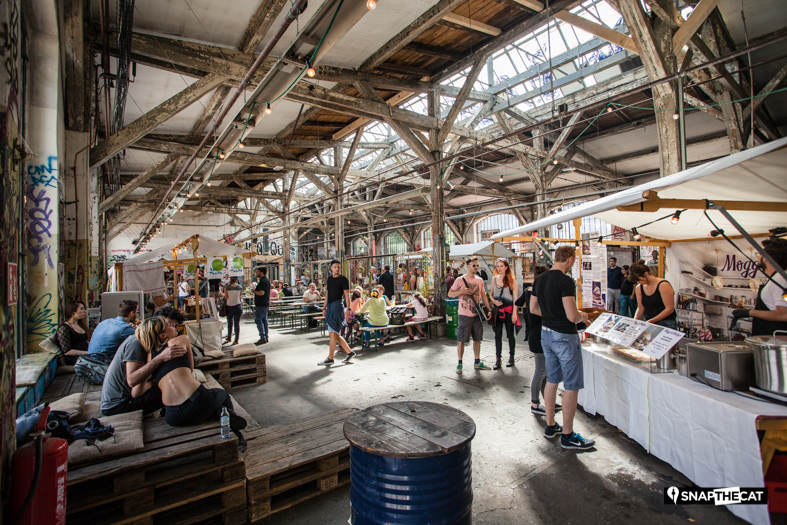 Heir of the Foodmarket of Neue Heimat that was closed after many complaints in 2015 despite its big success, the Kiez99 opens every Saturday and Sunday by the RAW- Gelände in the lively district of Friedrichshain.
International street food kitchen (Austria, China, Korea, etc.), bar with Italian breakfast and a selection of coffee, cappuccino and croissant, cocktails and craft beer. All at the sound of live music by DJs and musicians and enriched by artistic installations.
Other successful street food events in Germany
Each Thursday in the Spielbudenplatz around 15 food trucks, trailers and stalls offer to the many visitors a selection of high quality dishes of the most different cultural traditions, including some new street food experimentation.
Always in Hamburg but in September, a huge food truck festival takes place and it attracts around 150 thousand visitors.
Street Food Festival – Cologne
This street food festival was born in Cologne but became an itinerant event that takes place in other cities as well during the year: Düsseldorf, Meinz and Dortmund.
During the festival, you can experience international cuisine and exotic tastes: from currywurst to porchetta, from crepe to vegan sushi and aromatic liqueurs.
You can have a small taste of the mood of the event in this video:
This event is so popular that sometimes it's taken for granted, but the Oktoberfest is indeed a huge street food event where there is not only beer, but also all kinds of meat (chicken, pork shin and roast, duck), Wienerschnitzel (breaded cutlet), Braten (pork or beef roast) and of course Pretzel (rounded bread shaped into a twisted knot).
The 10 most popular dishes of German street food
Excluding hamburger and kebab that are popular in whole Germany anyway, we introduce here a list of other 10 German street food you can't miss:
1. BREZEL
Another name, perhaps the most common, of the circular bread we talked about previously. Typically made with common wheat flour and brewer's yeast, its form is due to the fact that it was very diffused among monasteries in previous centuries, where the tree openings represented the Trinity.
2. CURRYWURST
Grilled sausage cut in rounded slices, covered with a bittersweet sauce made of tomatoes and a great amount of curry.
3. WEISSWURST
The classic wurstel of Bayer München, white, prepared with bacon and calf meat is considered the ideal mid-morning schnellimbiss (quick snack). You can eat it boiled or grilled and you eat it with a pretzel and fresh beer.
4. GEBRANNTE MANDELN
Toasted caramelized almonds that you can crunch while walking.
5. KARTOFFELPUFFER
Recipe made of thin sliced potatoes, flour, eggs, salt, pepper and yeast, in the form of a sort of pancakes that are fried and garnished with different toppings.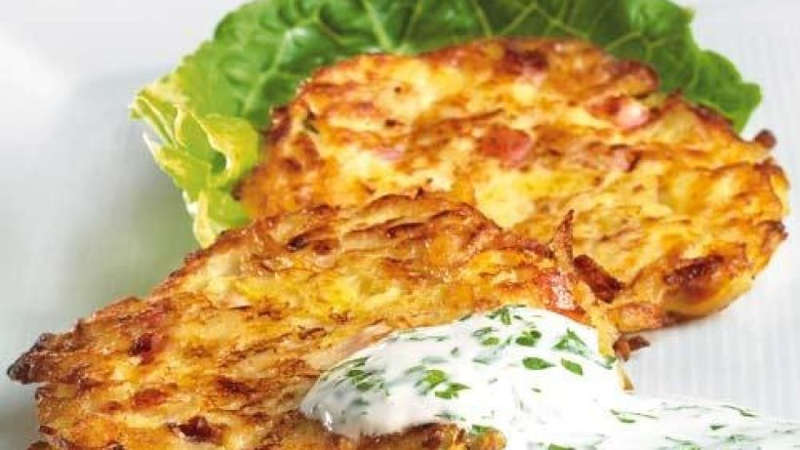 6. KUMPIR
Turkish recipe renown in whole Germany and made with potatoes, cooked in a little foil pouch with butter and garnished with different ingredients: vegetables, spices, sauces and marinated meats.
7. LEBERKÄSE
The Leberkäse is a sort of meatloaf made of beef meat and bacon, thin minced and baked in a mold similar to the sandwich bread mold that gives its typical form. The Leberkäse is sliced and served hot in a sandwich, but you can also eat it cold with bread, pickles and mustard, with a pint of beer.
8. BERLINER o KRAPFEN
Similar to Italian bombolone. It's a sweet with a soft dough made of flour, milk, sugar, eggs, butter and malt that can be filled with cream, chocolate or jam, and then fried and covered with powdered sugar.
9. FISHBROTCHEN
Small sandwiches made with tuna, anchovies, shrimps or other kinds of fish, garnished with onions, tomatoes and different sauces.
10. FLAMMKUCHEN
A kind of pizza with a very thin dough and garnished with onions, bacon, sour cream and herbs, then baked at high temperature.