A family business in the food catering industry that has sold Roman "pizza alla pala" with the highest quality mortadella since 1950.
Gino 1950 have chosen to launch their brand outside their neighborhood by buying a customized Ape TR to offer their customers an unforgettable meal.
The Ape Piaggio TR is a food truck designed without an engine that can be placed anywhere, even inside commercial spaces. In Gino's case it can be found in the Valmontone outlet. It's a mobile food vendor that captures the attention of passersby.
We interviewed Simona A., project manager of Gino 1950, to ask her if they are satisfied with their purchase and how things are going.

1. How did the idea of purchasing an Ape food truck come about? What goals did you set for yourselves?
To take our business plan "on the road" with the goal of increasing brand awareness.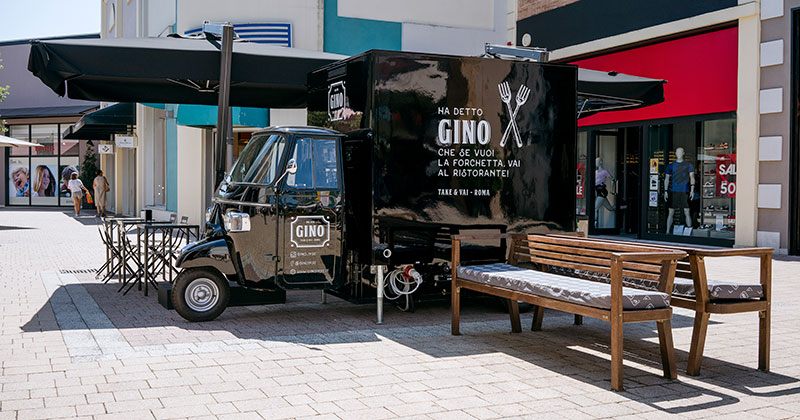 2. What convinced you to choose VS Veicoli Speciali?
Because you are leaders in the food truck field.

3. How did the collaboration play out from the conceptual design phase to the creation of the customized vehicle?
It took place through exchanges, opinions and needs all shared by email and telephone.

4. What makes your Ape TR special? What are its strengths?
Its elegance and reproduction of the aesthetic characteristics of the original location.

5. Where does it get used?
Inside shopping centers.

6. Who manages it? What skills are necessary to be able to manage a traveling business like this?
We manage it internally.

7. How does this vehicle contribute to the promotion of the brand?
The logo is recognizable and placed many times on the Ape and the product is clearly shown.

8. Are things going according to plan? Have there been any pleasant surprises?
From a technical point of view everything is as expected.

9. Any interesting tidbits or odd occurrences thanks to your Ape?
It's just been a few months, so not yet, but in the future we are sure to have them.