Accounting for a small percentage of the food industry, the street food sector is an extremely dynamic and fast-growing niche within the market.
Solid numbers and two decades worth of stable growth are not the only proof which show it is not a passing fad. You could simply look at the fact that street food offers an extraordinary opportunity to make profits and gain brand exposure. So, why not go for it?
Getting set up to sell take-away meals and make deliveries allows one to expand business opportunities as well; however, in this regard, the delivery giants eat away at profit margins, unless you are prepared to make your own deliveries.
On the other hand, cooking and selling food on the road does not require a large investment, but just takes good planning and a bit of cunning and initiative to identify the ideal situations, places and events for business.
In the hands of skillful operators, there are always one or two areas of activity where a food truck's flexibility can be taken advantage of.
They are well-known for their effectiveness as both sales tools and branding strategies. That's why they have continued to become more functional and better-looking over the years.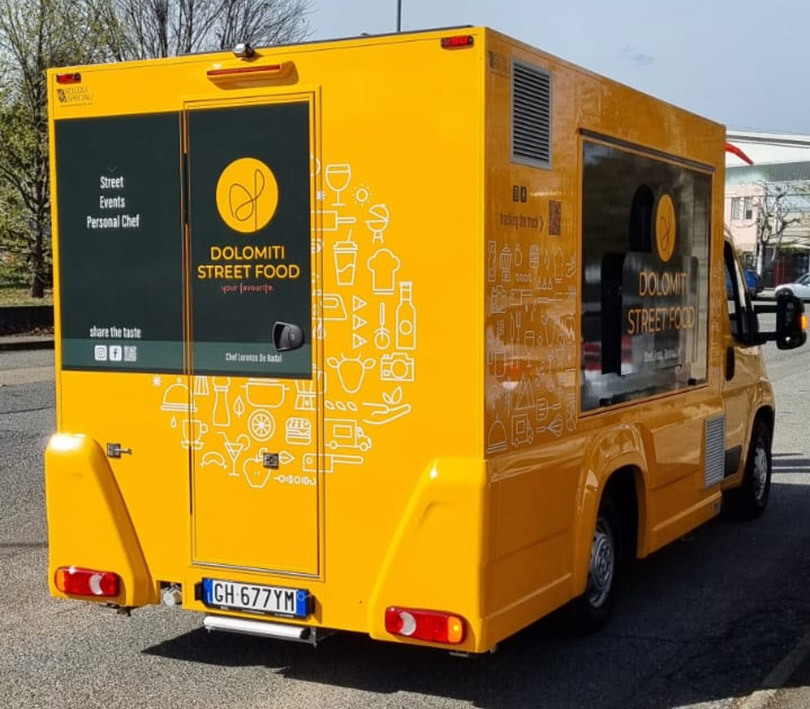 The era of large sandwich trucks near stadiums and shoddy neighborhood meat, fish and cheese trucks seems to be over.
Today, food trucks get purchased by restaurants, pastry shops, fast food chains, hotels, coffee (and other drink) corporations, large retail groups, and for promotional or marketing purposes by companies who do not even work in the food sector.
A great brand is not content with a mediocre vehicle, so VS Veicoli Speciali identified a need and fostered its growth, showing the potential of high-quality food trucks.
The Pro X food truck is the latest development which has seen makeshift vehicles become sophisticated and contemporary work tools.
Pro X is the food truck with eXtra
On April 28, 2022 VS Veicoli Speciali gave a sneak peek of a high tech food truck which makes a clean break with the past.
Every characteristic and detail of this vehicle has been designed to set itself apart from the competition and excel.
Its materials were chosen to ensure durability, ease-of-use and cleanliness, reducing maintenance to a minimum and guaranteeing high ergonomic standards.
The lighting, which is solely provided by LEDs to reduce energy use to a minimum, is uniformly distributed in every area of the Pro X Food Truck to ensure perfect visibility.
Plus, the detailing has been cared for in the tiniest of details to make the Pro X Food Truck extremely pleasant on the eyes.
The professional equipment guarantees optimal performance levels to deal with high-paced workflows and work comfortably operation even in extreme weather conditions.
Everything in the Pro X food truck has been designed to work seamlessly and last, but the following elements make it totally unique:
design
sustainability
connectivity
DESIGN
The patented design provides extraordinary exterior elegance with sinuous lines which run the entire length of the food truck.
At first glance, the Pro X instantly show itself to be unique and original, up to the point of being incomparable with any other vehicle currently in circulation.
The interior ergonomics have been designed to ease working on board as much as possible and to speed up the tasks of food conservation, preparation and cooking.
The storage compartments and countertops are big enough for cooking and serving food quickly and comfortably.
SUSTAINABILITY
The Pro X food truck, with all of its equipment installed, is powered in three ways:
an external plug (including charging stations);
photovoltaic panels on the roof;
the vehicle's alternator (while running).
Under ideal conditions, it is completely energy self-sufficient thanks to its extremely efficient solar roof panels and high-performing lithium batteries which, even in the absence of sunlight, guarantee up to 12 hours of battery life.
A great way of working while reducing your impact on the environment!
CONNECTIVITY
The Pro X food truck is connected with eXtra, the digital remote-control system for all on-board operations.
A mobile application which can be easily installed on any smartphone, it allows for the remote control of every function on the food truck, including:
checking environmental metrics (temperature, humidity);
checking for the presence of gas leaks or cooking equipment malfunctions;
adjusting the air conditioning and the ventilation fan;
adjusting the temperature of the fridge and freezer;
verifying that everything is working according to the set parameters;
setting warning alarms;
checking the status of the doors and support legs;
turning the lights on and off.
We have estimated that, thanks to eXtra and the meticulous attention given to its interior design, productivity with the Pro X increases by 30%, with further benefits like:
time-savings;
a reduction in work-related stress;
improved safety;
better customer service;
energy efficiency.
It took two years of research and design to create a new food truck which is capable of generating value and profits for any kind of company.
With the awareness that we have only just begun, the Pro X food truck and its technology are destined to become the reference point for every future development in the food trucks industry.