The street food sector is booming and consequently creating a lot of related events and opportunities for food trade.
Not only public administrations, but also companies, are organizing more and more events and celebrations where, together with music, food trade can't be missing.
Business owners, shops and companies, on their side, take the opportunity to take part at these events and often they do it using gazebos and/or temporary stalls to offer their products and to promote their brand.
The way they use this kind of installations is very often not adequate and little qualifying, but most of all not compliant with legal standards. This is due to the fact that selling food and beverage from a gazebo trying to make it catchy, original and compliant with legal standards at the same time is not easy, if not impossible. This is the reason why more and more business owners and companies are purchasing customized food trucks according to their business needs.
But let's make a step backwards and try to briefly focus on this important matter.
Hygienic standards:
general for public areas and business owners
specific for mobile shops and food trucks
specific for gazebos or temporary stalls
Hygienic requirements for public areas and business owners

Public areas destined to food trade must possess specific requirements in terms of pavement, electric net, drinkable water, waste management.
In the same way, also traders of perishable foodstuffs must respect a long series of requirements:
hygienic requirements
requirements on the necessary equipment in the food trade sector in public areas
These requirements fall under:
hygienic regulation of production and selling of food and beverage
regulation of the trading sector compliant with legal standards in case of temporary events (like exhibitions, food events or sagre…)
For further information about the italian regulation on this matter, download the following pdf. file
Hygienic requirements for mobile shops or food trucks

1. Technically adequate structure that can meet the hygienic demands in terms of conservation and protection of food, realized with resistant material, unalterable and easy to disinfect, with an internal height not lower than 2 meters and a selling counter of at least 1,30 meter from the ground
2. Lateral mobile wall with a special equipment that covers and protects the counters and other exposed equipment
3. Hydraulic system that is connectable with the drinkable water net predisposed in a market area, or powered by a specific drinkable water tank installed on the food truck, that must be adequate for personal hygiene and food needs.
4. Outlet water system connectable with the predisposed plumbing in a market area or, when the area is not predisposed, it must pour the wastewater in a specific close tank, of the same capacity of the correspondent load tank for drinkable water.
5. Electric system directly connected to the energy supply network predisposed in the public area or it must be powered by an independent supply system, in order not to interrupt the cold chain and the normal functioning of the refrigeration systems.
6. Fixed or moving counters suitable for the conservation and protection of food.
7. Conservation or display fridges that allow the neat separation of hygienically incompatible foods, the maintenance of the cold chain and the respect of the temperature standards in force.
8. Sink with automatically operated tap and/or pedal/button, with cold and hot water, with liquid or powder soap.
Hygienic requirements for gazebos or temporary stalls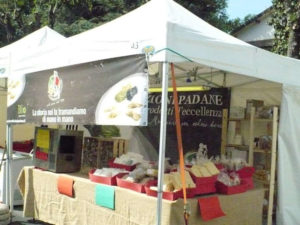 1. They must be installed to insure the stability during the selling activity using any hygienically suitable material to be in contact with the food sold.
2. They must have counters raised at least 1 meter from the ground.
3. They must have display counters in easy washable and disinfectable material and they must have adequate protection systems in order to protect food from external contaminations.
4. In case of fish sale, gazebos and temporary stalls must be equipped with:
a. Adequate refrigeration system
b. Tank for drinkable water with suitable capacity
c. Sink with automatic tap for water
d. Close tank for wastewater, of the same capacity of the correspondent load tank for drinkable water.
e. Adequate working space

5. In case of cooked food sale or other perishable food, gazebos and temporary stalls must be equipped with:
a. chafing dish system in order to preserve the cooked food waiting to be sold or, for other kind of food, an adequate refrigeration system;
b. Tank for drinkable water with suitable capacity
c. Sink with automatic tap for water
d. Close tank for wastewater, of the same capacity of the correspondent load tank for drinkable water.

6. Gazebos and temporary stalls cannot sell and prepare fresh meat, nor fish products.
The many "cons" of the gazebo vs the many "pros" of the food truck

As we have seen, the restrictions to respect are a lot in any case: if we are talking about gazebos and stalls or about food trucks, the hygienic requirements in effects leave no space for improvising.
In this sector, there is only one big and simple difference that should push the purchase of a food truck: food trucks are designed and realized respecting all existing laws and regulations, whereas gazebos or temporary stalls are very hard to keep compliant to legal standards.
When you buy a food truck built by a professional manufacturer, you don't need to worry about anything, neither being afraid of fines. You will be free to focus on selling your food, promoting your brand and your image.
This aspect could already be enough to convince to get a food truck, but actually, there are many more, which are summarized here below.
"Cons" of gazebo, temporary stalls, bicycles and stands

1. They represent an old way of practicing street trading, which lowers the value of the activity and discredits the product, causing damages to the image of the company or the business owner.
2. Negative and expensive logistic. Mounting, preparing and dismantling need time, sometimes days and a whole team of different workers, in addition to a very organized logistics. Very expensive.
3. Searching and renting the equipment is another time consuming activity that must be done each time you want to take part at events, festivals or fairs.
4. They can't be used for street trading (as bicycles and carts), because they are not compliant with legal standards for this specific use. The fundamental requirement to operate in street trading is working onboard with a minimum height of 2 meters floor/ceiling, apart from the aforementioned requirements.
5. In case of bad weather, they can become dangerous for operators and people nearby.
6. Being almost impossible to realize outfitting compliant with legal standards that can cook and keep food safely, the protection of the consumer can't be guarantee and there is the risk of application of penalties and charges. In this case, the organizers of the festival or event also won't look good.
"Pros" of food trucks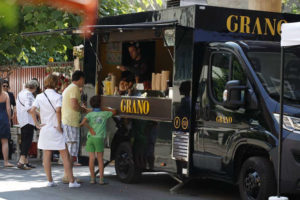 1. They are eye-catching and easily promote the company image.
2. They can communicate a strong brand identity since they have a fix and easily recognizable design.
3. Logistically, they don't need any kind of work apart from just placing them somewhere in the available area. One person is enough for placing it and opening it.
4. They offer a total autonomy of movement and most of all they are compliant with legal standards.
5. They can be completely independent in terms of electricity, so it is possible to work without an external socket.
6. They offer big spaces for communication and personalization, making the truck one thing with the product idea they want to communicate.
7. They are original and spectacular and bring people closer, offering more ways to communicate with them.
8. They have a perfect ergonomic and layout, studied specifically according to your preparation line.
9. They can be used in very different contests: itinerant, festivals, private events, outlet stores, supermarkets, train stations, airports, birthday parties, weddings, company events.
10. They are certified and respect all hygienic norms, so you won't risk getting fines or, even worst, activity blocks from the health department. Moreover they offer a safe ad high quality service to their clients.
In conclusion, all companies operating in the itinerant sale sector should seriously consider investing in a food truck. The advantages are many, in comparison with the gazebo scene. Basically, it is all a matter of being professional and doing a good job instead of just rough it.