Our lives have come to a screeching halt since February, but the food business has adapted quickly. Restaurant are still closed but food delivery is all the rage!
The current health emergency took our lives by surprise in the first months of 2020. It became the year of the digital revolution for every business sector, but especially for food delivery. Through the emergency delivery became the most important way of receiving goods during lockdown: from groceries to our favorite burger, to meds to essentials, without the need to go out, it has become the single most important way to reduce movement and the spread of the contagion and keep a semblance of normality in our lives.
To face this growing demand, many businesses had to adapt quickly, and many are in the process of adapting: from restaurants delivering their meals at home, to farmers bringing their produce directly to their customers homes, to the on-line platforms that allow customers to keep shopping in their favorite shops around town.
The food delivery world, as per the data of delivery platforms, had an exponential growth. The number of downloads and orders through platforms like Just Eat or Deliveroo has reached numbers that would have been unthinkable just few months prior. Just about everyone that works in the food industry found an useful business outlet in delivery.
The importance of Food Delivery services
What have we learned in these months while adapting to this unexpected way of life? That food delivery is a reality that every person in the food industry has to be familiar with, because it's a way to reach different and untapped market shares.
To be successful on the food delivery front means to structure your business around it and learn how to answer the specific needs that it brings with it. It has to be treated very seriously, with organization. It's not as easy as it seems. Where to start? Surely with the question: do you want an internal service or do you want to rely on an existing third party service?
To answer effectively we have to evaluate all the pros and cons, in light of your own ideas on how to run your business. There are advantages in both solutions; it is vital to evaluate everything through the reality that every entrepreneur has to go through.
To help you in your analysis we want to bring to you the stories of our customers and the decisions they had to take to face this crisis.
We are extremely happy to know that those that chose, or had already chosen, to own their own branded food truck as a business, have found it easier to convert it into a vehicle for deliveries. Furthermore, those that moved quickly saw a rise in profits due to the constant growth of requests and lower costs.
As a customized food truck builder, we asked ourselves what we could do to help and support those in the food industry. From there, we present to you the Ape E-Delivery project: a new vehicle made with delivery in mind, already fitted to transport perishable goods. It will be available in two engines, one diesel and the other 100% electric.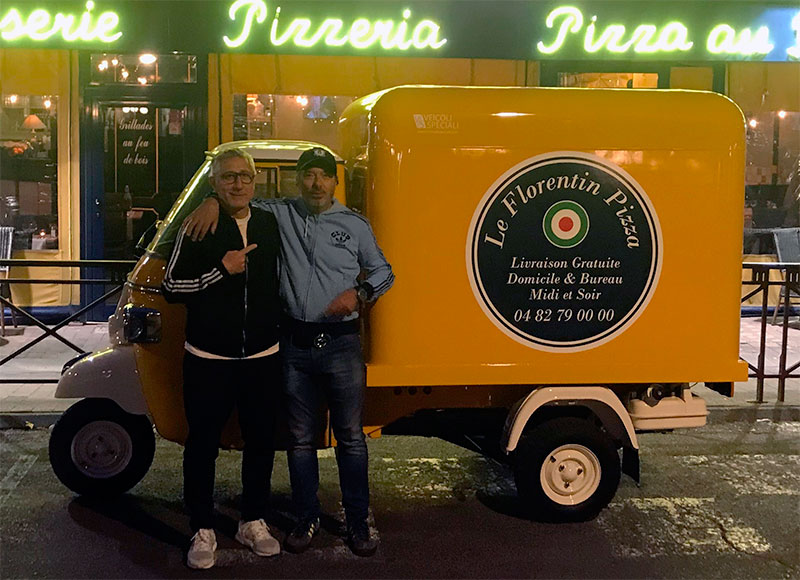 Our Ape E-Delivery
What are the advantages? First of all, the chance to customize your vehicle thanks to our own VS designers. Your vehicle will be going around town, strengthening your brand and making you stand out from your competitors. It's a vehicle that has a completely electric engine, designed for the urban space and for efficient delivery, that allows you to move freely even in LTZ and city centers without time limitations, that allows for parking without permits and, last but not least, is very nimble and compact vehicle that can go everywhere.
An Ape E-Delivery will allow you to organize a big number of deliveries at once  thanks to its loading capacity and the specialized fitting for food conservation in the best of conditions, giving you a delivery service of the highest level, putting you above and beyond your competitors in the minds of customers.
You can choose between a freezing unit for both frozen goods and a hot unit, perfect for cooked meals. Both have ATP certification and an autonomy of around 8 hours.
Not only that, but if you don't need any of those, you'll get a totally free cargo bay 750 mm in height from the ground, for easy loading.
Alternatively, you could realize a custom fitting with drawers, shelves and extendable worktops, to reach the best solution for your needs and maximize your deliveries.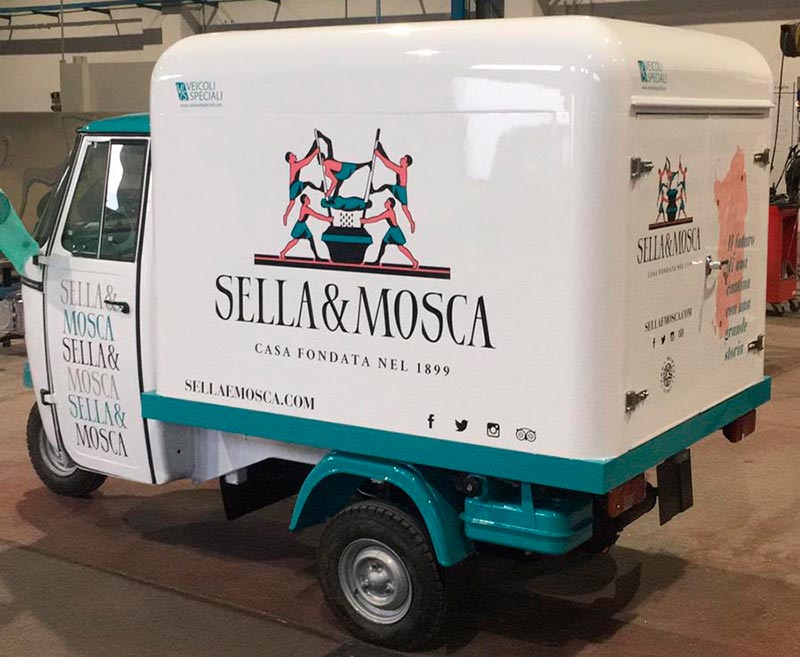 We've seen the advantages, but what are the silver linings of owning an Ape E-Delivery for food delivery?
First of all, it allows you to offer a service that is very requested by customers, second of all to enter in the food delivery circuit means an automatic and continuous promotion towards customers that wouldn't have had the chance to know you or your business.
A considerable rise in sales is assured and it's a nice way to get your business with the times and adapt to the constant changing in the market.
Don't put your trust in people outside of your business, deliver directly to your customers without having to pay 30% commissions while keeping quality in check.
Choose wisely, because innovation is necessary to stay afloat and will make your business stronger in the long run.