For years the food truck market has been heading towards heavy customization in design and a strong aesthetic impact that is in line with the brand and its values.
The companies which buy a street food truck or promotional vehicle want one with a strong look, attention-to-detail, and impeccable customization to show off its uniqueness and make it stand out from the competition.
Whether the vehicle is purchased by a restaurant or an international fashion house, it is not only used to sell products but is placed within a larger marketing strategy aimed at publicizing the brand and communicating its values.
That's why companies insist on focusing as much on aesthetics and design as they do on setup and equipment, because the colors, text, graphics, and even the decorations on the food truck are fundamental to establishing a brand identity.
But what happens when the promotional aspects are secondary because the food truck must carry out a solely commercial or support role (for example, when it is used to prepare and sell products in one's own space where being easily recognized is unnecessary)?
Who said a successful food truck must be unique, exceptional and highly customized?
For some businesses in the food service and mass distribution sectors, the food truck must mainly carry out an adequate number of sales and be intensively employed in a space where aesthetics and communications are secondary or even unnecessary. For example, we could consider a food truck in support of a catering service or one used as an extension of the kitchen in a resort or golf club.
But these are not the only examples. There are highly organized businesses with simple and light traveling food truck fleets that lower management and investment costs by make their businesses scalable. Maracaiba is a good example.




A simplified Food Truck such as this can also be used as a spare or backup vehicle that only gets called upon in cases of urgent need.
A vehicle like this can also be used by communication agencies which rent food trucks to clients with various needs, where the vehicle needs rapid customization and quickly readapted to the requested activity.
In all of these situations, the food truck must respect health regulations and be equipped with professional equipment.
The eco food truck is an ECOnomical vehicle designed precisely for these purposes. It is minimally customized, simple in its furnishings, solid, ergonomic and complete with everything necessary to process large production volumes to support the efforts of workers in difficult, high-paced situations.
Characteristics of the Eco Food Truck and the versions available

An eco food truck comes in standard white and boasts of durable and minimal furnishings.
The quality of the systems and accessories installed on board are essentially the same as the premium models:
Its equipment includes:
an independent water system;
a 220V 16A electrical system with circuit breakers;
2 lines of lighting for a total of 10 linear meters of LED strips;
two storage areas with open shelving systems, which are convenient for stocking goods;
aluminum flooring covered in antibacterial and nonslip PVC (this solution keeps weight under control and makes the flooring practically indestructible).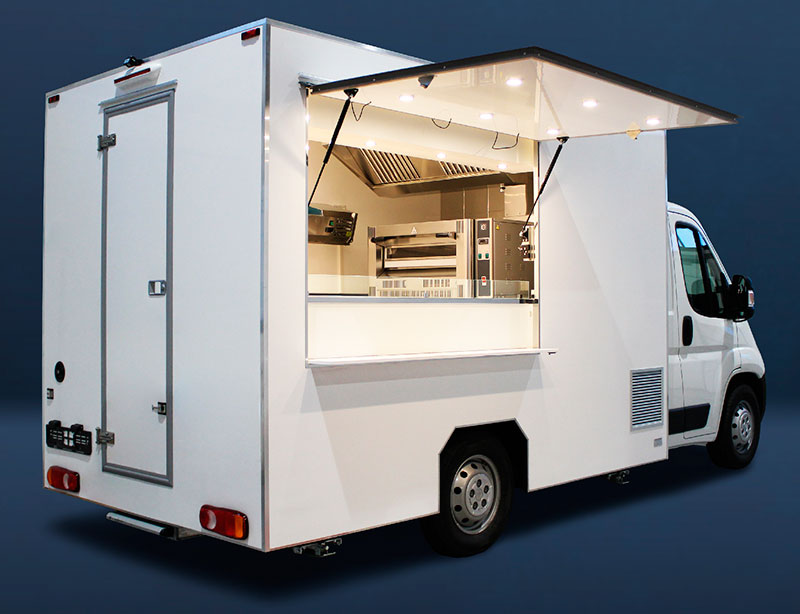 The base accessories are the same:
manual support feet
a retractable entrance step
The eco food truck is available in 4 versions or outfittings:
pizzeria;
restaurant (where the necessary cooking elements get installed);
mobile ice cream shop;
exhibition-promotional.
The cost of an eco food truck is much lower compared to premium products, while maintaining their efficiency and production capabilities.
A vehicle like this can be profitably used by food service and food processing companies, as well as by small businesses and street vendors looking for a more affordable way to enter the street food sector by saving on the initial investment buying a formidable work vehicle.
Thanks to the eco food truck, you will not pay for giving up on aesthetic customization, but you will save.