The new challenge for street food vendors: Bringing people back to the joy of eating out of their home
The question that is on everyone's mind during these weeks, both in the private and the public sector, is how to jump start the economy after months of forced closing. For a commercial venue there are a lot of new rules to follow, changes and new practices to adapt your business, a new way of managing the relationship with your customers. All of this while trying to maintain the quality standards that brought customers to them in the first place. This is particularly true for the restaurant business, which is both the one that got it the worst and at the same time has found a new rush of customers yearning for their favorite dishes.
Taking into account the approaching warmer season and the need for people to go out after months of lockdown, there is no better time to take advantage of it than with a food truck or a promo truck. A winning path, with many examples of success from those that were capable of unite quality and originality in their offer. Today a food truck has the additional advantage of being safer than a closed venue.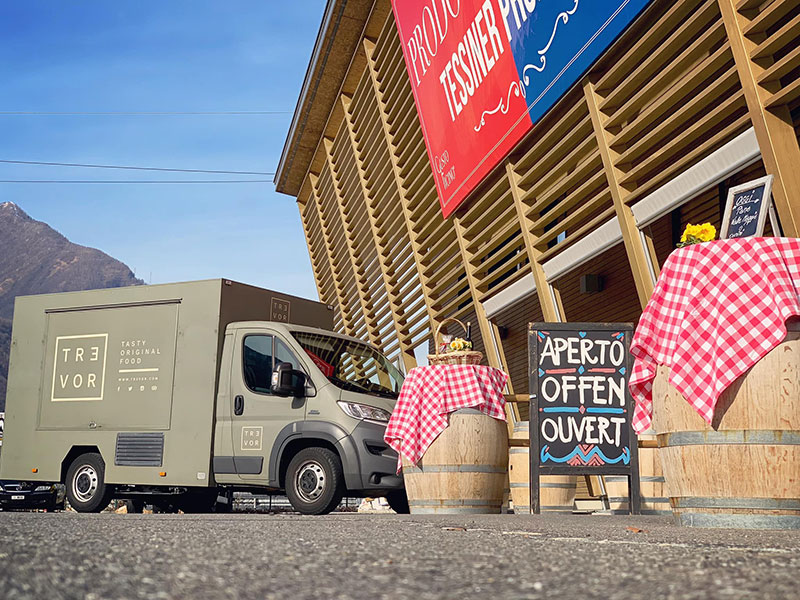 To cite one of the many examples we have TR3VOR. A Swiss chef with an Italian heart that puts his talent and passion for cuisine on four wheels: every creation of his is comparable to a starred restaurant, but it's readily available to anyone thanks to his food truck Ducato Tr3vor in Svizzera. His philosophy is to put high level cuisine on the streets of Switzerland: a cuisine that many have missed in these months where we were forced to stay at home and that is now easy to find.
A similar example is in Paris with the wonderful people of Le Churros du Chef: They gave a touch of quality and passion to street food of their choice, churros. The hands of successful chefs on high-end ingredients, cooked right in front of the customers, with a sweet and salty menu to satisfy every need and want of their customers. And they do all of this on the rue of Paris. What's better than that?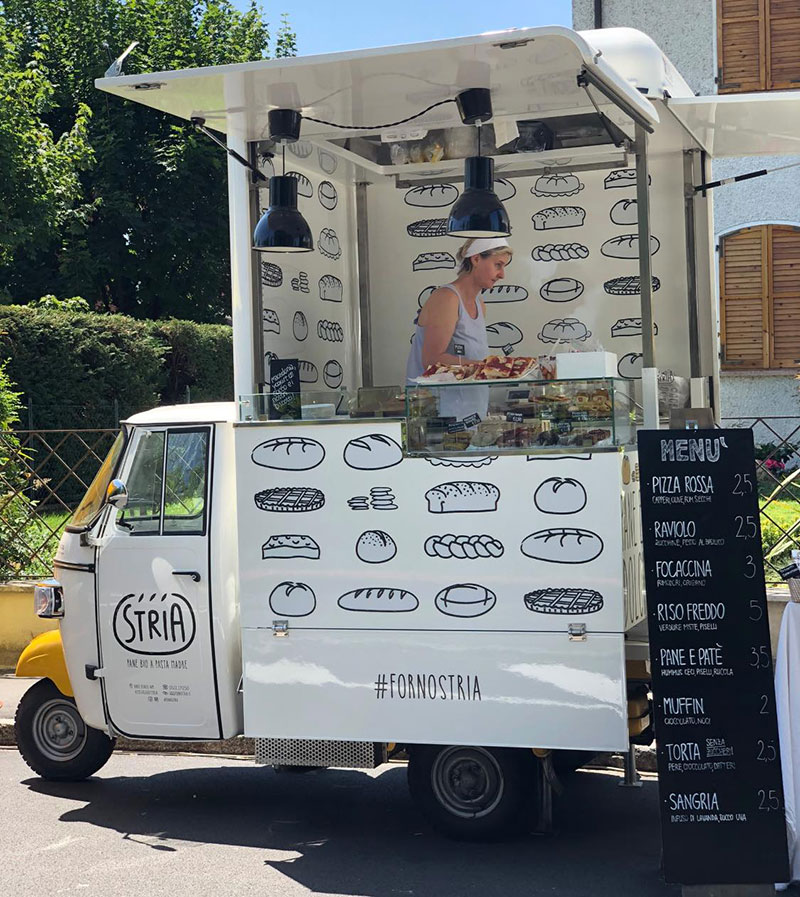 An art that many have discovered during the quarantine is baking. The magic of uniting the ingredients like flour and yeast, the slow process of leavening. A mix of magic and knowledge, built up during the years, is the basis for the activity of Forno Stria. From their hometown of Reggio Emilia have told a beautiful story of ancient grains and sourdough that they use wisely to make delicious bread and pastries on a mobile bakery.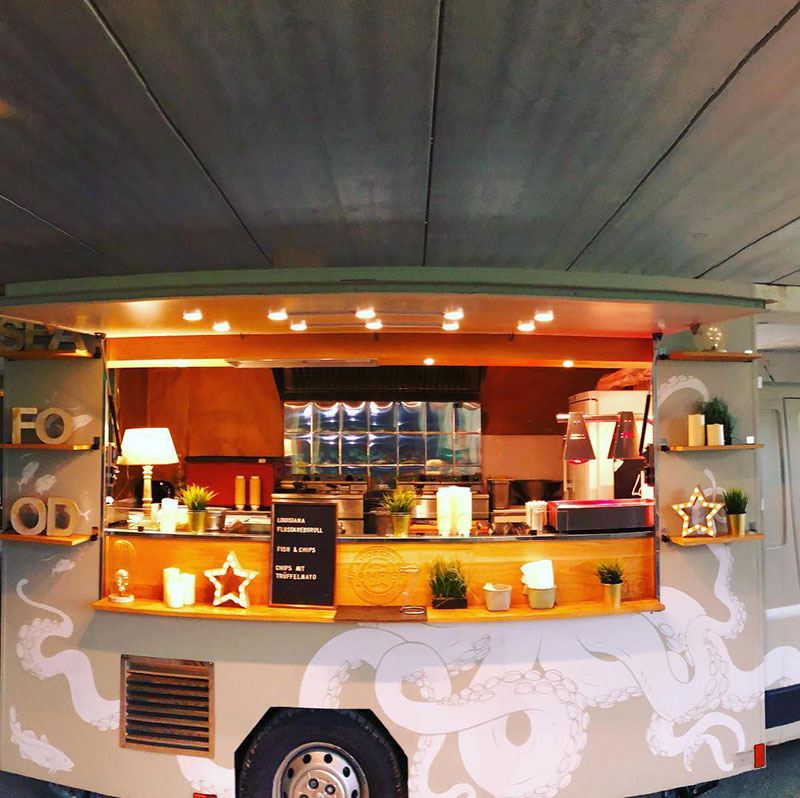 Tastes and scents that everyone will love, that's why they have gone on the streets of Italy with their Ape V-Curve, designed specifically to be able to sell organic bread, focaccia and cakes, made the traditional way.
Another interesting example in Austria is the challenge of Sanfish, to bring on the street food one of the most challenging ingredients to prepare: fish and seafood. The taste that brings memories of holidays by the sea, the sun open spaces and a carefree attitude that we all need right now. High quality, fresh ingredients, and passion complete the picture. All of this magic happens on a Peugeot Boxer food truck, with custom modifications that make it a professional kitchen with everything a chef can dream of to bring the taste of the sea on the streets of Austria.
Last but not least, there are those that have made the streets their home away from home, changing what years and years of traditional restaurant rules. This is the long and successful story of The Club Sandwich, whose founders have been managing food venues in Jesolo, the center of summer tourism of the Veneto region. They knew that to survive in business, they had to get ahead of everyone else and so they sold the venues and put all their resources in a travelling food truck. Their NV Food Truck is a state of the art vehicle that allows them to provide the quality of food that made them famous while giving them the ability to stay mobile and change location to go where it's more profitable.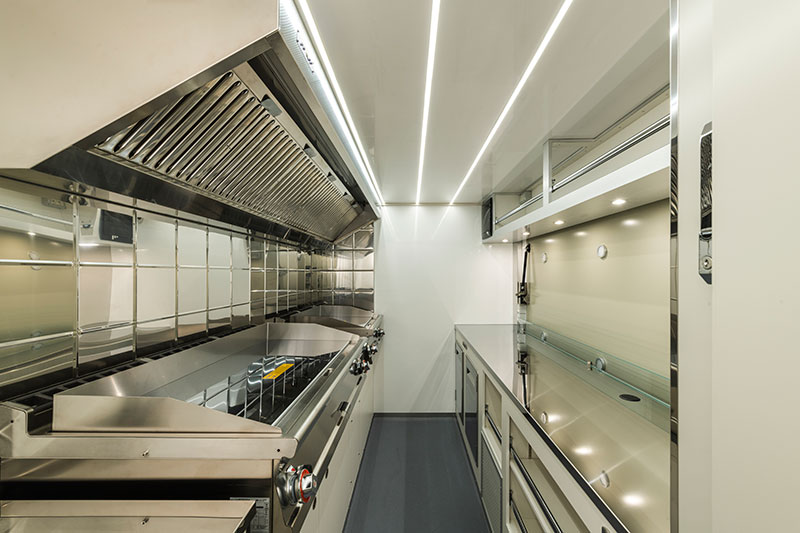 Their NV Food Truck is a state of the art vehicle that allows them to provide the quality of food that made them famous while giving them the ability to stay mobile and change location to go where it's more profitable.
This, united with their resourcefulness and entrepreneurship, gave them all the cards to win with their project, and they were able to go beyond the initial reach they had in Veneto and move to different parts of Italy with ease.