It is no breaking news that food sector is one of the most dynamic and innovative. Cuisines around the world are opening and combining with each other in endless ways: a mix of tastes and traditions, intracultural food creations and fusion, contamination of knowledge and customs around food and the way you eat it.
In particular, the street food world is releasing series of innovations on many levels. It is indeed a niche market that is constantly growing in terms of turnover and operators. This growth is due also to the entrance in the street food sector of professionals and companies that are already operating in the food sector, but also companies that operate in different fields and are now investing in food trucks for marketing and promotional reasons.
We are talking about old style trucks that sell street food in various contexts in the city, but also restaurants that want to expand in the catering business using a food truck or companies that organize events and use a promo truck to promote brand and services.
Building a mobile restaurant in a sea container is the perfect example of this dynamic business innovation.
It is called Around the venture of Ape20 Street Events, a Swiss company that is already renting Ape food trucks for public and private events: weddings, birthdays, fairs and festivals, corporate meetings…
Around is a restaurant outfitted for a private use, realized in a sea container that has been elegantly refined and designed to maintain its efficiency in every sort of conditions, from very cold to very hot.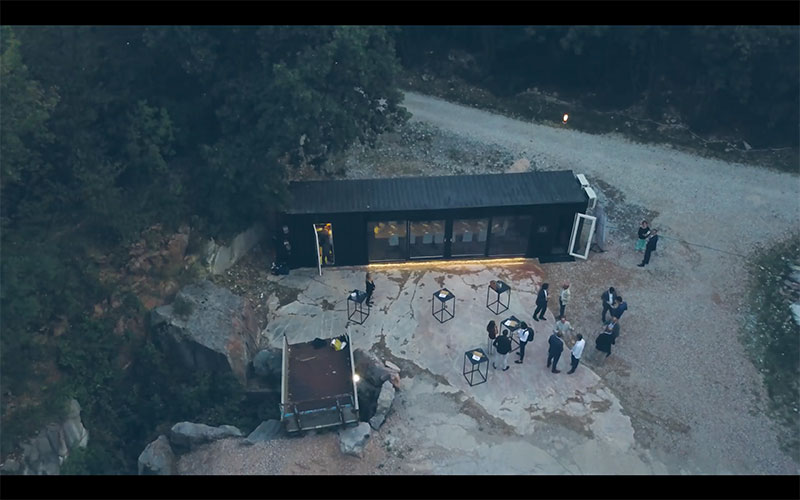 This peculiar restaurant is placed in exclusive and unique locations for a limited time: vineyards, woods, mountains and lakes with breathtaking views. Is works on single booking and it can host a minimum of 2 and a maximum of 16 guests. At the time of this article, the restaurant-container is by the Arzo's marble caves in Ticino, Switzerland.
The idea is offering a high-level dinner experience in an unthinkable location. They offer the service of renting not only a simple street food truck, but a whole restaurant with chef and an exclusive location. The project Around includes the opportunity of renting a personal chef that will transform your home in a private restaurant.
With Around not only the restaurant is itinerant, but also the chef.
Ape20 with this project gives proof of having fully understood the importance of offering services not only with an added value but also with an added mobility. This is the response at the always more evident need, for private and companies, of offering tailor made services, extremely customizable and original.
Finally, the idea of ​​using a container as a traveling restaurant is a business opportunity that could attract many companies in the catering sector and not, for various reasons:
premises with a fixed location are not able to absorb changes in a world that increasingly requires personalized, flexible and mobile services;
mobile vehicles and structures move where needed, can reinvent themselves in a much easier and cheaper way;
the operating costs and the initial investment for a container of this type are decidedly lower than those to be incurred for a classic location;
the possibility to move it and install it in any place with enough space, allows you to close temporary contracts (for example a few months), with commercial spaces, outlets, mall, stations, museums, etc.;
we can plan collaborations and partnerships with private spaces and institutions of all kinds;
the risks of failure and loss are significantly reduced.

What would be the next innovations in the street food industry after a luxury restaurant container?
We look forward to finding it out!