We have often spoken on our blog about the growing success of food trucks as a recent phenomenon among medium-sized and larger businesses, moving beyond the traditional idea of vehicles for street market and traveling sales.
New food trucks are designed not only to sell snacks, hot meals and many gastronomic products, but also to promote a brand, a product line or a new service.
Leading multinational companies acquire food trucks, or other kind of mobile kitchens, even to "just" offer a service to their clients or employees, giving their brand prestige while creating an upbeat and positive atmosphere for all involved.
If we take a look at sectors other than the food service ones, we find companies buying trucks outfitted for clothing retail or designer, high-fashion or jewelry displays; and even banks are promoting financial services by using custom promo trucks.
In short, mobile sales and promotion strategies are gaining traction, especially among the most innovative and forward-thinking companies, as they are powerful and flexible tools for increasing brand visibility and winning over new clients: proactive forms of non-conventional marketing.




Another trend that has gone slightly under the radar, yet one which deserves attention, is the convergence of gourmet cuisine and high-end food trucks.

The marriage of convenience between food trucks and gourmet food

One of the most encouraging contemporary trends is the desire to eat well in full respect of the environment surrounding us.
At all levels of society, people appreciate and look for healthy food and tasty dishes that are prepared with natural ingredients obtained through non-invasive production processes.
If at one time only starred restaurants offered gourmet dishes both sublime in taste and presentation, today popular cuisine has made culinary experimentation and elegance its imperatives.
Street food is experiencing a renaissance thanks to the discovery of traditional dishes and the blending of specialties of other places and cultures.

More and more, street food is being chosen as an investment for many of those who work at high levels within the traditional food service sector.
There is no doubt that the appeal of street food increased when higher quality, elegant and well-equipped food trucks (with kitchens in no way inferior to professional restaurant ones) arrived on the market.
For example, the VS team has created various high-end street food outfittings starting from various vehicle types:
ape v-curve;
ape tr;
ape smart e v-smart;
professional food truck;
NV Food Truck;
food truck vintage;
eco food truck.

All of these get customized in every detail according to the client's needs and desires. Materials, equipment, lighting, logos and design are always of an excellent quality in complete stylistic and conceptual harmony with the most sophisticated culinary offerings.
Thus, food trucks and gourmet gastronomy have tied the knot on the altar of street food; and renowned chefs and great cuochi have become the high priests of this successful team.
Below, we show a series of successful combinations of mobile kitchens and gourmet food, in the perfect integration of a vehicle and the preparation of extraordinary food and drink.
Reknown brands and companies in the restaurant industry are moving on wheels.

RISTOLUCITTA




Street food project by the well-known chef Clelia Bandini who offers dishes prepared with 80% of locally produced ingredients.

BEE CHIC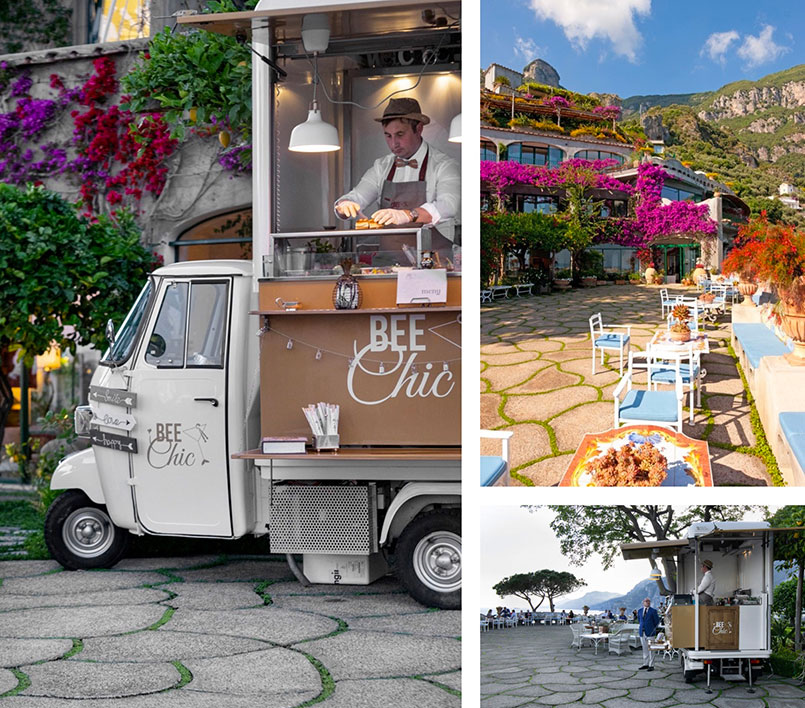 A truly chic retro food truck, a Piaggio Ape literally flown by helicopter to the terrace of the Le Sireneuse hotel in Positano to work as an irresistible gourmet temptation.

TR3VOR



Trevor Alpignani is a Michelin star chef who has been dedicated to high quality street food in Switzerland for years.
In addition to the Ducato food truck, he also bought a Mini Food Truck Piaggio.

SIGNORVINO



A popular brand, known for its wine shops and restaurants scattered throughout Italy, specializing in the sale of 100% Italian wine and quality tastings.

STREET ArBRE




Yoranne Vandriessche is a michelin starred chef who, after having been awarded with the star, started two gourmet food trucks, a mini food truck and this NV Food Truck used for for offering a local food catering service.