The popularity of food trucks has distracted from the fact that beverage companies are also exploring the potential of these vehicles for selling cocktails and aperitivi.
Premium brands like Martini, Aperol, Schweppes and Signorvino have all purchased food trucks specialized in the sales of beverages (i.e., drink trucks) thanks to the many benefits and advantages they provide.
Here are just a few of them:
Flexible locations: one of the main advantages of food trucks is their ability to move to different sites based on demand and events. With the possibility of getting near events, concerts, fairs, or crowded areas, a company can easily reach new markets and target customers;
Lower startup costs: opening a traditional bar requires a significant investment in terms of rent or buying a space, furnishing, and getting licenses. With a food truck, the initial investment is much lower and allows those with a limited budget to get started in the sector;
Quick response to market trends: a food truck can quickly adapt to new market trends, offering cocktails or apertivi based on the season or customers' latest preferences;
Customization and branding: the food truck's exterior can be customized to reflect the company's style and essentially become a mobile advertisement;
A one-of-a-kind experience for the customer: the intimate and oft-creative feeling of a food truck can provide customers with a unique experience which differs from a bar or traditional eatery. This can aid in creating a closer connection with the customer and getting the word out about the food truck;
Fit for all seasons: during the warmest months, a food truck allows one to take advantage of outdoor spaces and provides customers with an open-air experience. Meanwhile, in winter, it can be set up in covered locations or make use of heating solutions;
Collaborations and special events: food trucks can easily collaborate with companies and institutions by taking part in company or private events and organizing theme parties thanks to their mobility and flexibility;
Risk reduction: not all locations and events offer the same advantages. Over time one can figure out which settings are most worthwhile, which reduces the risks of opening a fixed location.
How do drink trucks get used?
Drink trucks can be used in a variety of situations and settings. Here are some of the most common ones and the reasons why they are especially fit for these locales:
Festivals and Concerts: outdoor music events often attract a large number of people looking to enjoy themselves. Drink trucks can efficiently serve refreshing alcoholic and non-alcoholic drinks, satisfying the demand for cocktails and beverages during the event;
Sporting events: from football games to golf tournaments, marathons and track and field, sporting events offer fans the opportunity to enjoy a drink while they support their team or take in the athletes' performance.
Weddings and Private Parties: more and more couples and event organizers are opting for food trucks as alternatives or additions to traditional catering. These vehicles offer a unique and fun touch and can be easily customized based on the event's theme;
Fairs and Exhibitions: these events attract a large and diverse audience and can even last a couple of days. Drink trucks can provide a refreshing break to attendees;
Street Markets and Food Truck Festivals: these events are focused on mobile culinary experiences and offer a wide variety of food and drinks. A drink truck specialized in cocktails can set itself apart and attract a crowd which is looking for something other than the same-old snacks and meals.
Beaches and Parks: beaches and parks get crowded during the summer months. A drink truck can offer refreshing cocktails to visitors and tourists and improve their outdoor experience;
Company Events and Product Launches: companies can rent or customize food trucks for promotional events or new product launches, offering themed cocktails based on the brand or product in question;
Tourist and Pedestrian areas: locations which attract tourists—monuments, museums, or panoramic areas—can benefit from the presence of a drink truck which provides them with the chance to take a break and drink something;
College Campuses: college events and year-end celebrations can be enlivened by the presence of a food truck which offers cocktails and aperitivi;
Charity or Fundraising events: a drink truck can participate in charity events and donate a percentage of the sales to the cause or simply offer a place where attendees can relax.
Generally, any place or event which attracts a large number of people and allows alcohol can benefit from the presence of a drink truck. The keys to success are position, the quality of the cocktails, and the ability to create an enjoyable and fun atmosphere for the customers.
Drink truck equipment
The food trucks specialized in cocktails and aperitivi must be organized efficiently in order to ensure that the operators can work quickly and safely in a smaller space. Here is an overview of the most common equipment and interior setup of a typical DRINKS TRUCK:
Preparation Bar: this is the main space where cocktails get made. It is equipped with a large stainless-steel work surface which is durable and easy-to-clean;
Refrigerators and Freezers: essentials for preserving fresh ingredients, drinks, and ice. The drawer or undercounter models are ideal for food trucks as they save space and allow for easy access to ingredients;
Mixers and Blenders: used for the preparation of blended cocktails or for quickly mixing ingredients;
Sinks: essential for washing glasses and utensils;
Ice area: an area for preserving and breaking up ice is key for a drink truck;
Shelves and Racks: these are used for conserving glasses, shakers, measuring spoons, and other utensils. Open shelving allows for easy access, while closed shelving protects utensils from dust and grime;
Beverage dispensing system: tapping systems for beer, wine, or other alcoholic drinks can be installed to provide customers with more options;
Ventilation System: essential for guaranteeing a safe and comfortable work environment, especially if stoves or other heat-producing appliances are being used;
Lighting system: a good lighting system is essential to ensure precision in the preparation of cocktails, especially if the food trucks works in the evening or at night;
Ingredient area: a space for containers or jars to preserve herbs, fruit, spices, and other ingredients ensures that everything is within reach and well-organized;
Electric system and multiple outlets: essential for powering blenders, rinsers, and other electric equipment.
VS Veicoli Speciali pays close attention to the ergonomics of the food trucks and their functionality. It is especially important to organize the space and set up the equipment on a drink truck in a way which allows the bartenders to work comfortably and quickly.
Everything must be within reach. Special areas are required for preparation, mixing, and cleaning the equipment. Their layout must ease workflow, minimize useless movement, and prevent congestion among the operators.
The success of food trucks for the sale of cocktails and aperitivi
The companies which work in the alcoholic and non-alcoholic beverage sector have understood that food trucks or drink trucks offer lots of advantages and opportunities in terms of branding and product promotion, producing direct profits through the significant sales volumes they generate.
Here are some examples of drink trucks made for famous drink brands in which the principles of ergonomics have been applied and adapted to the aesthetic qualities of the setups.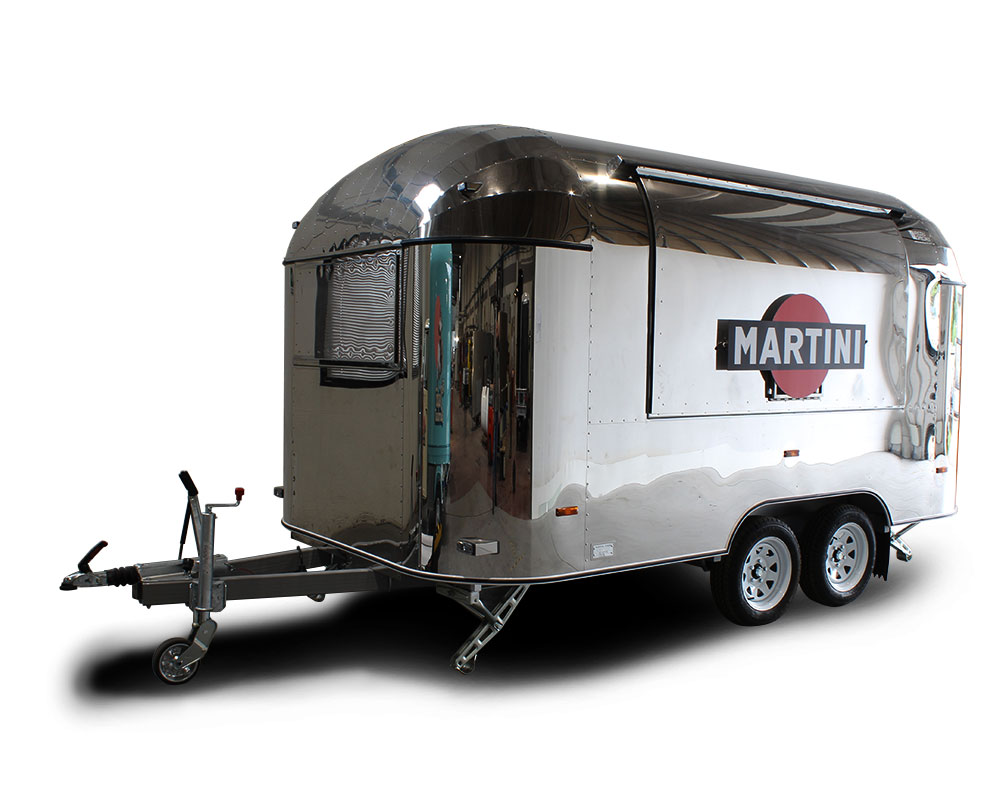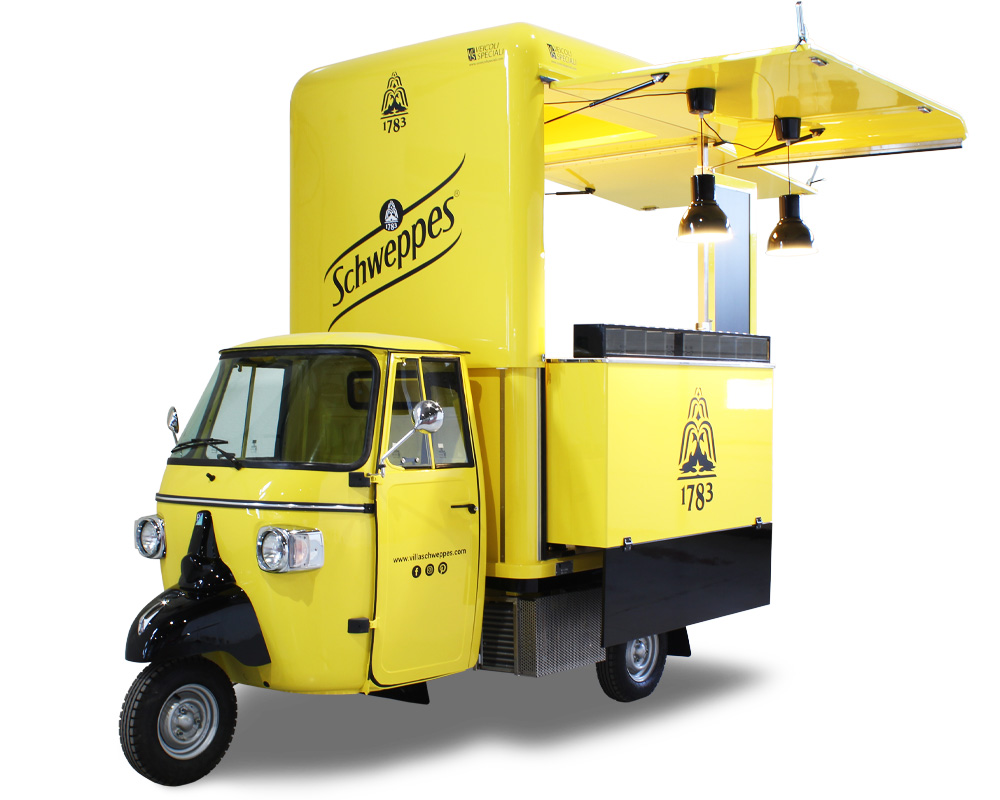 Signorvino Piaggio Ape V-Curve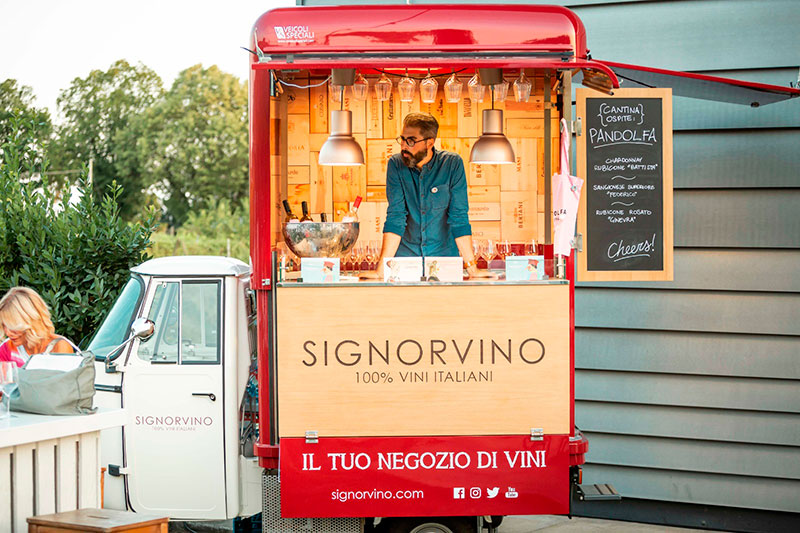 In conclusion, the food trucks specialized in the sales of cocktails and aperitivi offer a series of tangible advantages to companies thanks to the flexibility, cost reduction, and customization they provide. In a constantly evolving market, the ability to adapt quickly and offer memorable experiences to customers has become essential.
The VS Veicoli Speciali team supports companies in this process by providing an efficient and solid drink truck which is consistent with the company's identity.
Every company we collaborate with, whether large or small, benefits from our consultancy and assistance from the design stage to the post-sales experience.
Their success is our own as well.
VS Veicoli Speciali