The old adage that advertising is the lifeblood of any business rang true for the industrial society of the latter half of the twentieth century. However, these days a more fitting version would read: innovation is the lifeblood of any business.
In every field, unbridled competition, constant technological and process innovation, as well as the search to offer the latest product or service forces companies to acquire increased flexibility in order to grow or even just maintain their market share.
The food service sector is not immune to this; on the contrary; being one of the hardest hit by the Sars-Cov-2 epidemic, it has been forced to bend over backwards just to survive.
Food trucks have been one of the most dynamic and innovative instruments in a company's strategic arsenal for some time now. Thanks to their mobility, they allow one to avoid sitting passively by while waiting for clients to enter the shop. Instead one can go to the where they are: the streets, squares, the seaside, trade fairs, festivals, events, courtyards or private premises.
The Piaggio Ape TR further expands this ability to conquer new spaces as it was designed without an engine so that it can even be placed inside closed buildings.
In Europe as in the United States and in the rest of the world, this model of Piaggio Ape Car converted into mobile coffee truck has all the requisites to become a better alternative to the classic kiosks with fixed structures intended for refreshment points.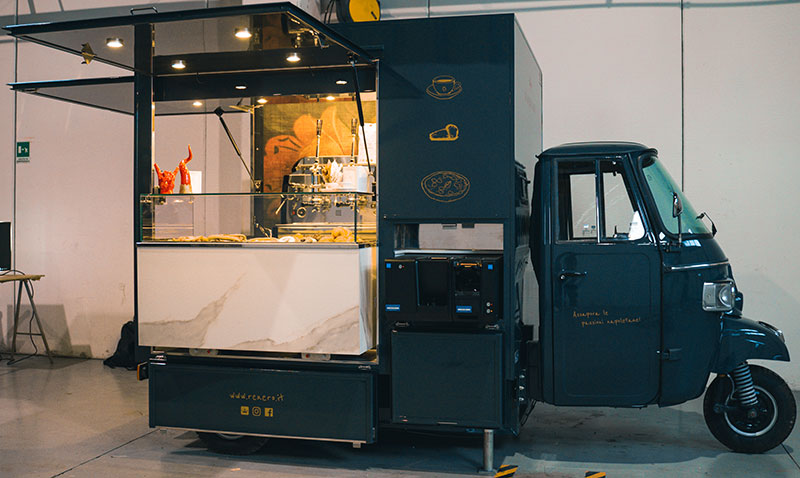 The mobile coffee shop already offered countless business opportunities for companies who wanted to offer the client an original food retail or catering service indoors or outdoors.
The concept of the mobile coffee shop installed on an Ape TR practically creates countless possibilities for offering exciting and dynamic food service.
An Ape TR coffee truck can be placed in commercial spaces like:
malls;
museums;
hotels and resorts;
theme parks;
casinos;
multiplex movie theatres;
conference centers;
closed fairs and expos;
outlets;
college campuses;
large company headquarters;
etc.

The outfitting's elements can be customized both functionally and aesthetically in:
artwork;
colors;
materials;
lighting.

Required equipment gets installed, such as:
refrigerators;
ovens;
hot plates and stoves;
refrigerated display cases;
coffee machines;
grinders;
rinsers;
knock boxes
sandwich presses;
etc.

As a Covid safety measure, automatic checkout can be installed to reduce contact between the clients and the workers at the moment of payment.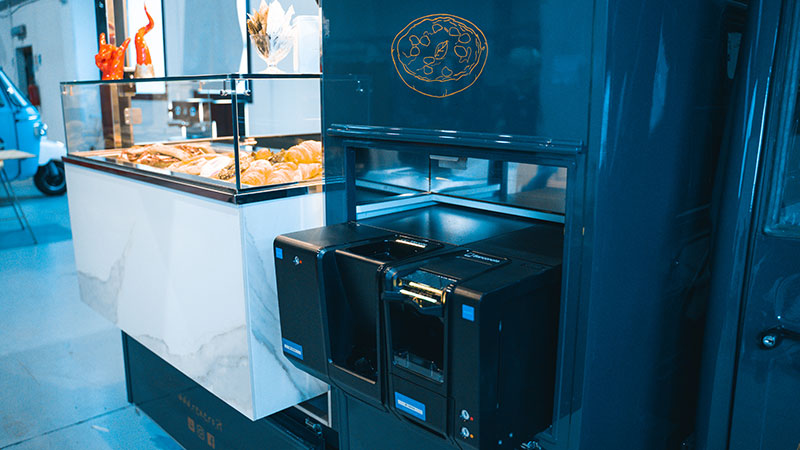 The Ape TR coffee shop allows a small-town café or a family restaurant to take advantage of a visually striking mobile station, just like any fast food chain or a big-name brand, that can be inserted into any commercial space in order to take advantage of the flow of customers generated there.
It means coming into contact with tons of potential customers and obtaining visibility for one's own products and brand. Even businesses not involved in the food sector can gain huge commercial and advertising advantages from a coffee shop like this.
Re Nero Caffè is a demonstration of how one can capitalize on the new concept of a mobile coffee shop on an Ape TR. 


Equipped with state-of-the-art equipment to sell coffee and quality snacks, the Re Nero coffee truck is a compact and agile concept store used in various commercial settings throughout the year, with locations that last from a few days to a few months.
If you are interested into this new coffee shop concept to place inside buildings or in open or closed commercial spaces, contact us now and tell us what it is you need.
Innovate your business before everyone else does.