Fashion houses have always been among the most dynamic and open-minded companies. It could not be otherwise as they operate in an industry where products, customer tastes and societal demands change with the seasons.
The fashion clothing and accessories industry is also characterized by enormous and ruthless competition. Anyone who stops, even for a moment, is cut off.
Research into production techniques, materials and product innovation goes hand in hand with the need to innovate the marketing strategies and to find new ways to promote products and brands.
The fashion truck is a shop set up according to the needs of the ordering company, which may be one or more of the following:
selling products
displaying and promoting products
giving visibility to a particular brand or sub-brand
promoting the brand
offering an information service
educating the public in the use of a product
furnishing an exhibition or commercial space.
Materials, lighting, graphics, colours, decorative elements and accessories are tastefully and consistently incorporated into the vehicle according to the customer's directions.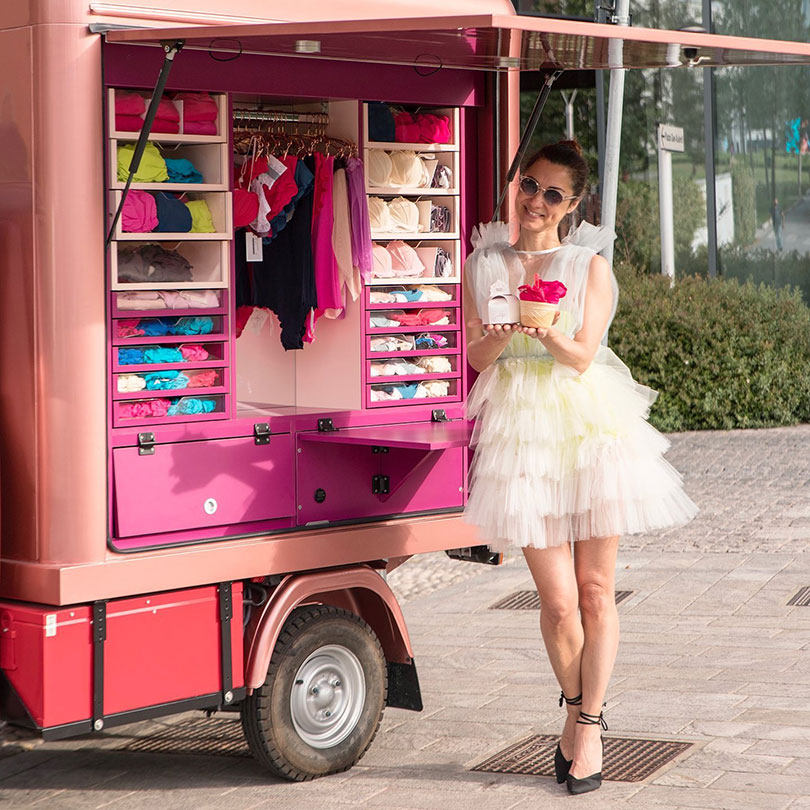 The SET-UP is constructed according to an ergonomic and design-conscious plan, in order to facilitate the work of the operators and to optimize the presentation of the products.
The FASHION TRUCK can be equipped for a wide range of products:
clothing (dresses, jackets, shoes, trousers, skirts, socks, shirts, costumes, underwear, etc.)
fashion accessories (bags, glasses, jewelry, watches, wallets, hats, gloves, scarves, ties, belts, brooches, suspenders, etc.).

Based on the type of products handled on the vehicle, various equipment and furnishings will be installed:
display shelving
drawers
hanging bars
walls and display cases
anti-shoplifting systems
storage compartments
ad hoc lighting system
etc.
Each element is individually configured and designed to be easily used, furthermore the entire set-up is customized to give a strong brand and product identity.
The appeal of the Piaggio Ape with the extra plus of eco-sustainability

Another positive aspect of these elegant mobile shops is that they can be equipped with an electric motor and a power system based on lithium batteries. In this way, the set-up becomes environmentally friendly, clean, quiet, and appropriate for any commercial context.
One of the vehicles that has most firmly embraced the environmentalist demands is the electric Ape Piaggio, a universally appreciated vehicle that can be converted into a small fashion truck capable of enhancing any brand thanks to its retro and elegant design.
Thanks to the conversion of an electric Ape, clothing and luxury brands can take advantage of a versatile tool that brings additional benefits to their marketing strategy:
it captures the attention of passers-by
it adds value to the context, being a design object in itself
it brings joy and liveliness to the environment
it promotes the brand while moving or travelling through the streets.

A limited investment and minimal maintenance costs for a powerful and flexible promotional tool.
Fashion trucks built on Piaggio Ape for well-known fashion brands

The possibility of customizing the outfitting in every aspect makes it possible to have a flexible and multifunctional vehicle that can be used in multiple ways.
The Ape fashion truck can be used as:
promotional vehicle
exhibition vehicle
mobile shop optimized for itinerant sales
mobile set-up for trade fairs and events
stationary point of sale within commercial spaces
mobile shop in courtyards and private outdoor spaces
information kiosk inside a reception hall
furniture and design element in an exhibition area.
The following are some examples of fashion brands that have decided to purchase an Ape Fashion Truck by using it in one or more of the ways listed above.
FENDI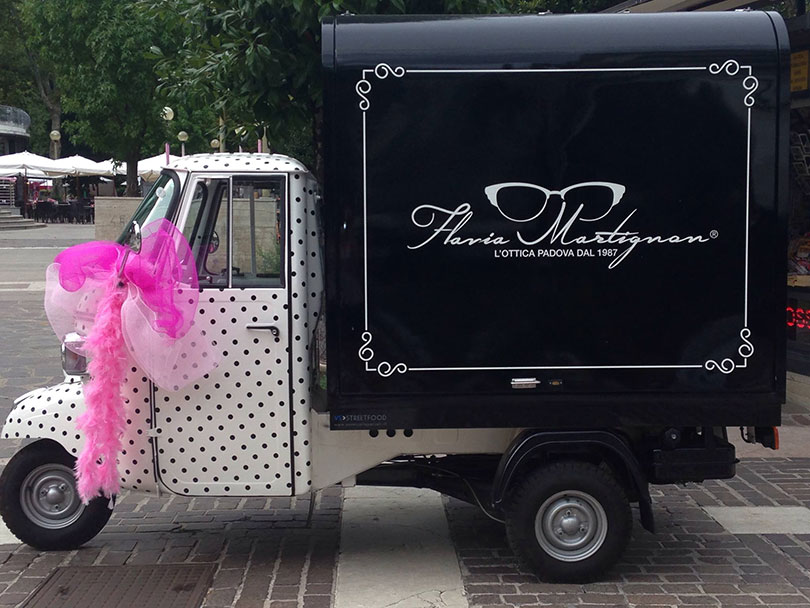 THE LINGERIE ATTITUDE