Innovation, flexibility, lightness and speed are some of the keywords that individuals and businesses must acquire today in order to compete in a globalized world.
With this in mind, iAPPY was conceived of as a powerful and flexible instrument at the service of businesses, made to:
guarantee functional and efficient mobility;
resolve practical problems;
offer new business opportunities.

iAPPY is an outfitting expressly thought of in order to make travel easier and more agile in historic city centers.
It can be used by businesses in order to offer services, sell products and advertise in three dynamic sectors:
food: mobile food catering;
retail: products sale and display;
delivery: home and

proximity deliveries
These three outfittings can be alternated according to one's need and fitted onto an Ape Piaggio with either a diesel or electric engine.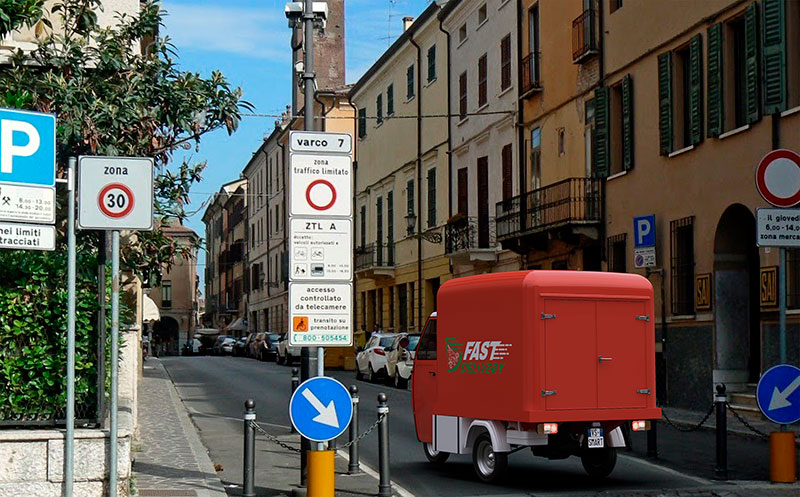 The electric ape car is the most innovative and original solution on the food truck's market, which allows one to use an ecological vehicle with a low environmental impact. It is 100% electric which, in addition to ensuring a positive brand image for the company, offers a series of practical and logistical advantages like:
access to restricted traffic zone and historical centers without time constraints;
free parking (due to being electric);
Its height of 1990 mm allows the use of parking lots (underground lots, garages, silos), making it easier to park at night in the city;
drivable with a type B driver's license and by 16-year-olds with an A1 license;
easy to recharge thanks to its lithium battery, completed in just two hours with a normal outlet;
increased agility and mobility thanks to the vehicle's compact dimensions;
extreme maneuverability thanks to iApe Piaggio's ample steering range.
iAPPY also offers important advertising opportunities and a positive brand image:
it can be customized in every way to make your brand stand out;
free high-impact communication and branding;
with the delivery outfitting, in using your own vehicle for neighborhood deliveries, it:
improves the perception of the brand;
does not exploit riders;
improves the quality of the service.
3 interchangeable outfittings: food, retail, delivery
FOOD
iAPPY can be configured as a street food car, equipped with a professional kitchen with the right equipment to prepare your products and cook hot dishes.
With iAPPY your company is equipped with a functional and elegant food truck that is capable of offering catering for private occasions.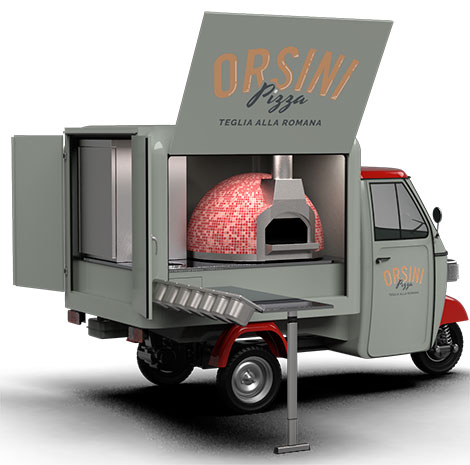 Additionally, the electric version allows for use in any type of event and is welcome in any outdoor commercial space. A small space is sufficient for an iAPPY food truck to provide food service for a large number of clients.
Some outfitting examples:
pizzeria;
ice cream;
tap room with beer, wine or prosecco;
cocktail-bar;
café;
etc.
RETAIL
iAPPY can also be a small mobile store for commercial or display purposes, equipped to sell a wide range of products: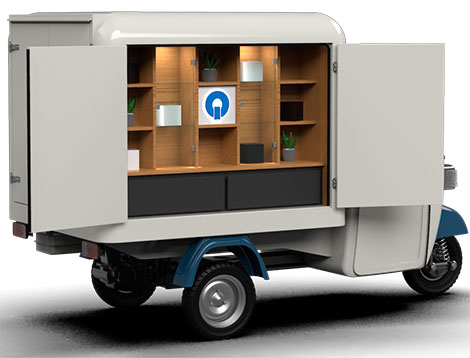 food (packaged);
fashion accessories;
detergent refills;
newspapers;
vending machines;
etc.
Companies of every size and sector can effectively take advantage of iAPPY in order to promote one's brand and services in various settings: private business events, expos, festivals, trade fairs, outdoor commercial spaces, display setups in appropriate commercial settings and, obviously, wherever street cars are allowed.
The only marketing limits for iAPPY lie in one's own imagination.
DELIVERY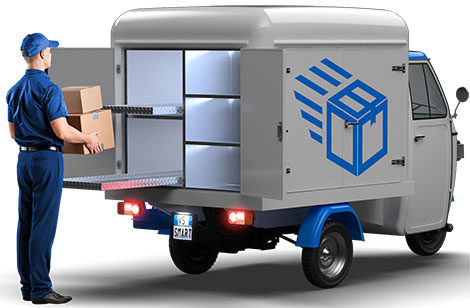 The Covid-19 pandemic is accelerating a trend that was already evident: the demand for goods and services via internet and mobile apps.
iAPPY is an ideal solution for home and neighbor deliveries because, despite being a compact and agile vehicle, it offers a sizeable load capacity.
The delivery outfitting can be configured to transport any type of product, including fresh, frozen or hot food.
Delivery outfitting:
cold module: you can include a refrigerated model both for frozen or fresh foods, with ATP certification in both cases;
warm module: with 8 hours of battery life, you can deliver any type of dish, from pizza to tacos to pad thai;
empty compartment: if you need a lot of space and must transport foods at a controlled temperature, the 3-cubic-meter cargo area lies 750mm from the ground. The openable side and rear doors allow for the insertion of an eur 1 pallet;
customized: organize the iAPPY to your liking with shelves, drawers, removable surfaces and other ad hoc solutions in order to optimize deliveries and merchandise display.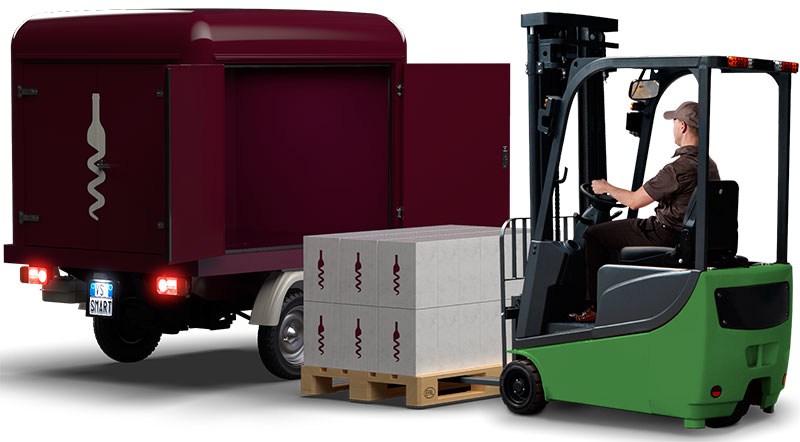 The flexibility of the iAPPY goes hand in hand with its communicative strength. An attractive design, a custom paint job with your logo and promotional message will make it a formidable marketing tool capable of enhancing your brand and taking on, or taking back, the delivery of your products.
iAPPY Configurator
Whatever the needs of your business, you have an ONLINE CONFIGURATOR at your disposal in order to define the fundamental elements of your iAPPY: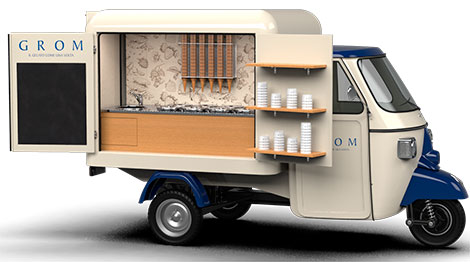 engine (electric / diesel);
sector;
door configuration;
product/service choice.
Taking the first step towards the future doesn't cost anything; if the conditions are right, we will take the next steps together in order to create your ideal vehicle, one that is tailormade for your needs.
iAPPY business!