Shopping centers are still one of the main gathering places for the community. Within them we can find a variety of shops that satisfy many consumer needs.
The majority of visitors, however, prefer to move around the shopping center without having a precise destination; they are not only in search of specific objects, but let themselves be led around by the atmosphere and experience, often in the company of friends.
The profits inside these structures have exponentially increased and will continue to over the next few years. This means that appealing food service businesses guarantee great results for those who work inside these spaces.
If ecommerce risked taking these buyers from these hubs, food kiosks situated inside have brought attention back to these gathering places.
The opening up of a food truck inside a shopping center or outlet offers an advantage to sellers. For this type restaurateur every visitor is a potential client.
Many buyers spend a few hours inside shopping centers and the possibility of running into food courts exponentially increases. Additionally, shopping centers offer seating areas that allow visitors to stick around longer with time for a meal.
Furthermore, buyers stroll for hours in these enormous commercial properties, heading from shop to shop.
The set up of food trucks always turns out well. From the moment the vehicles get placed within the flow of passersby, it's simple to catch the customers' attention. Thanks to greater flexibility compared to indoor locations, these vehicles can easily capture buyer curiosity, who then go on to try out the products.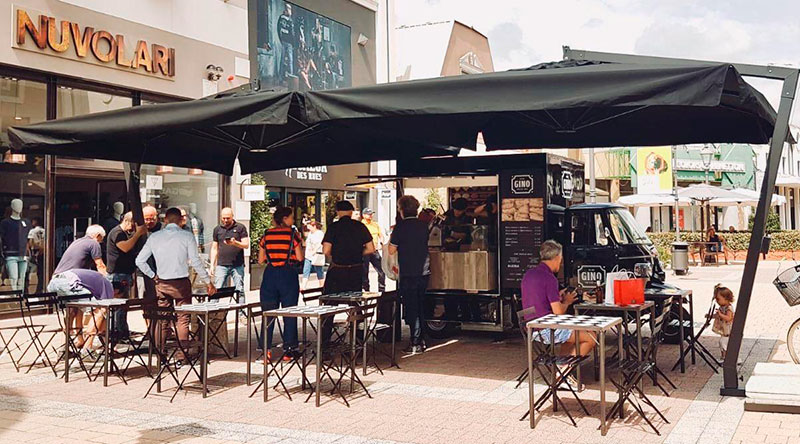 Food trucks have various advantages:
they offer high-quality products
they have reasonable prices
they are original
they have various and mixed menus
they are fit for a diversified clientele

One of the main benefits of placing food trucks inside supermarkets and outlets concerns the reduced management costs. Those who rent space inside a shopping center will have to deal with exorbitant rents, troublesome contracts (because they are long) and preventative health inspections that could become problematic and have an effect on the opening of the business.
Those who possess a mobile shop can boast of the convenience of receiving short and flexible contracts that allow them to renew or leave, depending on how things go. Furthermore, thanks to the health certification issued by the manufacturer, the vehicle can work immediately without the necessity of a preventive inspection.
A food truck model fit to these places is the Piaggio Ape TR.
Engineless, designed and trademarked by VS Veicoli Speciali, it can be place in all closed commercial spaces where cars are not allowed.
This particularity makes the Ape food truck the ideal mobile option for businesses who can place the vehicle in stations, airports, shopping centers, theme parks, outlets, and indoor or outdoor fairs.
Food trucks are today considered an icon of the third millennium. A new way to live a thousand-year-old relationship that a cultural has with its food. They are innovative and practical and offer consumers simple, fast and traditional cuisines.
Having a mobile station inside a shopping center provides a constant flow of customers: year-round thanks to the welcoming atmosphere in which they find themselves.
Additionally, the communication of the entire commercial complex and its marketing efforts attracts clients, which benefits all sales points, including the Ape TR located there with its food services.